Why Do You Need Document Management System?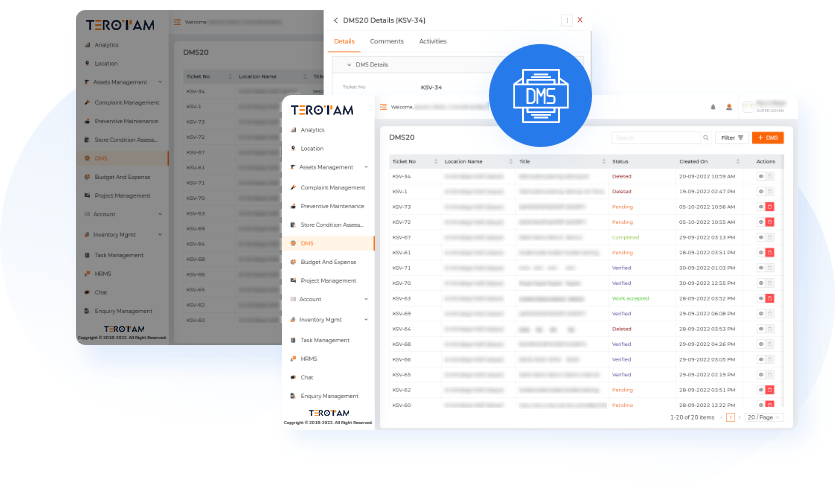 When files are spread over various repositories and file-sharing websites as well as on paper, computers, USB sticks, network drives, email, and other devices, content pandemonium ensues. Business productivity is lost due to these content silos, which also raise security threats. The entire landscape is altered by a contemporary, open-source document management system.
With smooth information governance and efficient compliance, a document management software system enables you to get material under control, which directly translates to real business benefits. With a top-notch electronic document management system, you can do so much more, including enabling productivity anywhere.
Records and Document Management
Your organization benefits from Document Management System by effectively and systematically controlling the creation, receipt, maintenance, use, and disposition of records, including procedures for capturing and maintaining records that serve as evidence of and information about business transactions and activities. A smart document management system gives access to records while capturing and managing them over time.
Centralized Documentation
You can quickly and simply access, examine, and modify your files and documents from a centralized system if they are kept in one place.
Document Exchange
Users using document management solutions can instantly store, retrieve, and share documents from their mobile devices at any time and from any location.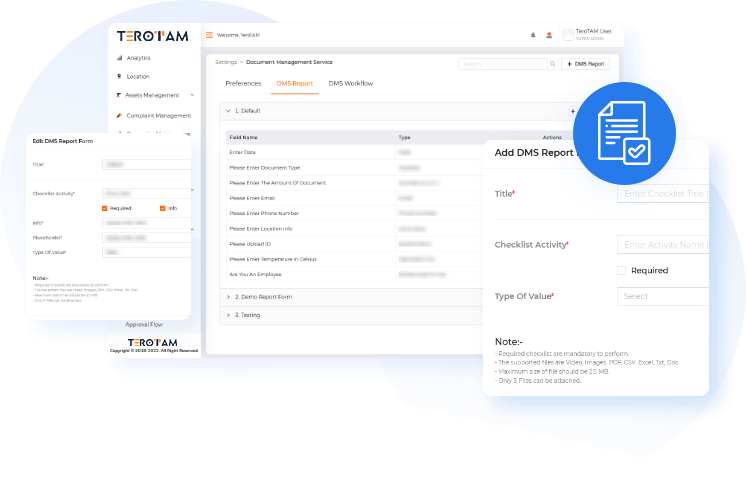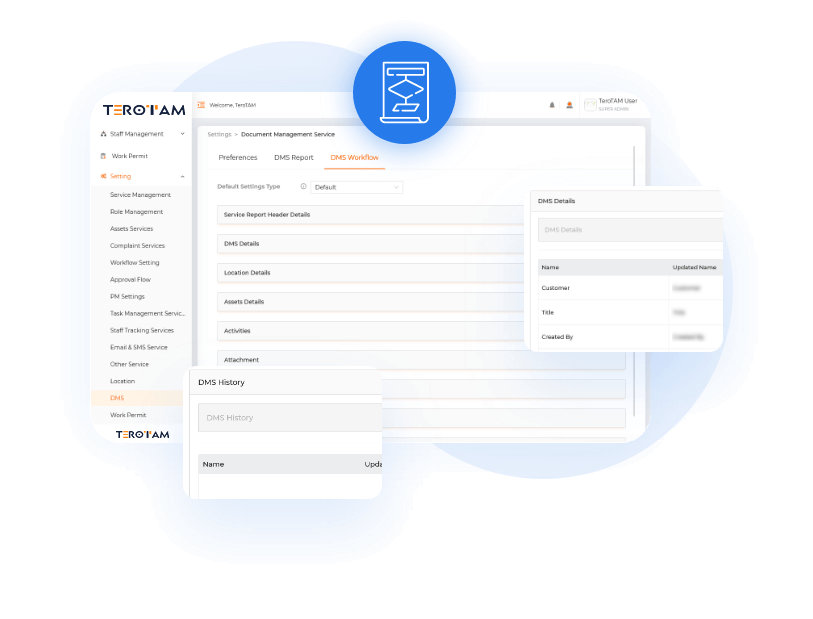 Streamlined Workflow Management
Document management systems offer a workflow engine for establishing and reusing business logic, streamlining business procedures, and assisting staff in efficiently collaborating with the organization and one another. All of your documents are electronically stored and arranged using DMS in a manner that makes sense for your workflow and access requirements.
Fine-Tuned Communication
DMS Software enables securely centralized storage to manage tasks, material, approvals, and team communications to enhance communication between internal teams, clients, and vendors.
Progressive Mobility
In a fast-paced world, Quick document access is essential. You have the flexibility to manage your official documents in a hassle-free manner thanks to modern document management solutions.
Impeccable Integration with Existing Systems
All of your teams' current business systems and third-party applications, including CRM, ERP, MRP, LIMS, MES, and PLM, are easily integrated with Document Management Solution. You may have better control over the papers created and distributed within the organization by integrating document management with existing systems.
Efficient and Secure Data Exchange
Data collection from many applications and sources lowers operational errors and facilitates safer data transfer between systems.
Getting Rid of Human Mistakes
Maintaining connectivity between all information systems, as opposed to conventional manual document management methods, lowers the likelihood of human error.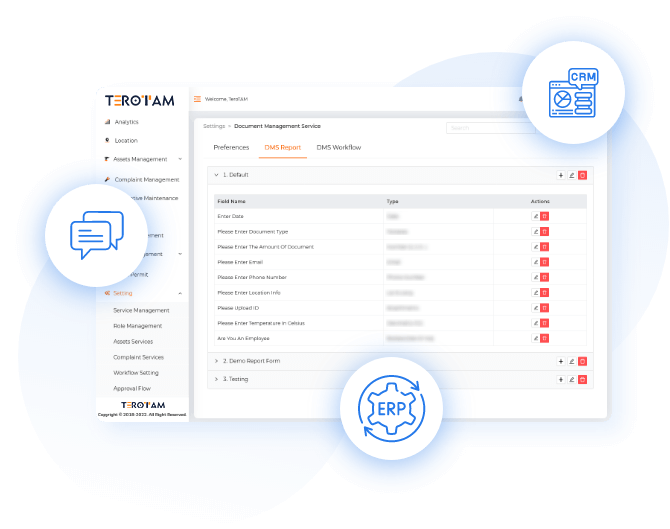 Keep Your Data Safe and Secure with The Best Data Management Solution
Effortlessly Manage Your Business Critical Documents with Top-Notch Compliance using the Most Advance File Management Software
Manage your Documents in Palm-easy way through Smartphones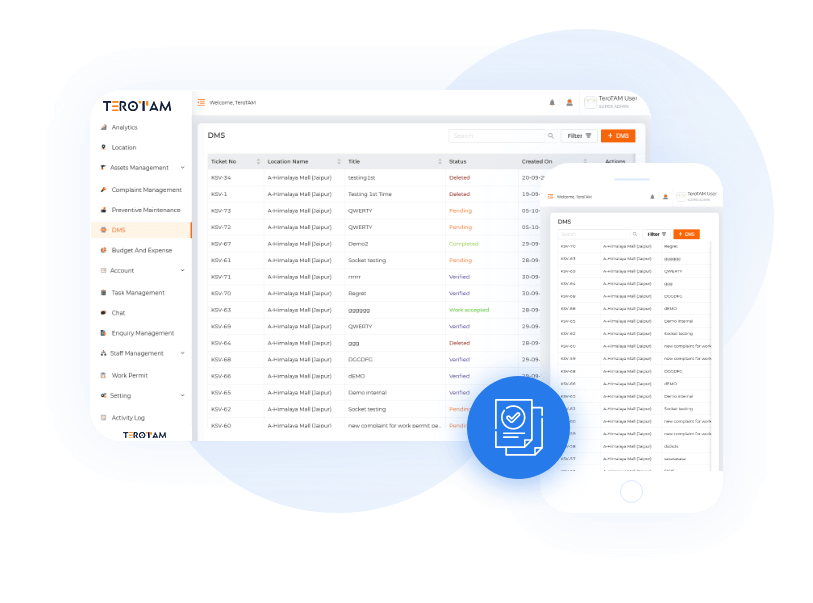 Create, Store, and Share Documents with your team using Smartphone
Improve Your Work order assignment with supporting documents for better Workflow Management
Review, Digitally Sign and Approve any Document or Work order anytime anywhere for unstoppable task completion
Obsolete and Archive Old and Non-relevant Documents immediately with your Smartphone
Key Features of DMS Software
Cloud Document Storage
Securely store your documents on Cloud to save from manual and environmental manipulation.
Faster Approval with Digital Signature
Simplify and Speed-up your document and work order approval system using a digital signature.
Controlled Document Copies
Keep your Document copies safe in access-secured document folders from manipulated usage.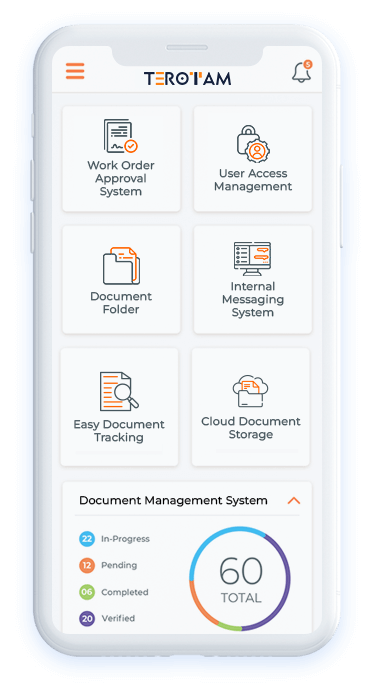 Easy Document Tracking
Search and Track the Document easily with the Tag management system for specific Document files and folder.
Enhanced User Access Management
Securely manage the user and document access for organized and safe business document control.
Internal Messaging System
Share your documents with all recent and relevant updates to the assigned team members with an Internal messaging system.
Frequently Asked Question
The Most Common Brain Teaser for Document Management System What is Document Management Software?
Document management software facilitates the storing, accessing, managing, controlling, and tracking of digital documents as well as electronic versions of information that have been scanned from paper and stored as digital documents. The sharing, managing, and organizing of digital files can be accomplished with the aid of very basic document management systems, or they can be an intricate component of an enterprise content management system with advanced features to support information governance, records management, and other processes.
How do businesses need Document Management System?
A document management system establishes a central area to gather and preserve the information that is centered around documents in your company. This makes locating current versions of documents and information simpler and frees up workers' time so they can concentrate on their jobs rather than searching through several silos and repositories for bits of paper or digital assets. Additional features are offered by certain document management systems to improve security, document tracking, and sharing.
What are the Top 5 Functions of a Document Management System?
The top five functions of a DMS are concurrency, security, backup and recovery, integrity, and data descriptions.
What are the Key Factors to keep in mind while choosing a Document Management Solution?
For content to be accessible across a variety of business programs, such as Salesforce and SAP, it is crucial to take into account the integration and extension capabilities of other line-of-business systems when picking document management software. User interaction with the system must also be taken into account. Whether it's through web browsers, desktop computers, or mobile devices, different people prefer to work in different ways.
Why Cloud-based Document Management System is beneficial?
A cloud-based document management system has the benefit of putting less of a strain on IT in terms of infrastructure, maintenance, scalability, redundancy, and security. Automatic updates are made. Very affordable, long-term archival storage is a perk of some cloud-based document management solutions. End-to-end, fully managed content services are offered via Platform-as-a-Service (PaaS) solutions.
Testimonial
Paradigm Shift
With an easy to operate system and user-friendly Interface of TeroTAM, we integrated more than 200+ outlets operational within PAN India for 2+ years. This software enabled us to manage almost everything with a centralized dashboard, by sitting in one place, manage priorities and analyze all the key performance indicators with prolonged analytics. We are expecting to use TeroTAM for a long horizon with more advanced upgraded software in the era of growing new technologies.

Parthiban B.
(GM Facilities & Renovations Food & Beverages)
Tata Starbucks Private Limited
Ignited Innovation
TeroTAM has made our work easier & faster starting from complaint request generation to field and till the closer. Easy to upload data and updates, compatibility with multiple languages and lesser human efforts in writing saves a lot of time and energy and helps to produce the perfect data from beginning to end in a most customized manner. It's well received software, perfectly designed to match all our requirements, using satisfactorily with zero complaints for 2+ years.

Vikas A.
(GM Services Hospitality)
Equinox Solutions Limited
Excellent Platform
We have been using the TeroTAM platform for 1 year and we have seen a streamlined approach in our Staff management and Project Management. After we get started with them, our asset management has been upgraded and becoming cost-effective day by day. "Keep it up...Team TeroTAM.

Rohan Patel
(Owner)
Anand Color World
Business with TeroTAM is Super Easy
Starting from Asset Management to Complaint Management, each solution we used, has made our process fluent and flawless. We have remarkably reduced the cost of Inventory management and maintenance management with easy-to-use TeroTAM CMMS software. We experienced superfast tracking and location management with the QR-code scanning technology they offer. All-and-all, it's a one-stop solution for all your business needs. Strongly recommend it to all.

Harsh Chaudhary
(Owner)
Inventrik Enterprise
"It's Good and Useful Tool"
"I've been using this software for 1 year mostly for communication within the project team, task management, and collaboration with our customers. It's really easy to use & maintain, good support, easy to add asset details, cost-effective and flexible!"

Drashti Sharma
(Head of Management)
IT & Software Technology