Why your Business Needs HRMS Software?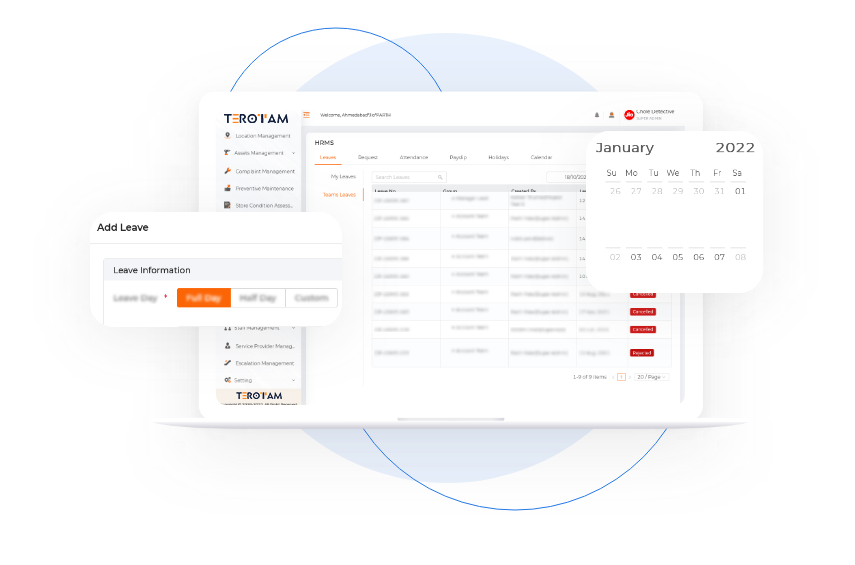 HRMS, a human resources management system, is a software application used to manage staff and different roles in the organization professionally. It is used to track its employees' activities and life cycle service. HRMS enables the company to fully understand the employee's needs while serving the company to bring easy solutions and motivate the individual.
In the process, HR is the primary role in sorting and managing staff systematically; this can be achieved by a TeroTAM HRMS software application that tracks every person in the company by leaves, salaries, payslips, holidays, calendar at one place with a digital vision to save time and work intellectually. And run day-by-day workforce operations potently for compliance and performance reporting. It can empower managers, staff with self-service by HRMS access by according to that recognizing the staff who work high, and give them for appraisals, etc.
Leave Management And HR Approval
It's the process of managing and planning the employee leaves, and time-off requests in a fair manner, with an accurate and professional approach. Leave management is an automated system that helps to send requests to HR for the approval process with respected attachments and personal reasons. And it allows to continue the process and edit to cancel requests and such feasible options provided to the employees with some independent manner.
Leave Request
It is simple to manage your leaves and requests from the HRMS portal through web and mobile applications, and know the status of whether it is approved or not.
Track Approval Status and Progress
Know your leave approval process information with the step-by-step individual approval from the managers, team leads either pending, approved, or canceled with a valid reason. Track your leaves with date and time to avoid loss of pay.
Leaves Approval
The easy leave approval process with digital HRMS can carry a brief set of clear information to forward to the higher authority with the employee's response in the process no need to go to the desk and avoid additional emails.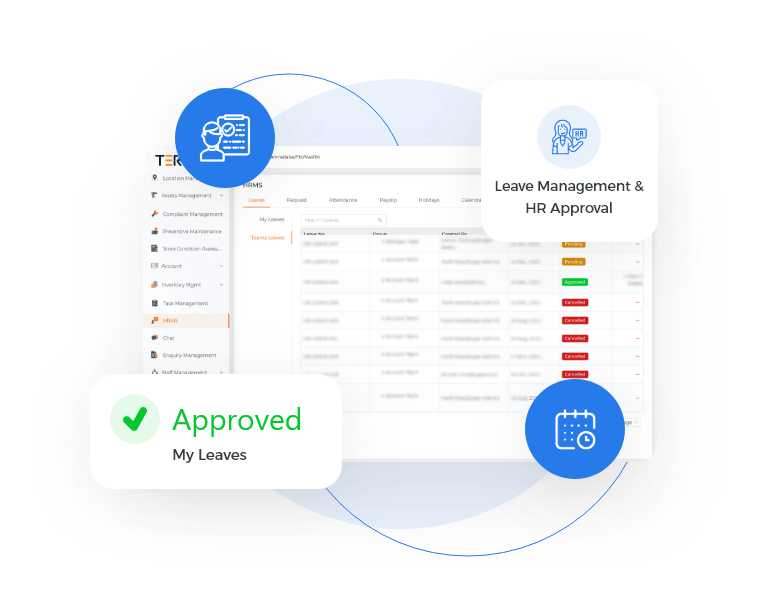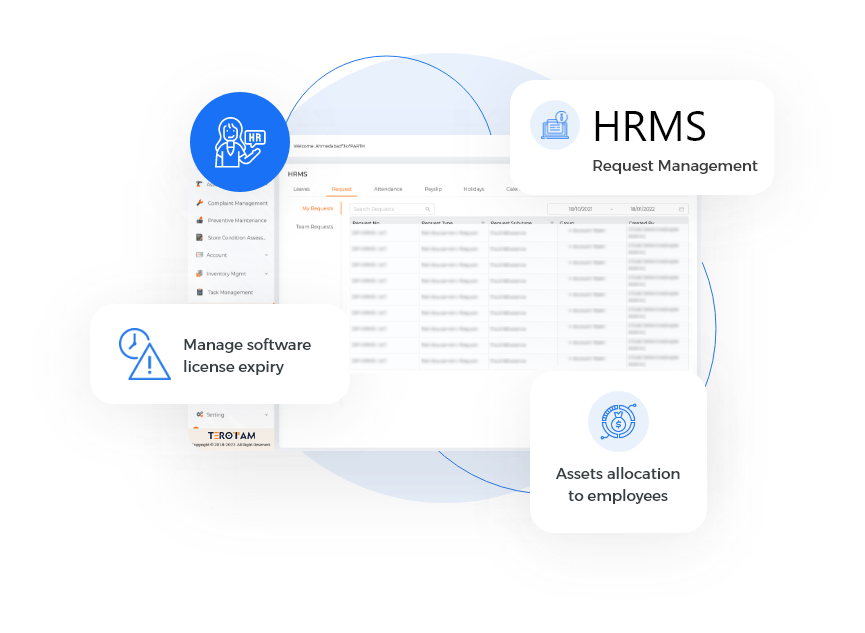 Request Management - Hardware, Software, Assets
Keep a request for assets, hardware & software through HRMS simply to ask higher management for approval for your needs. Request management module of HRMS helps you to keep track records of every IT and non-IT asset assigned to the organization employees. And canary each individual person's details with assets information and manage other configuration tools issues to the employee. Also, generate a request to allocate the asset for different roles and teams.
Create Asset Requesting
For need, any asset requirement rises request through HRMS application and it directly sent to the approval team to accept the request after review request.
Assets Allocation to Employees
It is possible to track the brief details with the HRMS digital tool, allocate and unallocate assets as per employees' request, set a time reminder for the date of asset return to get the alerts.
Manage Software License Expiry
Carry the software license information for each installed application through HRMS to reactive or subscription at-on-time without fail. Its system generates information with license cost and service duration track a systematically displays data dailly.
Attendance Management
It is an activity to manage and record the employee's absences and leaves. And there is a lot to meet it than eyes since the attendance marking is important to collect information with the time of entry and dates, a number of breaks, and step in step out all can be recorded punctually. It is taken to process the payroll, structure the employee's performance, and get it complete in one place. Meanwhile, understand the employee behavior to approach the work.
Employees Directory
Login employees through TeroTAM HRMS software to know the attendance reports monthly to calculate the company salary pay. And helps employees connect together with HR management independently to manage leaves and week offs in a professional approach.
Calculate the Rate of Absenteeism
The absenteeism rate can be calculated in a variety of ways of departments, shifts, location, type of band. And it needs to be calculated and estimated perfectly in some other factor effect in certain jobs and impact on productivity levels.
Remote Attendance
When company policies come in modern then no one doesn't wish to punch in inside the office cube. Remote work is routine in work life. So employers can feel feasible to make their attendance easy through a mobile app.
.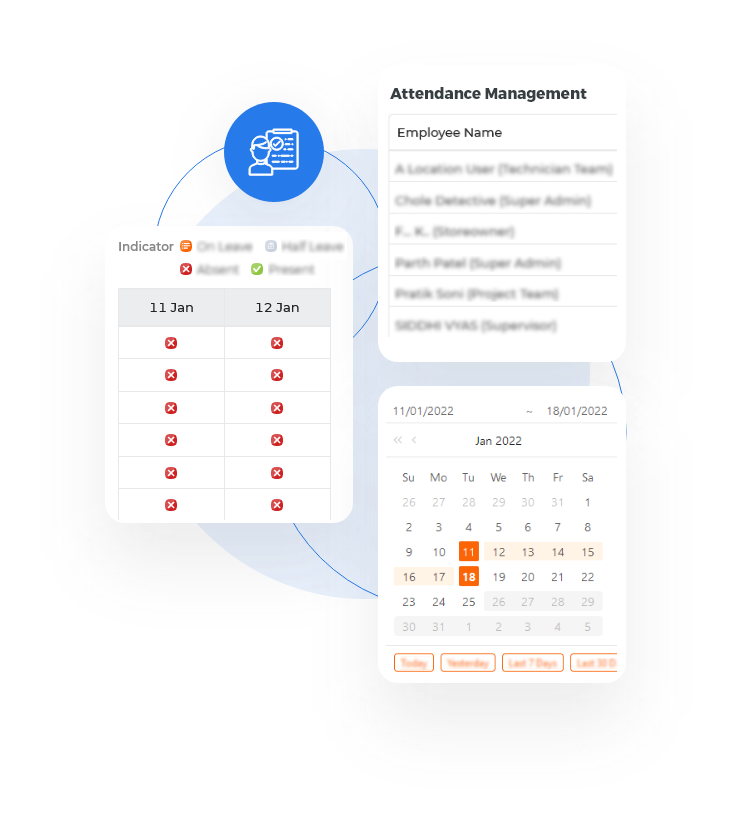 TeroTAM CMMS Suite For Human Resource Management To Connect With Staff, And Systemize Organization Needs Gently.
Manage, organize, and collaborate at one place by using TeroTAM CMMS. Build your business platform more rapidly.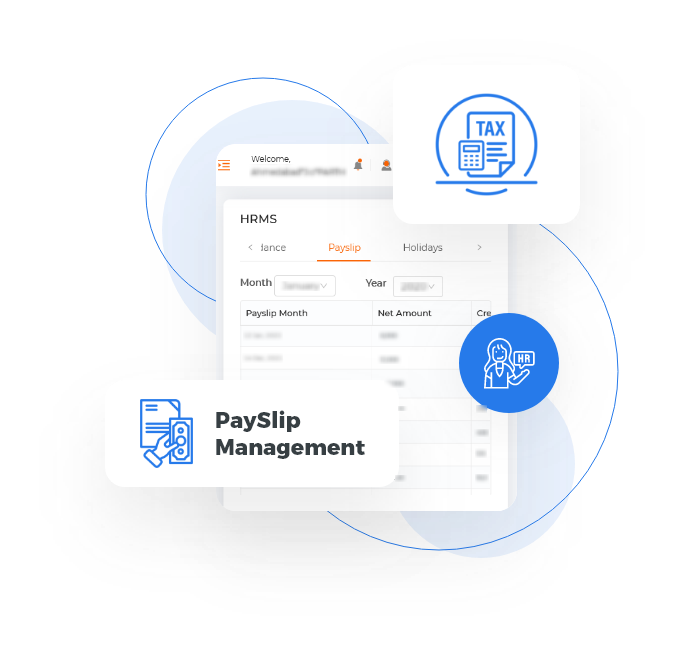 PaySlip Management
Payslip management is an important aspect of human resource management and it has a direct impact on the organization baseline. Improper time-off time management practices with manual efforts result in insufficient staffing and employees feeling dissatisfaction, causes lost productivity levels, to avoid and sort out these minimal conflicts, payslips and structure gives information about working hours and pay.
Download and Manage Payslips
It is a hassle-free management system to know the vast amount of information regarding salaries, deductions, pay structure. The TeroTAM CMMS software streamlines all the sequential operations, downloads payslips, and helps to credit salaries accurately to get enough clear satisfaction.
Salary Calculation Process
With the HRMS software user can know their earnings & deductions heads which are bifurcated with taxes and expenses. And calculator heads like HRA, TA, PT, PF, etc. users can get brief information and ask HR if there need any clarifications.
PF & Income Tax Calculation
Salaries are from different deductions in that PF is a provident fund transferred directly into the PF account of employees with an interest rate of calculation option. Income tax can be processed with the salary calculation option.
Event Leave Calendar
In this smart generation, every being is excited to do more and spend quality time. The HRMS software online calendar has made the fancy of businesses and employees as well. Allows organizations to schedule upcoming events and plans with an employee convenient time basis to enjoy and spend good time. This is just one software that can carry the stories, provide effective scheduling meetings and audits, and same time take out some free time to engage with employees.
Manage your To-do list
By using create a personal To-do list or team list to complete the tasks in the early and punctual timeline. And manage things gently without fail by systemizing prerequisites in keeping the hierarchy, and prioritizing the tasks.
Set Reminders
Set instant reminders as email notifications, and schedule events to request to join the staff. And It helps versatile alert for internal staff audits, projects audits, in the scheduled manner to keep the productivity at more effective levels.
Collaborative Working Scheduling
With this feature, users can access the same tasks and data from the common platform by scheduling time to meetings, managing projects, and piloting projects, ideas implementations as planning mutually work together and collaborate.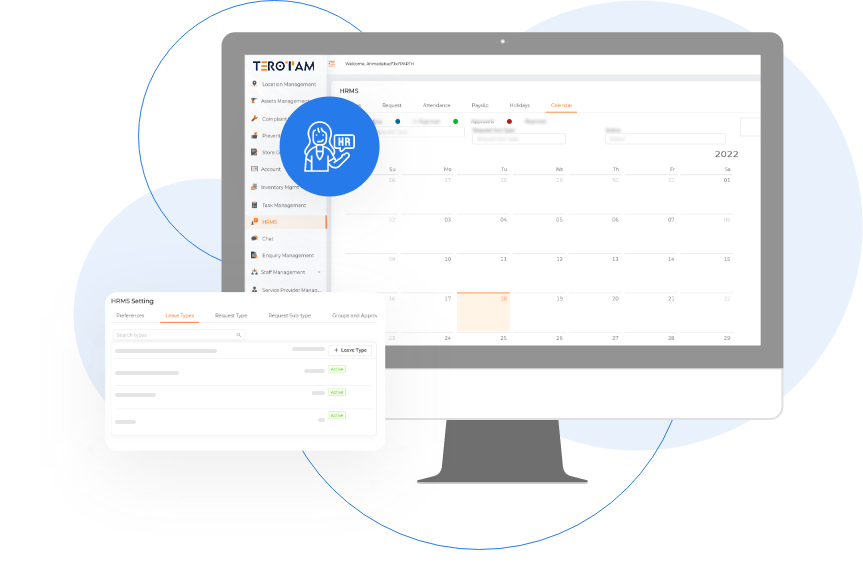 Manage Your HRMS From The Web & App Enable Devices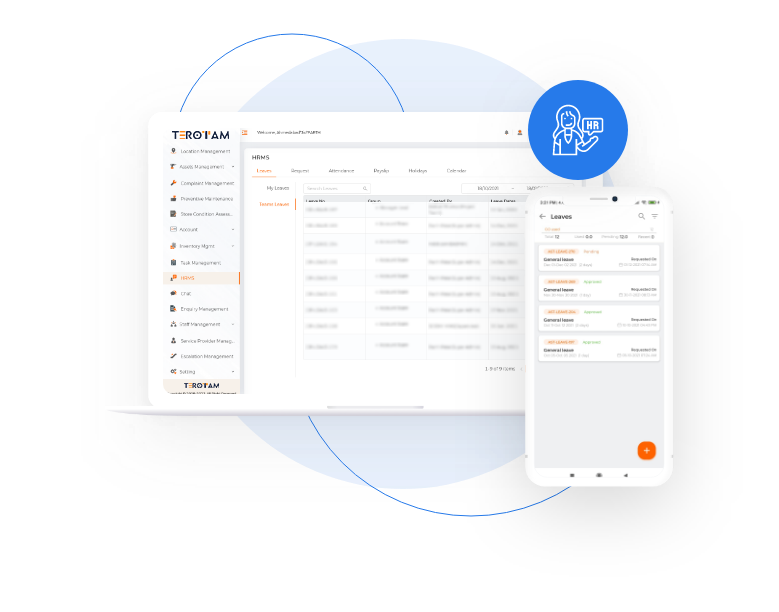 Collect the staff attendance data through online attendance management.
Simple tool to enhance business growth
Upskilling the employees and motivate individual.
Sort out employee needs and working issues.
Communicate with HR and get resolutions as possible.
Self-handling with own credentials through web/mobile application .
More clarity with paying and calculating the working hour.
Human Resources Management Software Features
Provide Access to Employees
HRMS carries financial data for employees to their pay structure, payslips, and service history like starting date to till working date, insurance.
Monitor Workflow Process
ERegular tasks assigned by superiors drag the employee efficiency and time, for that HRMS enables them to calculate the working hours accurately.
Automation HR Process
AHR doesn't need to supervise such operations and save time in order to interact with employees and save paperwork for audits.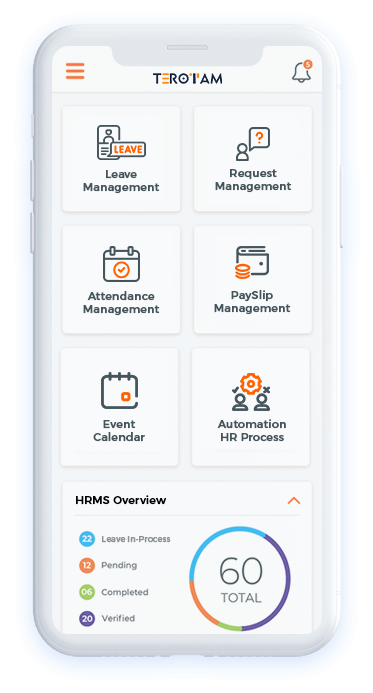 Manage Organization
With HRMS software, manage the staff in the organization in the hierarchy to assign work and track the data digitally.
Upskilling the Employees
AIn the manner of working constantly sometimes, employees lose their skill for that HRMS recognize the staff and educates them.
Employee Performances
PBy the KPAs results, HRMS recognizes the individual person to improve the accountability and reward them based on their performance.
Do you have questions?
A platform that integrates, manages, and automates many of the routine HR processes in an organization. What is HRMS software application?
HRMS, a human resource management system, is a software application used to manage human resources and organize internal working teams, roles, and staff through web and mobile applications. And allows us to calculate the taxes and employee wages.
What are the functionalities in HRMS?
Functionalities and features that are
Managing employee's payroll.
Recruitment and onboarding.
Collect, save, and keep in order employee information.
Maintain attendance records and absenteeism.
Performance analysis.
Learning management.
Employee self-service.
How does HRMS help majorly to organizations?
It Helps to identify and contact individual persons by their performance and easy to resolve employee issues, track the employee's history in order to leave, and service period. And centralize the information in web applications.
How does HRMS help Employees?
It Allows to Create leave requests, collect payslips, contact HR, know the calendar, and events like all business schedules and meetings can be sorted out systematically.
How do I log in to HRMS?
To login to HRMS company will provide your credentials, and you can log in through a mobile/web application to manage leaves and requests. Also, contact your superior for need help.
Testimonial
Paradigm Shift
With an easy to operate system and user-friendly Interface of TeroTAM, we integrated more than 200+ outlets operational within PAN India for 2+ years. This software enabled us to manage almost everything with a centralized dashboard, by sitting in one place, manage priorities and analyze all the key performance indicators with prolonged analytics. We are expecting to use TeroTAM for a long horizon with more advanced upgraded software in the era of growing new technologies.

Parthiban B.
(GM Facilities & Renovations Food & Beverages)
Tata Starbucks Private Limited
Ignited Innovation
TeroTAM has made our work easier & faster starting from complaint request generation to field and till the closer. Easy to upload data and updates, compatibility with multiple languages and lesser human efforts in writing saves a lot of time and energy and helps to produce the perfect data from beginning to end in a most customized manner. It's well received software, perfectly designed to match all our requirements, using satisfactorily with zero complaints for 2+ years.

Vikas A.
(GM Services Hospitality)
Equinox Solutions Limited
Excellent Platform
We have been using the TeroTAM platform for 1 year and we have seen a streamlined approach in our Staff management and Project Management. After we get started with them, our asset management has been upgraded and becoming cost-effective day by day. "Keep it up...Team TeroTAM.

Rohan Patel
(Owner)
Anand Color World
Business with TeroTAM is Super Easy
Starting from Asset Management to Complaint Management, each solution we used, has made our process fluent and flawless. We have remarkably reduced the cost of Inventory management and maintenance management with easy-to-use TeroTAM CMMS software. We experienced superfast tracking and location management with the QR-code scanning technology they offer. All-and-all, it's a one-stop solution for all your business needs. Strongly recommend it to all.

Harsh Chaudhary
(Owner)
Inventrik Enterprise
"It's Good and Useful Tool"
"I've been using this software for 1 year mostly for communication within the project team, task management, and collaboration with our customers. It's really easy to use & maintain, good support, easy to add asset details, cost-effective and flexible!"

Drashti Sharma
(Head of Management)
IT & Software Technology