Why Property Management Software?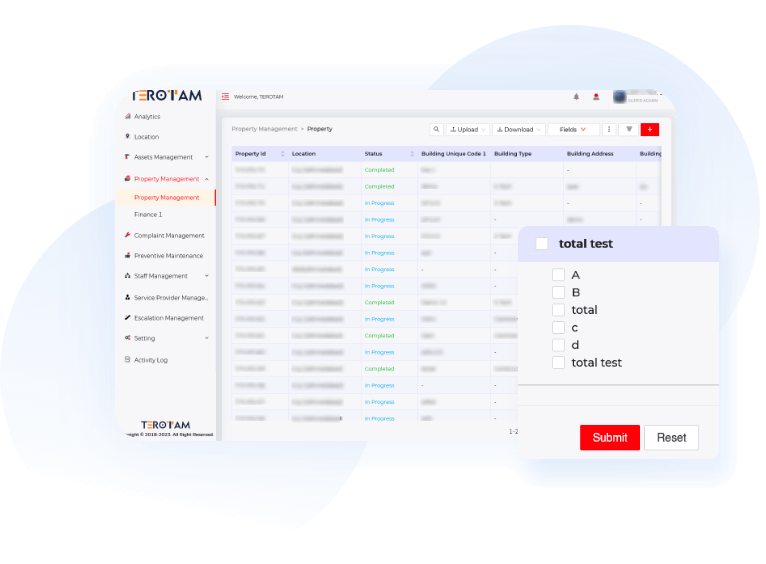 Businesses can ask for best property management software for plenty of reasons without a doubt. It primarily aids in streamlining and automating numerous property management operations, resulting in improved productivity and efficiency. Businesses can effortlessly manage and track their properties, including lease agreements, rental payments, maintenance requests, and tenant information, with the help of top property management software. With quick access to vital information provided by this consolidated system, there are fewer opportunities for mistakes and operational delays.
Businesses can generate in-depth reports, evaluate financial data, and make educated decisions about purchasing real estate, choosing tenants, and extending leases thanks to TeroTAM property management services. It improves property management as a whole, conserves time and resources, and boosts the profitability of real estate companies. This ultimate software allows for transparent and efficient communication regarding lease agreements, rent increases, and property updates, eliminating the need for manual paperwork and reducing the likelihood of miscommunication or disputes
Systematic Property Management
Starting from finding the best site location to manage its lease, the property management solution does everything you ask for. The most challenging and hard-working tasks are performed with super ease and effectiveness which results in more productive and prominent results that you can expect from a systematic property portfolio management system.
Streamlined Site Acquisition
Use the property management system to keep track of potential site locations, assess their appeal, and manage communications with landowners. This technology can also help you stay on top of environmental and zoning rules.
On-point Lease Management
Top Property management software can help organizations manage their leases more efficiently by automating lease renewal notifications, keeping track of regulatory compliance, and producing reports to demonstrate compliance.
Flawless Financial Management
With the use of a property management system, you can keep track of your income sources, control your spending, and improve your financial performance in order to reach your annual goals.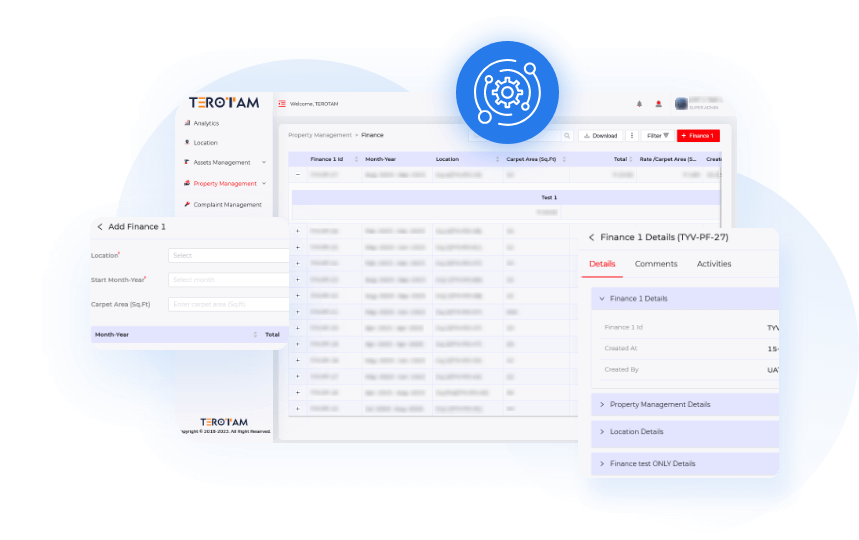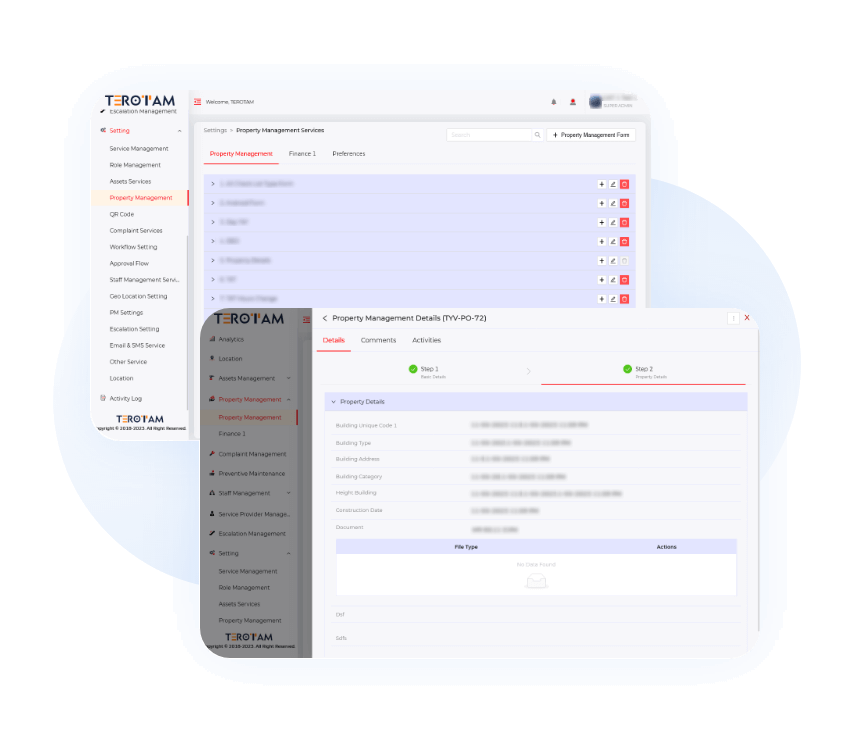 Prominent Property Tracking
Tracking your property is something that needs to be taken care with a more careful and cautious manner. As you need to deal with multiple properties, their regular maintenance can't be ignored as it can cost you loss of property or repairs costs and compliance issues to avoid legal complications and penalties. The one-stop solution is the property management solution that offers you a systematic approach.
Meticulous Maintenance Management
Property maintenance software helps to more efficiently manage maintenance and repairs by keeping track of maintenance tasks, managing work orders, and coordinating maintenance operations with site owners and tenants.
Multi-location Property Management
No worries if you have a widespread business. Owning properties and sites at multiple locations needs to keep them maintained and tracked which is quite cumbersome with manual efforts but with TeroTAM's property management platform you can manage all multiple sites from a centralized dashboard.
Rigorous Regulatory Compliance
Property management solutions can help your company comply with property regulatory standards by regularly tracking regulatory changes, producing reports, and facilitating regulatory compliance.
Revolutionize Your Property Management Processes with TeroTAM
Experience the next generation of best property management software designed to drive success and systematic property management.
Manage your Property in Palm easy way with Smartphone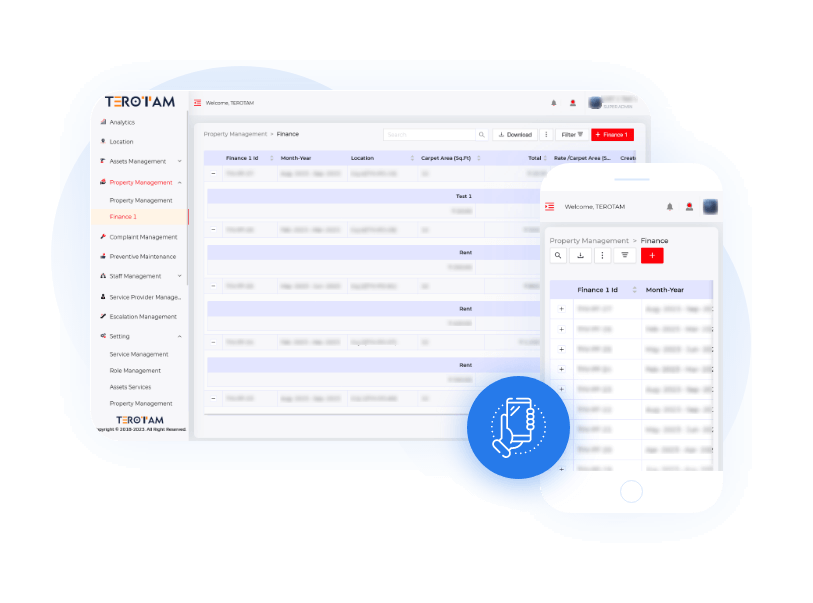 Get instant access to important property information and management tools from anywhere, allowing property managers to stay connected and informed on the go.
Facilitate seamless communication between property managers, tenants, and maintenance personnel through quick updates and alerts, and messages on mobiles.
Easily submit maintenance requests, pay rent online, and access important documents, providing convenience and enhancing satisfaction.
Get real-time updates on property conditions, lease renewals, and maintenance status to stay updated and make informed decisions quickly anytime anywhere.
Take property pictures and upload them with all the necessary documents along with your comments to keep the property auditing and assessment easy and faster.
Mobile-enabled property inspection allows the assessment team to carry out the assessment for multi-location properties and sync to cloud storage.
Rapidly document and deploy the property tracking and maintenance report using a smartphone to make centralized and quick decision-making.
Features that Build a Sophisticated Property Management System
Asset Management
By offering a single database of all assets, it makes it simple to determine which assets need maintenance or repair by keeping track of their location, state, and maintenance history.
Document Management
With a single database of all pertinent papers, it may assist you in managing their documentation to save time and cut down on errors, while ensuring streamlined property management documentation.
Employee Management
It helps you effortlessly arrange and manage staff members with the help of the staff management feature that includes tools for scheduling shifts, allocating duties, and tracking performance.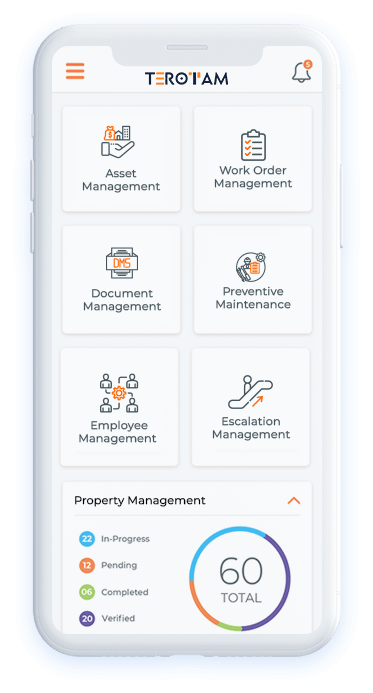 Work Order Management
streamlined work management approach, Based on maintenance schedules, the system can create work orders, track their execution, and produce reports on the status of those orders.
Preventive Maintenance
To maintain the condition of their premises, assets connected to them and reduce downtime. businesses develops a preventative maintenance program & issue work orders for planned maintenance tasks, and track their execution.
Escalation Management
This solution enables property managers to set up event-based automatic alerts and notifications, like maintenance requests or lease expirations to make sure prompt action and escalation.
Do you have questions?
Let's make it clear with your queries, and be tech-savvy in your business What is property management software?
Property management software is a technological solution designed to assist property owners, managers, and landlords in efficiently managing their real estate portfolios. It offers a range of features such as lease management, tenant screening, rent collection, maintenance tracking, accounting, reporting, and communication tools to streamline various property management tasks.
Is property management software scalable for managing multiple properties?
The property management software from TeroTAM is made to manage multiple properties in multiple locations and scale to the user's demands. It makes it simpler to oversee operations, track performance, and handle administrative responsibilities for a growing portfolio by enabling property managers to effectively manage and track dispersed properties within a single platform.
Is your property management system cloud-based or locally installed?
Our Property management system is a cloud-based solution. It can be accessed from anywhere with an internet connection. It lets you have a free hand to track and manage your property with 100% mobility.
Can a property management solution generate reports?
Yes, the property management tool provides robust reporting capabilities. Users can generate various reports, such as financial statements, occupancy rates, rental income summaries, maintenance logs, and lease expiration schedules.
How much does property management software cost?
The cost of a property management platform varies depending on the features, functionality, and size of the property portfolio. At TeroTAM, we do believe in customized solutions as every business has its own set of needs. Hence customized solutions are preferred and likewise the cost can also vary from business to business, case to case.
To know more about the cost of our property management solution, connect with us at contact@terotam.com
Testimonial
Paradigm Shift
With an easy to operate system and user-friendly Interface of TeroTAM, we integrated more than 200+ outlets operational within PAN India for 2+ years. This software enabled us to manage almost everything with a centralized dashboard, by sitting in one place, manage priorities and analyze all the key performance indicators with prolonged analytics. We are expecting to use TeroTAM for a long horizon with more advanced upgraded software in the era of growing new technologies.

Parthiban B.
(GM Facilities & Renovations Food & Beverages)
Tata Starbucks Private Limited
Ignited Innovation
TeroTAM has made our work easier & faster starting from complaint request generation to field and till the closer. Easy to upload data and updates, compatibility with multiple languages and lesser human efforts in writing saves a lot of time and energy and helps to produce the perfect data from beginning to end in a most customized manner. It's well received software, perfectly designed to match all our requirements, using satisfactorily with zero complaints for 2+ years.

Vikas A.
(GM Services Hospitality)
Equinox Solutions Limited
Excellent Platform
We have been using the TeroTAM platform for 1 year and we have seen a streamlined approach in our Staff management and Project Management. After we get started with them, our asset management has been upgraded and becoming cost-effective day by day. "Keep it up...Team TeroTAM.

Rohan Patel
(Owner)
Anand Color World
Business with TeroTAM is Super Easy
Starting from Asset Management to Complaint Management, each solution we used, has made our process fluent and flawless. We have remarkably reduced the cost of Inventory management and maintenance management with easy-to-use TeroTAM CMMS software. We experienced superfast tracking and location management with the QR-code scanning technology they offer. All-and-all, it's a one-stop solution for all your business needs. Strongly recommend it to all.

Harsh Chaudhary
(Owner)
Inventrik Enterprise
"It's Good and Useful Tool"
"I've been using this software for 1 year mostly for communication within the project team, task management, and collaboration with our customers. It's really easy to use & maintain, good support, easy to add asset details, cost-effective and flexible!"

Drashti Sharma
(Head of Management)
IT & Software Technology