Why Do You Need HVAC Maintenance Management Software?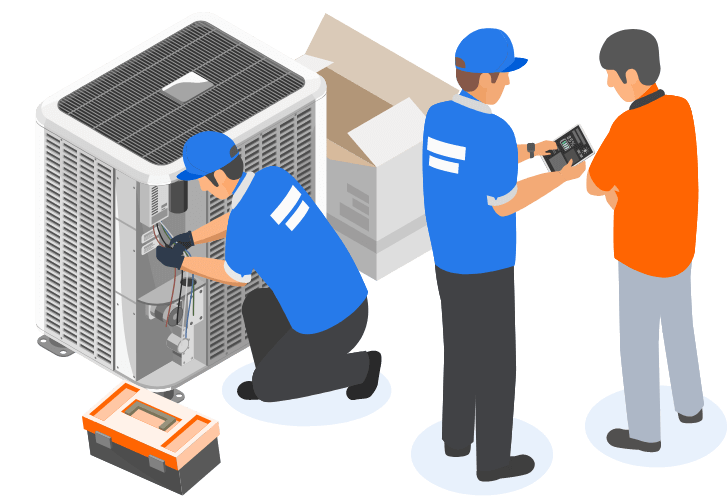 HVAC systems play a pivotal role in ensuring comfortable, efficient, and cost-effective environments within business facilities. Maintaining an efficient HVAC system is crucial for both comfort and cost savings. Without proper maintenance, HVAC systems can suffer from breakdowns, inefficiency, and increased operational costs. However, maintaining these intricate systems can be a complex and demanding task. This is where HVAC Maintenance Management Software becomes essential. Service Management Software for HVAC is not just a choice; it's a necessity.
HVAC maintenance management software ensures that your heating, ventilation, and air conditioning systems operate at peak performance. It helps you minimize downtime, reduce energy consumption, and extend the lifespan of your equipment. With HVAC Maintenance software , you can effortlessly track, schedule, and manage maintenance tasks, ensuring your HVAC systems are always in their optimal condition.
Planned Preventive Maintenance
Regular preventive maintenance is the bedrock of a robust HVAC system. It involves a systematic approach to inspection and upkeep to prevent unexpected breakdowns and optimize energy efficiency.
Scheduled Maintenance
HVAC preventive maintenance software automates the scheduling of regular maintenance tasks, ensuring that they are executed at the optimal times to prevent system failures and reduce emergency repairs.
Timely Alerts and Notifications
Proactive alerts from HVAC management systems ensure that no maintenance tasks are overlooked, reducing the risk of unexpected HVAC issues and Streamline Commercial HVAC maintenance.
HVAC Maintenance Checklist
HVAC management software provides detailed HVAC preventive maintenance checklists to guide technicians through comprehensive inspections and maintenance procedures, leaving no room for oversight.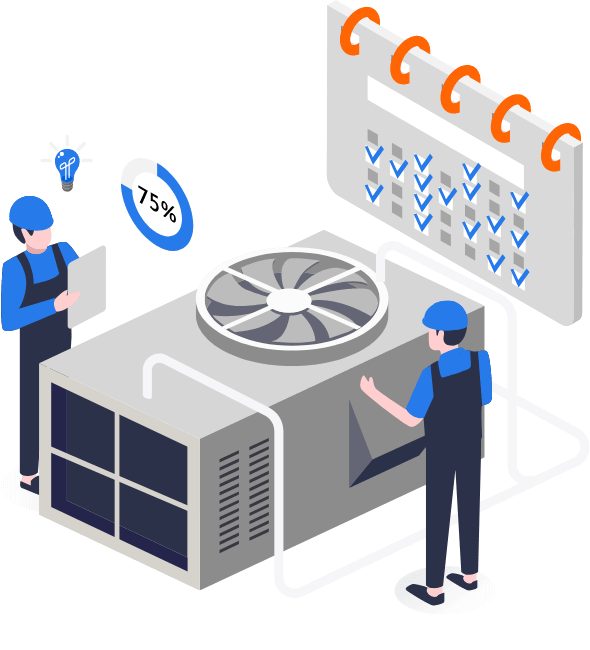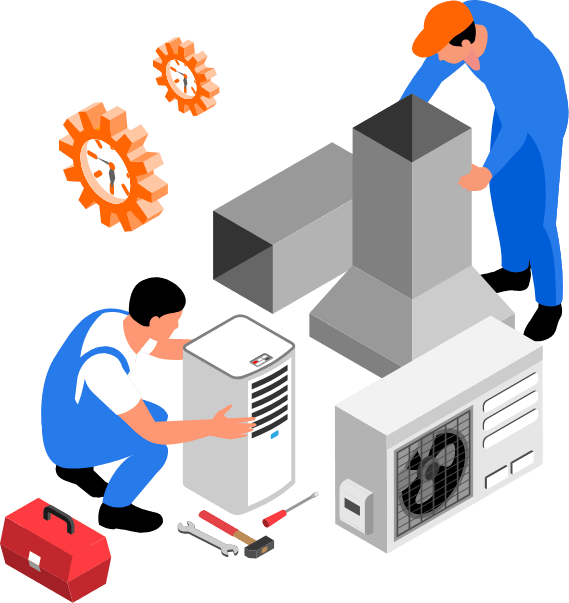 Asset Life Cycle Management
Efficiently managing the life cycle of your HVAC assets is pivotal for cost control and performance optimization. Such software maintains detailed asset histories, including breakdowns and maintenance records, offering insights to identify patterns and improve reliability.
Asset History
This software maintains an extensive record of each asset's breakdowns and maintenance history, helping you identify patterns and make data-driven decisions for improvements.
Asset Vendor Details
Keep track of essential vendor information within the HVAC Management system, simplifying communication and procurement processes and maintenance task management.
Asset Tracking
HVAC Facility software ensures precise tracking of asset maintenance schedules, guaranteeing that all components receive their required servicing and inspections and stay in best of their condition.
Impeccable Inventory Management
On-point Inventory management is a must for uninterrupted HVAC maintenance schedules. HVAC maintenance management software ensures that you have the right parts and equipment available when needed to carry out the timely maintenance activities.
Uninterrupted Maintenance Schedules
With real-time inventory data, it ensures that maintenance schedules are not interrupted due to parts shortages, minimizing downtime and improving overall system efficiency.
Timely Availability of Parts and Equipment
HVAC management system helps you forecast your inventory needs, ensuring that the right parts are in stock when required, reducing repair times and improving overall operational efficiency.
Detailed Insight into Inventory Usage and Assignment
HVAC maintenance software offers in-depth insights into inventory usage and assignment, allowing you to optimize inventory levels and prevent unnecessary wastage and saving costs.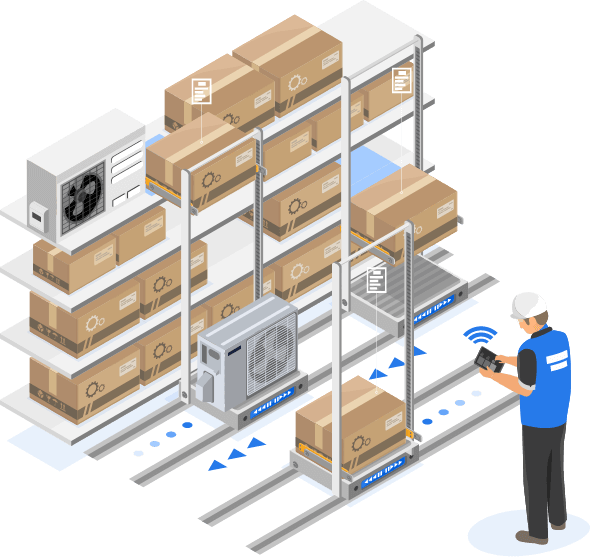 Tailor Your HVAC Maintenance Solution with Breeze
It's time to Transform the Way you Manage Your HVAC System with Contemporary HVAC Maintenance Software
Manage Your Restaurant in a Palm-Easy Way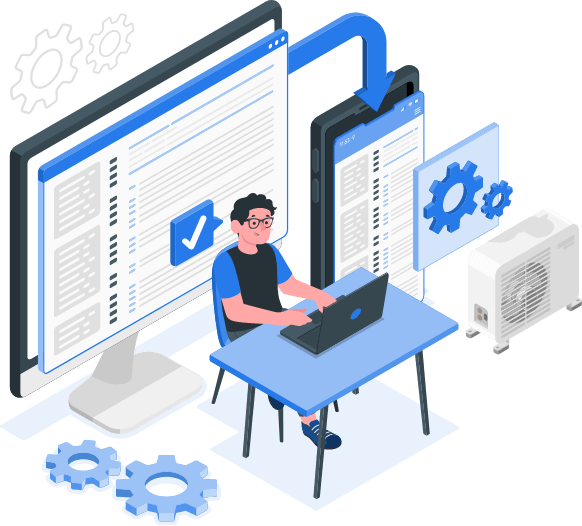 Streamline restaurant operations and staff collaboration with user-friendly mobile HVAC maintenance scheduling.
Maximize cost efficiency by automating maintenance schedules and ensuring optimal HVAC performance from your mobile device.
Enhance customer satisfaction by providing a consistently comfortable dining environment through mobile-accessible HVAC management.
Ensure year-round comfort in your restaurant by scheduling and monitoring HVAC systems on the go, adapting seamlessly to seasonal changes.
Features of HVAC Maintenance Software
Asset Management
Easily monitor and track of your HVAC assets, their maintenance history, ensuring peak performance.
Preventive Maintenance
Automate maintenance schedules and receive timely alerts, reducing downtime and costly repairs.
Complaint & Escalation Management
Effectively address customer and internal complaints related to HVAC issues, improving customer satisfaction.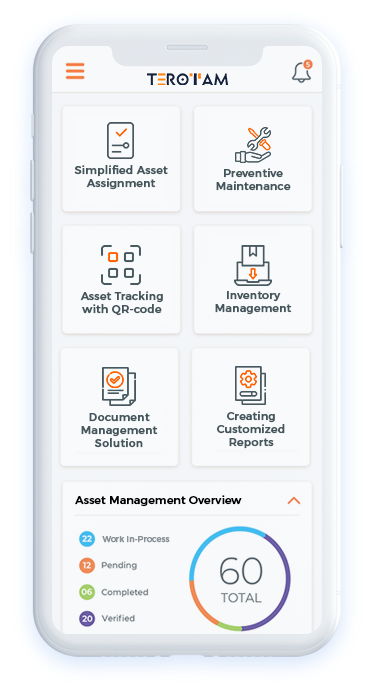 Vendor Management
Effectively manage vendor relationships, streamline procurement, and negotiate better service contracts.
Work Order Management
Streamline work order creation and assignment, improving task allocation and tracking for maintenance staff.
Remote Monitoring
Monitor HVAC system performance remotely and receive real-time alerts on critical issues, allowing for rapid response and issue resolution.
Do you have questions?
We know the most obvious doubts one has in mind while thinking of HVAC Management Solution. Check out FAQs and unravel your doubts. What is HVAC Maintenance Management software?
HVAC Maintenance Management software is a digital tool designed to streamline the management and maintenance of heating, ventilation, and air conditioning systems. It helps organizations efficiently plan, schedule, and track maintenance tasks, manage work orders, and ensure the optimal performance of HVAC systems.
What are the key features of HVAC Maintenance Management software?
Key features of HVAC Maintenance Management software typically include preventive maintenance scheduling, work order management, asset tracking, inventory management, reporting and analytics, and mobile accessibility. These features enable businesses to maintain and monitor their HVAC systems effectively.
How does HVAC Maintenance Management software benefit businesses?
HVAC Maintenance Management software offers several benefits, including increased equipment reliability, reduced downtime, improved energy efficiency, lower maintenance costs, and enhanced compliance with industry regulations. It also provides valuable data for informed decision-making.
Is HVAC Maintenance Management software suitable for both small and large organizations?
Yes, HVAC Maintenance Management software is suitable for organizations of all sizes. Small businesses can use it to efficiently manage a few HVAC units, while large enterprises can scale up to manage extensive HVAC systems across multiple locations. The software can be tailored to the specific needs of each organization.
Can HVAC Maintenance Management software integrate with other systems and tools?
Many HVAC Maintenance Management software solutions offer integration capabilities with other systems such as building automation systems, IoT sensors, and accounting software. This allows for a seamless flow of data and ensures that maintenance information is synchronized with other business processes.
Testimonial
Paradigm Shift
With an easy to operate system and user-friendly Interface of TeroTAM, we integrated more than 200+ outlets operational within PAN India for 2+ years. This software enabled us to manage almost everything with a centralized dashboard, by sitting in one place, manage priorities and analyze all the key performance indicators with prolonged analytics. We are expecting to use TeroTAM for a long horizon with more advanced upgraded software in the era of growing new technologies.

Parthiban B.
(GM Facilities & Renovations Food & Beverages)
Tata Starbucks Private Limited
Ignited Innovation
TeroTAM has made our work easier & faster starting from complaint request generation to field and till the closer. Easy to upload data and updates, compatibility with multiple languages and lesser human efforts in writing saves a lot of time and energy and helps to produce the perfect data from beginning to end in a most customized manner. It's well received software, perfectly designed to match all our requirements, using satisfactorily with zero complaints for 2+ years.

Vikas A.
(GM Services Hospitality)
Equinox Solutions Limited
Excellent Platform
We have been using the TeroTAM platform for 1 year and we have seen a streamlined approach in our Staff management and Project Management. After we get started with them, our asset management has been upgraded and becoming cost-effective day by day. "Keep it up...Team TeroTAM.

Rohan Patel
(Owner)
Anand Color World
Business with TeroTAM is Super Easy
Starting from Asset Management to Complaint Management, each solution we used, has made our process fluent and flawless. We have remarkably reduced the cost of Inventory management and maintenance management with easy-to-use TeroTAM CMMS software. We experienced superfast tracking and location management with the QR-code scanning technology they offer. All-and-all, it's a one-stop solution for all your business needs. Strongly recommend it to all.

Harsh Chaudhary
(Owner)
Inventrik Enterprise
"It's Good and Useful Tool"
"I've been using this software for 1 year mostly for communication within the project team, task management, and collaboration with our customers. It's really easy to use & maintain, good support, easy to add asset details, cost-effective and flexible!"

Drashti Sharma
(Head of Management)
IT & Software Technology
Resources to Asset Management you may like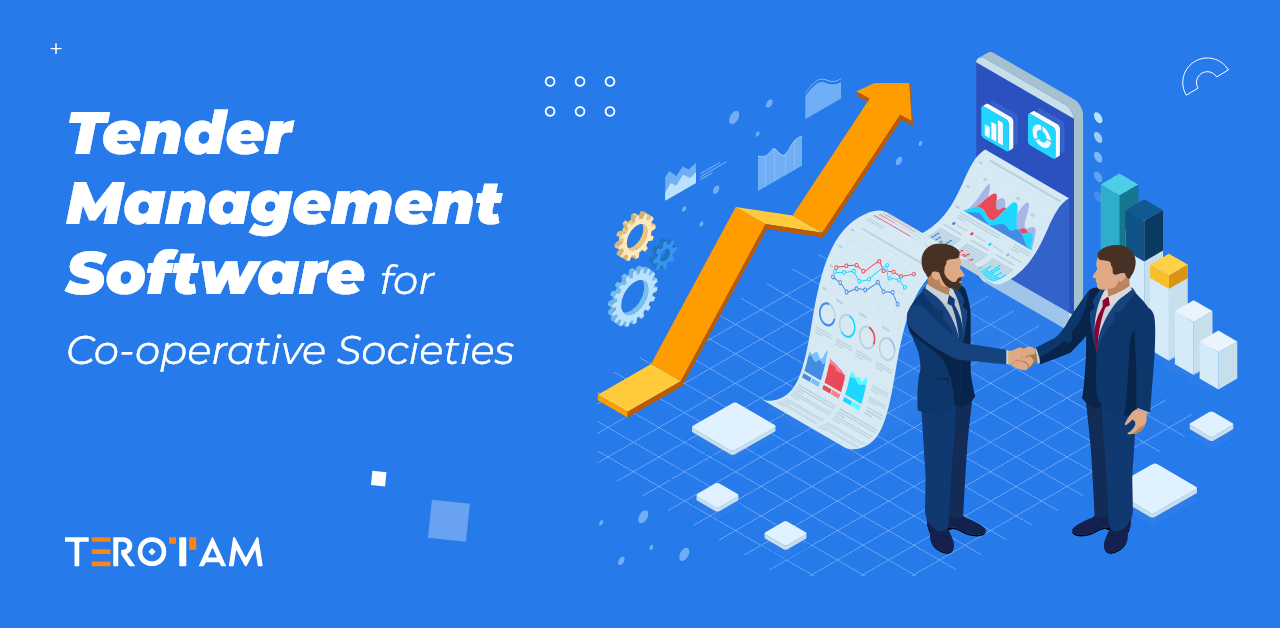 Posted On
Nov 30, 2023
| by
Mahendra Patel
Co-operative societies play a crucial role in fostering community development and addressing the diverse needs of their members. As these s...