Why You need CMMS for Food and Beverage Business?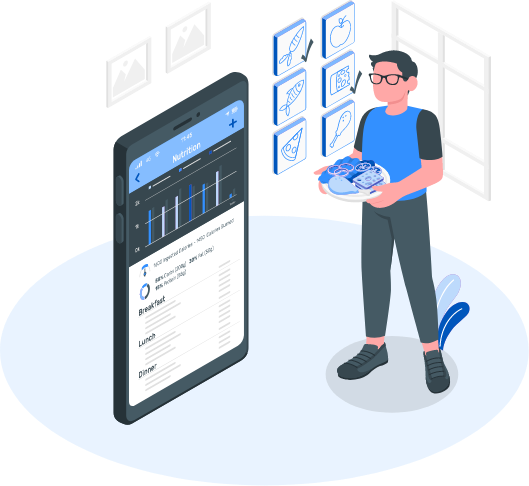 TeroTAM's Food and Beverage Maintenance Management solution is equipped with all the ultra-age technologies you need to keep around while managing your food and beverage business smoothly and smartly. TeroTAM's CMMS helps manage your workflow, asset management and tracking, and inventory tracking and management.
Keep track of where each part is, down to the bin number and if it's been checked in or out recently. There's no need to hastily explore a warehouse for the part you need. Track how many times each component has been reordered, with the ability to categorize them based on their value. Critical part inventory cycle counts can be set to occur more frequently than less important part counts. Also, Manage your Vendors accurately to keep all the associated partners satisfied. It also helps you to analyze your cost and financial management with all customized reports as and when you need them.
Spotless Work Order Management
TeroTAM's Food and Beverage Management solution lets you schedule and practice well-planned and scheduled work order management. It helps you to manage all the tasks on priority and assign them to the concerned technician or a dedicated team. With Flawless tracking with QR codes, you will be enabled with real-time updates on your tasks on the cloud-based system.
Excellent operational efficiency
Seamless work order management guarantees smooth operation efficiency within your premise and keeps all the work flawlessly organized
Higher Productivity and Employee Morale
A well-managed work order keeps the productivity and employee morale high with zero latency, unexpected stoppages, and unplanned priorities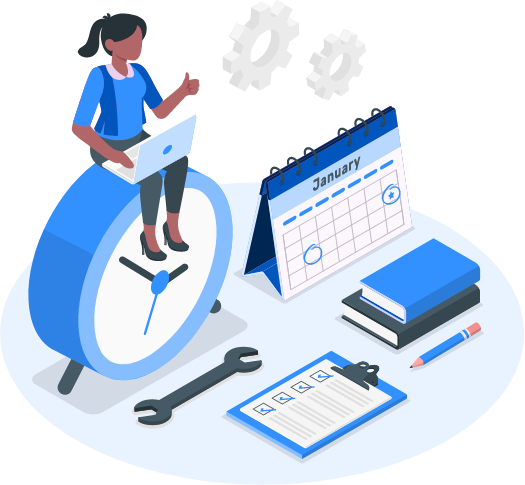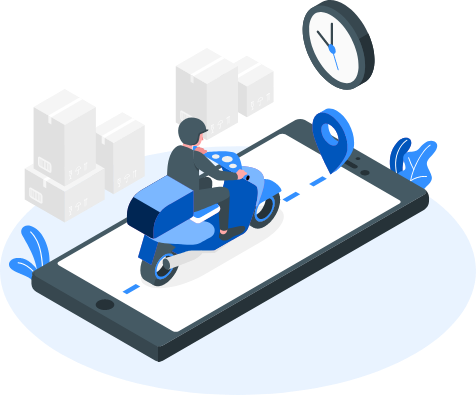 Equipment Tracking and Preventive Maintenance
Our CMMS software helps you implement Preventive maintenance to keep your assets and equipment free from unwanted downtimes. Flawless Equipment tracking keeps you updated with the status handy on each of your equipment. Our software can assist you in establishing a maintenance management system that meets your company's requirements.
Improve Preventive Maintenance and Work orders
Assist your team in improving preventive maintenance, streamlining the work order system, and maximizing the return on your assets.
Track your Equipment with Barcodes
With a modernized equipment tracking approach with barcodes, you will be able to keep an eye on every movement of your equipment
Flawless Vendor Management
Vendors are those parts of the business that keep the business alive and keep it going without delay. Our CMMS software is designed to understand the due importance of Vendors and hence designed in such away. You can use our CMMS to keep track of all your vendors' performance and get an insight into all vendor history from the day one they entered the system.
Track and Compare your Vendors
Score each vendor's efficiency, problem-solving abilities, and even flaws. Our software assists you in keeping track of and comparing providers.
Manage all records of your Vendors
You can keep all the records & history of your vendor on the cloud storage system and access all the details as needed.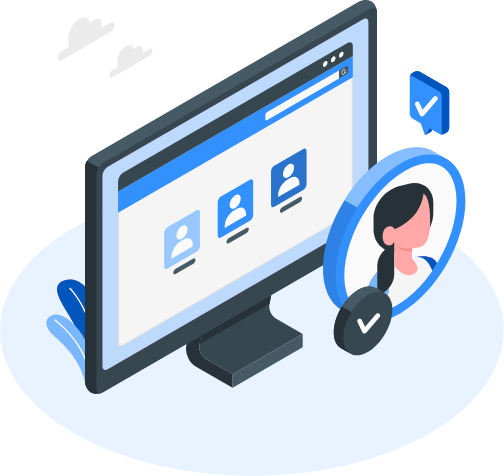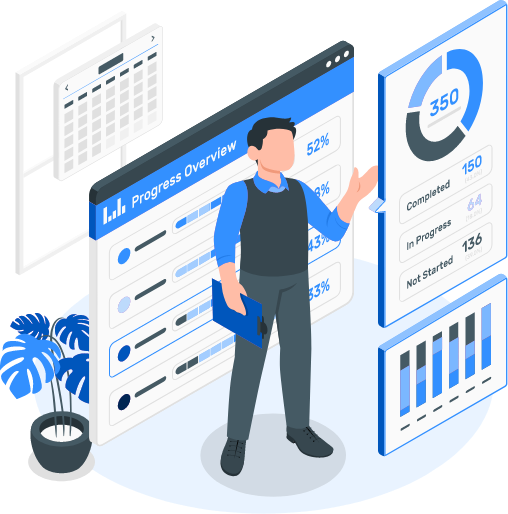 Budget and Cost Analysis with Nimble Report Management
Our Food and Beverage Maintenance and Management solution allows the management to take easy and faster but smart decisions based on accurate data. With the Real-time and customized report management functionality, you can access all the reports anytime, anywhere and analyze your Budget and cost-related issues with effortless efficiency.
Instant Decision making
Get all the relevant information with Budget and cost analysis report and take the right corrective measures to upgrade your efficiency.
Control Costs with accurate analytics
Stops the tasks and activities that give the unwanted stoppages and lagging in work task and reduce the unwanted expense.
Experience the Modernistic Food and Beverage Management Solution
Take your Food and Beverage Business at New Heights with Enriched CMMS Solution.
Manage your Food and Beverage Business Palm-Easy way with Mobile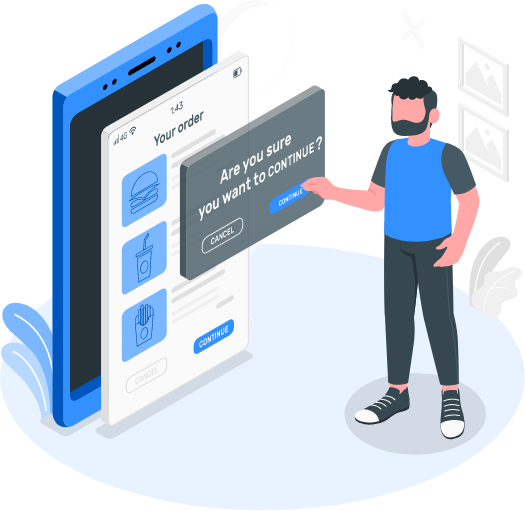 Create your own work request forms and let guests use their mobile devices to submit, search, sort, and track requests.
Receive a reminder when a task is issued to you to prevent workers from falling through the cracks.
Work orders, assets, and parts may all be found using the search function. Using your phone or tablet, keep track of how many parts you've used or how much labor you've performed.
From your camera or image gallery, add photographs to work orders and asset records. Without breaking a sweat, you can flag issues, prepare for audits, and create clearer notes.
Food & Beverage Maintenance Management Software Features
Handcrafted Compliance
Create a custom-made compliance checklist and share it with concerned technicians or teammates to keep them updated with all the tasks they need to work on.
Downsized TAT
Reduce your turn-around time and expedite your responses with Real-time Task Management and Complaint Management and Tracking.
Seamless Asset Tracking
Track your asset and its movement seamlessly with the latest barcode technology and keep yourself updated.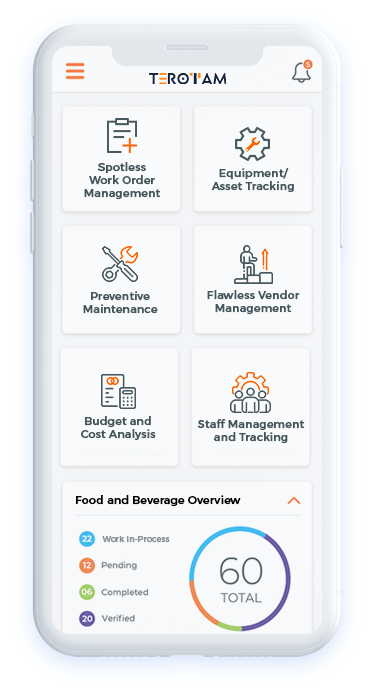 Instantaneous Access With Smartphones
With the cloud-based interface, any technician and staff member can easily access all the checklists and updates on their smartphone anytime, anywhere.
Staff Management And Tracking
Keep all staff records on a cloud-based system and track your staff's activity and movement with a concerned QR-code system.
Lifetime Support
Experience phenomenal lifetime support from our team of expert technicians.
Do you have questions?
To empower the team of technicians with updates of customers, inventory, and assets with ease. How much does CMMS cost for the Food and Beverage Industry?
Every CMMS provider has its own philosophy while deciding their software pricing, but based on industry players, there are two types of pricing methods: Fixed Monthly charges and the other one is the pay-per-use pricing method.
To know how TeroTAM's Food and Beverage Industry Management solution charges, reach us at contact@terotam.com.
Why do you need the CMMS software for the Food and Beverage Industry?
The Food and Beverage Industry requires lots of inventory, vendors, equipment and assets to be managed to run the operations successfully. Also, they can't afford any unplanned downtime, as they have to meet the market demand. Hence, a CMMS software must manage all the assets and inventories and vendors from a centralized system and avoid accidental downtime with Preventive Maintenance.
Is it possible to store the Maintenance Database and Documentation?
Obviously, With TeroTAM's CMMS solution, you will store all the database and documentation on the cloud-based system and can be accessed anytime, anywhere.
Is it possible to manage purchase requests from this Software?
Absolutely. You can manage all the purchase requests from the Vendor management solution within TeroTAM's CMMS software.
Testimonial
Paradigm Shift
With an easy to operate system and user-friendly Interface of TeroTAM, we integrated more than 200+ outlets operational within PAN India for 2+ years. This software enabled us to manage almost everything with a centralized dashboard, by sitting in one place, manage priorities and analyze all the key performance indicators with prolonged analytics. We are expecting to use TeroTAM for a long horizon with more advanced upgraded software in the era of growing new technologies.

Parthiban B.
(GM Facilities & Renovations Food & Beverages)
Tata Starbucks Private Limited
Ignited Innovation
TeroTAM has made our work easier & faster starting from complaint request generation to field and till the closer. Easy to upload data and updates, compatibility with multiple languages and lesser human efforts in writing saves a lot of time and energy and helps to produce the perfect data from beginning to end in a most customized manner. It's well received software, perfectly designed to match all our requirements, using satisfactorily with zero complaints for 2+ years.

Vikas A.
(GM Services Hospitality)
Equinox Solutions Limited
Excellent Platform
We have been using the TeroTAM platform for 1 year and we have seen a streamlined approach in our Staff management and Project Management. After we get started with them, our asset management has been upgraded and becoming cost-effective day by day. "Keep it up...Team TeroTAM.

Rohan Patel
(Owner)
Anand Color World
Business with TeroTAM is Super Easy
Starting from Asset Management to Complaint Management, each solution we used, has made our process fluent and flawless. We have remarkably reduced the cost of Inventory management and maintenance management with easy-to-use TeroTAM CMMS software. We experienced superfast tracking and location management with the QR-code scanning technology they offer. All-and-all, it's a one-stop solution for all your business needs. Strongly recommend it to all.

Harsh Chaudhary
(Owner)
Inventrik Enterprise
"It's Good and Useful Tool"
"I've been using this software for 1 year mostly for communication within the project team, task management, and collaboration with our customers. It's really easy to use & maintain, good support, easy to add asset details, cost-effective and flexible!"

Drashti Sharma
(Head of Management)
IT & Software Technology
Straight from the editor's desk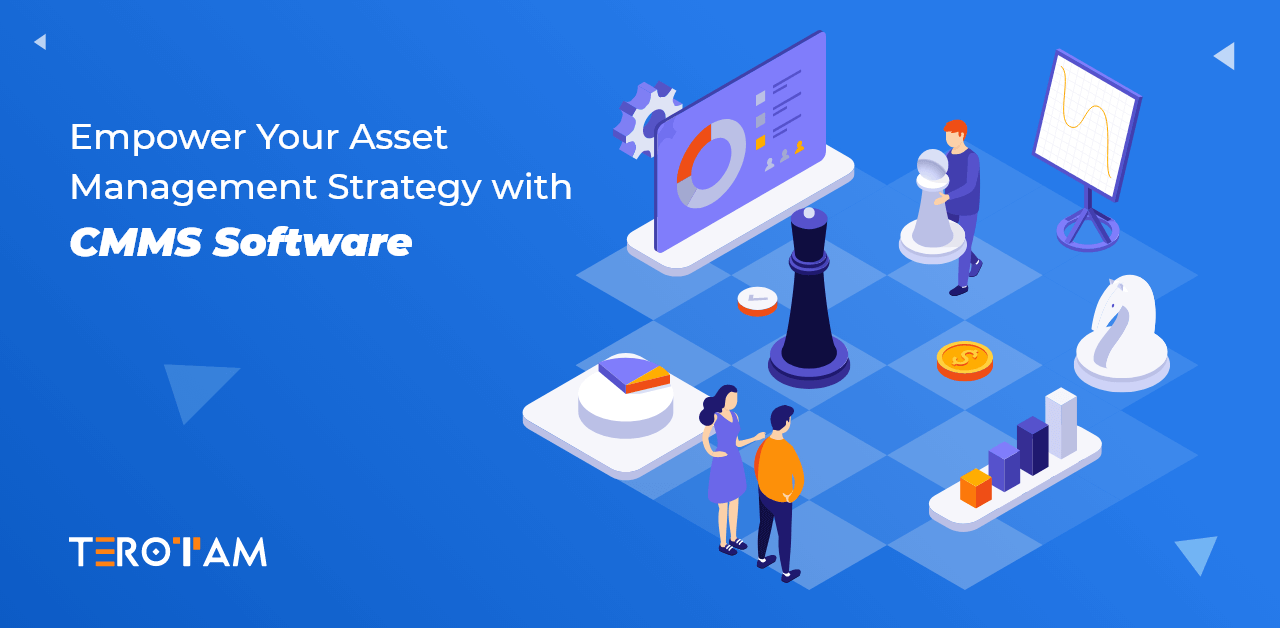 Posted On
Sep 27, 2023
| by
Mahendra Patel
Have you ever pondered over the inner workings of your organization's assets? How well do you really know them? From the factory floor humm...