Why Preventive Maintenance Software?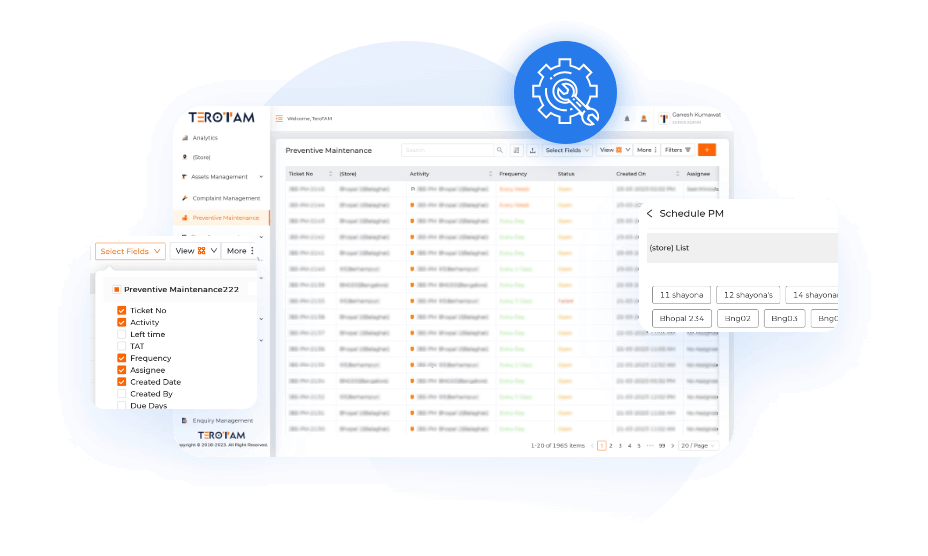 A preventive maintenance solution makes sure that on an ongoing basis, maintenance can be scheduled automatically for assets, plant, and equipment and allocated to a chosen contractor in a seamless and automated manner. A monthly maintenance check on one asset can necessitate a quarterly maintenance check on another. The recommended contractor is automatically given the project task to complete when it arises. This usually begins with a job request form and is a component of your work order software.
By identifying possible concerns early and resolving them before they become costly repairs, preventative maintenance can help prevent maintenance issues. Frequent inspections can aid in spotting flaws, worn components, and other problems before they worsen. Also, by ensuring that your equipment is performing at its best, planned preventative maintenance can help extend the life of your equipment. In the long term, routine maintenance can save you money by avoiding pricey repairs or replacements.
Get Rid of Downtime and Unplanned Maintenance
Say goodbye to the hassle of unplanned maintenance and costly downtime! Preventive maintenance software is the ultimate maintenance system that reduces costs and ensures no downtime. It helps you identify the ideal maintenance schedule based on historical maintenance data and results that keeps your machines and equipment always ready to work for you.
Cut Your Maintenance Costs
Immediate maintenance can ask for unplanned costs that you need to spend. Our software offers a cost-effective solution to reduce your maintenance costs. With scheduled preventive maintenance, you can be sure of no stock-out positions or unexpected expenses.
Never Miss Out On Important Maintenance
With real-time data collection with automated maintenance schedules, you never miss out on crucial maintenance tasks, saving you time and money in the long run. Don't ever see a breakdown that costs you delay and dead operation times.
Data-Driven Maintenance Schedule
Track all your maintenance tasks and provides an optimized data-driven schedule based on your historical data collection. This ensures which machine or equipment is needed what kind of maintenance at what time and how it needs to be executed.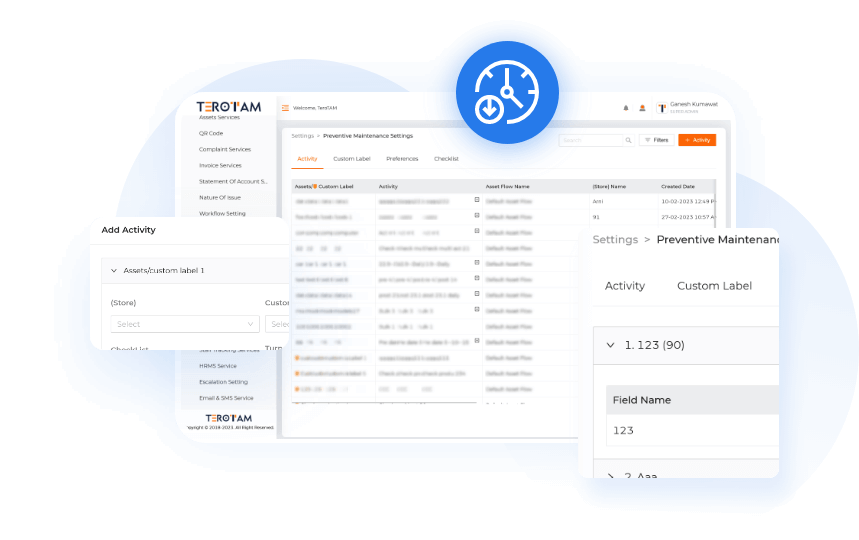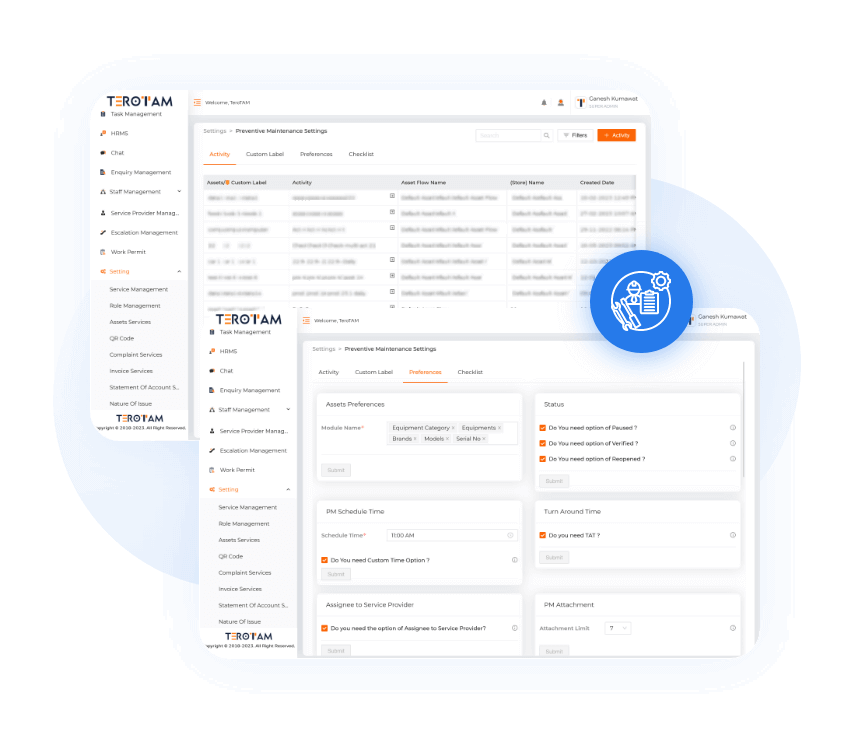 Stay Ahead of Maintenance
A preventive Maintenance solution is the easiest way to keep your assets running smoothly and prevent downtime with a proactive schedule of machine and facility maintenance that never let you see breakdowns and in return enhances the life of your assets. It also helps you cut down on asset investments and inventory cost management with accurate inventory levels and automatic alerts to get the right amount of inventory at right time.
Extend The Life Of Your Assets
Always keep yourself a step ahead of maintenance by monitoring and tracking assets, so you can plan and schedule maintenance activities to maximize their life cycle without waiting for a breakdown and delay in production risks.
Effective Inventory Management
Streamline your Inventory handling and carrying costs with full inventory management capabilities that enable you to manage inventory levels more effectively and keep track of parts, materials, and supplies in the most economic manner.
Reduce Inventory Carrying Costs
You can reduce your inventory carrying costs by identifying the parts and items that reached a reorder point which helps you identify the right parts needed for maintenance and, reduces wastage and unnecessary costs of occupying unwanted inventory storage.
Don't Wait for Breakdowns - Try Our Preventive Maintenance Software Now
Experience Hassle-Free Maintenance Management with TeroTAM's Top-Notch Preventive Maintenance Software Solution
Manage your Preventive Maintenance in Palm easy way with Smartphone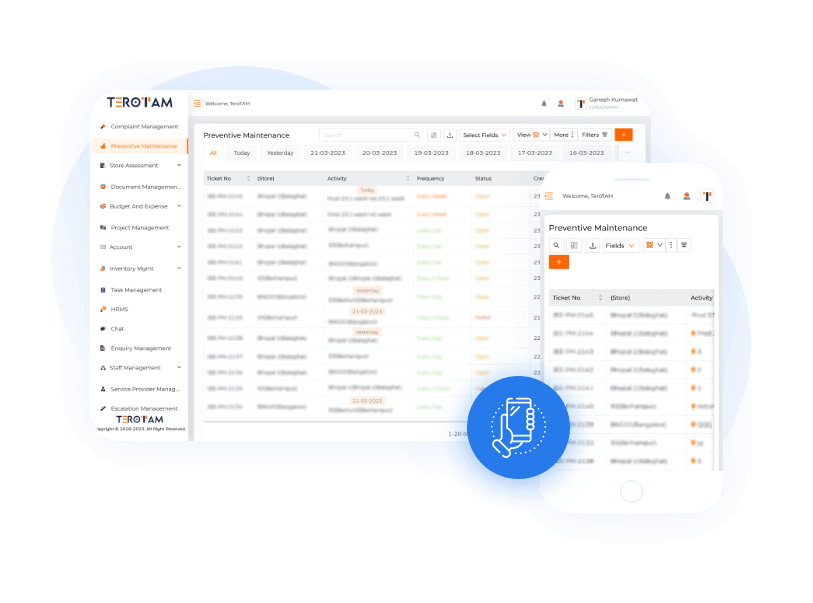 With TeroTAM's cloud-based computerized maintenance management system, you can manage your preventative maintenance schedule from your mobile while you're on the move.
Make it possible for professionals to conveniently carry checklists and maintenance manuals in their pockets.
Automated follow-up work orders can be generated from failed inspection checklists.
Make it simple for technicians and operators to record meter readings for runtime-based preventive maintenance chores or to include any checklists with photographs.
Technicians can quickly close them after doing preventive maintenance and record information there and then.
Use regular preventive maintenance schedules and checklists from your checklist library to extend the usable life of your assets.
Features that help you build Prolific Preventive Maintenance System
Asset Preference
Prioritize assets based on their criticality or importance to the organization. By doing so, preventive maintenance tasks can be scheduled and completed more efficiently, reducing downtime and increasing overall asset performance.
PM TAT
Get insights into maintenance efficiency, allowing organizations to identify areas for improvement and optimize maintenance processes and track the time taken to complete a preventive maintenance task from start to finish.
PM Analysis and Report
PM analysis and reports help to analyze past maintenance data to identify trends, patterns, and potential issues to improve maintenance efficiency, optimize preventive maintenance schedules and improve equipment reliability.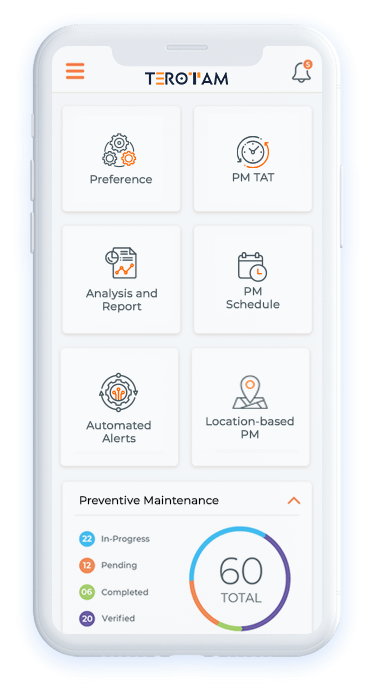 PM Schedule
Stay on top of their maintenance activities by creating and managing maintenance schedules for their equipment and assets based on various factors such as time, usage, condition, and performance metrics.
Automated Alerts
Send alerts to the relevant technicians of upcoming or overdue maintenance tasks that can help prevent equipment downtime. It reduces the risk of human error or oversight in scheduling and executing maintenance tasks.
Location-based PM
Location-based preventive maintenance enables organizations quickly locate assets stored in multiple locations that need maintenance and ultimately helps to schedule maintenance tasks, reducing travel time and increasing efficiency.
Frequently Asked Question What is Preventive Maintenance Software?
Preventive maintenance software is a tool designed to help organizations manage their maintenance activities by automating preventive maintenance tasks, scheduling inspections, tracking equipment inventory, and more.
How Does Preventive Maintenance Software Work?
Preventive maintenance software works by automating the scheduling and tracking of maintenance tasks based on time, usage, or meter readings. It can also include an asset management system to track equipment inventory, maintenance history, and warranty information.
What are the Benefits of using Preventive Maintenance Software?
The benefits of using preventive maintenance software include increased equipment reliability, reduced downtime, improved maintenance efficiency, and cost savings.
What features should I look for in Preventive Maintenance Software?
The features to look for in preventive maintenance software include scheduling, asset management, work order management, inspection checklists, reporting and analytics, mobile access, and integration with other systems.
How Much Does Preventive Maintenance Software Cost?
The cost of preventive maintenance software varies depending on the provider, the features included, and the number of users. Some providers offer subscription-based pricing, while others offer one-time licensing fees.
To know how the Preventive maintenance software cost works at TeroTAM, please connect with our experts at contact@terotam.com and ask for a quick demo.
Can Preventive Maintenance Software Integrate With Other Systems?
Yes, preventive maintenance software can integrate with other systems such as enterprise resource planning (ERP) systems, to streamline maintenance management processes and improve data accuracy.
Testimonial
Paradigm Shift
With an easy to operate system and user-friendly Interface of TeroTAM, we integrated more than 200+ outlets operational within PAN India for 2+ years. This software enabled us to manage almost everything with a centralized dashboard, by sitting in one place, manage priorities and analyze all the key performance indicators with prolonged analytics. We are expecting to use TeroTAM for a long horizon with more advanced upgraded software in the era of growing new technologies.

Parthiban B.
(GM Facilities & Renovations Food & Beverages)
Tata Starbucks Private Limited
Ignited Innovation
TeroTAM has made our work easier & faster starting from complaint request generation to field and till the closer. Easy to upload data and updates, compatibility with multiple languages and lesser human efforts in writing saves a lot of time and energy and helps to produce the perfect data from beginning to end in a most customized manner. It's well received software, perfectly designed to match all our requirements, using satisfactorily with zero complaints for 2+ years.

Vikas A.
(GM Services Hospitality)
Equinox Solutions Limited
Excellent Platform
We have been using the TeroTAM platform for 1 year and we have seen a streamlined approach in our Staff management and Project Management. After we get started with them, our asset management has been upgraded and becoming cost-effective day by day. "Keep it up...Team TeroTAM.

Rohan Patel
(Owner)
Anand Color World
Business with TeroTAM is Super Easy
Starting from Asset Management to Complaint Management, each solution we used, has made our process fluent and flawless. We have remarkably reduced the cost of Inventory management and maintenance management with easy-to-use TeroTAM CMMS software. We experienced superfast tracking and location management with the QR-code scanning technology they offer. All-and-all, it's a one-stop solution for all your business needs. Strongly recommend it to all.

Harsh Chaudhary
(Owner)
Inventrik Enterprise
"It's Good and Useful Tool"
"I've been using this software for 1 year mostly for communication within the project team, task management, and collaboration with our customers. It's really easy to use & maintain, good support, easy to add asset details, cost-effective and flexible!"

Drashti Sharma
(Head of Management)
IT & Software Technology