Why Enquiry Management Software?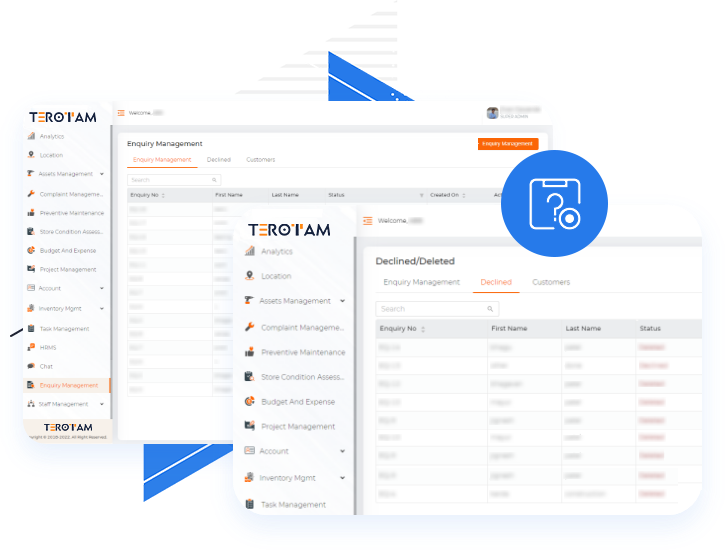 An Enquiry Management System is a piece of automated software that works on your front line to ensure that each new inquiry gets the attention it deserves. This system makes sure that the enquiries are carefully registered, tracked, and handled so that sales teams can respond. The Enquiry Management System (EMS) is a solution that was created to solve the problems that many organizations have in keeping track of their inquiries or leads from their client. The fundamental issue is how these businesses handle these inquiries in real-time.
TeroTAM's Enquiry Management Software was designed and developed after extensive study and analysis to address the most prevalent issues/mistakes seen in other EMS. In today's always-on digital landscape, TeroTAM's Enquiry Management Software makes gathering and managing existing leads simple and effective.
Never Miss a Deal with an Organized Approach
TeroTAM's Enquiry Management Software is the most elegant and efficient solution for your sales team to manage enquiries. It helps you track the status of all your deals with minimal effort and makes it easier to organize with team members.
Ontime Response to Enquiries
Reach your Enquiries when they are in ready mode to get connected. Response to them in real-time with real-time updates on Enquiry Management Software.
Schedule a Follow-up Response
Never miss a future follow-up with EMS. Schedule the Follow-up on Enquiry to avoid missing out on the date.
Set Alerts to take Action
Reminders are something you need to get in your busy schedule to stay on schedule with Enquiry. Get Scheduled Follow-up alerts on your Calendar and Mobile.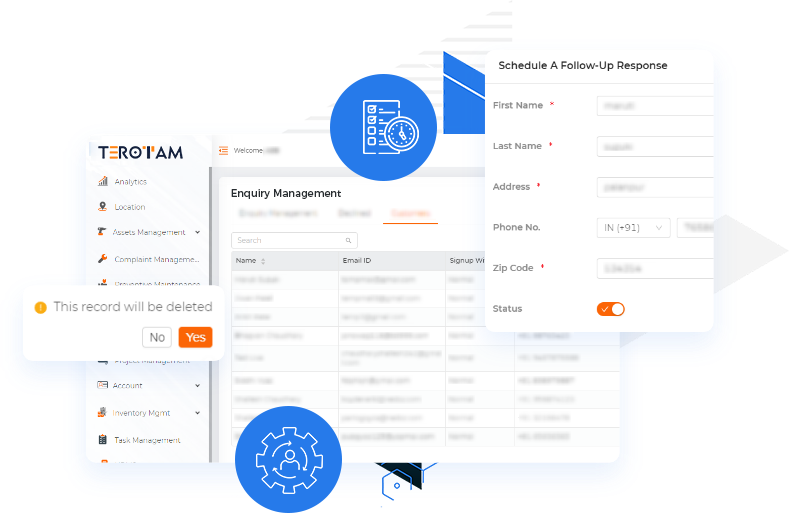 Strengthen your SalesForce Efforts
TeroTAM's EMS provides sales agents with a single platform to collect and organize enquiries from various internet platforms. By organizing your team's activities, the software application aids in enhancing their efficiency. You may upload or update enquiries, assign them to sales team members, and track and reassign enquiries with comprehensive follow-up history while enjoying information openness.
Tag & Assign Enquiries to Sales Reps
Tag your Enquiry with all necessary tags to make it unique and Assign those enquiries to the Sale Rep who fits in the most.
Easy Quotation Management
Create and Share the Quotations as per the Enquiry Requirements and save them for future reference to strengthen the follow-up references
Track and Re-assign Enquiries
Track your Enquiry at every stage of its sales life cycle, add referral notes for updates, and if needed multiple Sale Reps to handle, Reassign them with a single click.
Track Closures and Plan Future Actions
Do you ever wonder why you lose or win a prospect on a certain day? Our sales enquiry management software allows you to keep track of enquiry status and update closures for each enquiry entered into the system, along with reasons to win or lose. This will assist you in gaining insights to help you plan a better future course of action. You may keep track of each inquiry closure and use the information to improve your selling methods.
Record Each Action Taken
Record all the actions taken on the enquiry with the date and time they have been in contact. Track the whole journey of the lead from acquisition to the closure of enquiry.
Keep Notes with Detailed Comments
Everything you can not remember but you can't afford to miss out. Strengthen your Enquiries and save them with relevant notes to make them ready to refer to for next follow-ups.
Prep for Future Action
Track the whole journey of enquiry to understand what stages it has been passed through and what needs to prepare for future actions to take them to closure.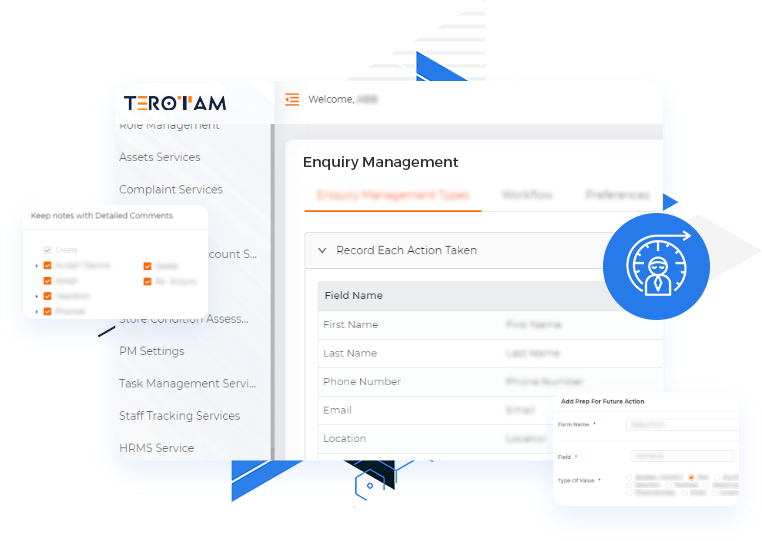 Enquiry Management Software that Helps you Win New Business
Manage Clients from Enquiry to Enroll from Centralized Dashboard
Manage your Enquiries in Palm-easy way with Smartphone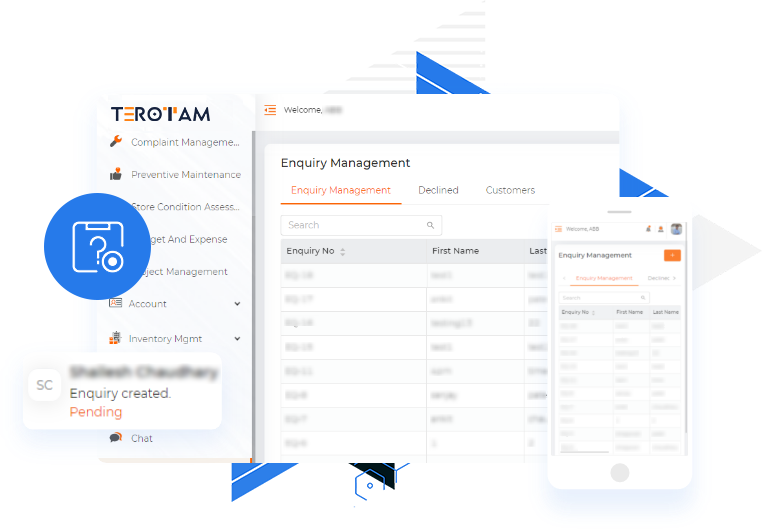 Track every Enquiry on your Smartphone with Mobile-Friendly User Interface.
Multi-User access and Team collaboration anytime anywhere with Smartphone
No more Physical presence at the workplace, manage enquiries on Smartphones
Handy Data Management and Data Migration with Smartphones Access
Set Alerts and Reminders for scheduled enquiry follow-ups to avoid missing out on dates in your busy work schedules.
On your mobile device, change the status of an enquiry to online or offline. Keep track of how many actions taken on it and what and when the next action will be.
Easily Create, Schedule, and Join Meetings through your Smartphones
Features that help you build Smart Enquiry Management System
Check out the Enquiry History
Keep Watch on your enquiries closely at every footprint they passed in the organizational funnel & stay well-informed about all details you must know about prospects before you connect.
Follow-up Tracking
The biggest Fear for Follow-ups is missing them out. Get Alerts and Reminders to ensure you follow up on your enquiries on time. No more FOMOs on prospective sales enquiries.
Customized User Access
The biggest need nowadays is Data Safety and hence you need to manage the authorized access to authorized people. Limit access to classified inquiry information with Customized User Access.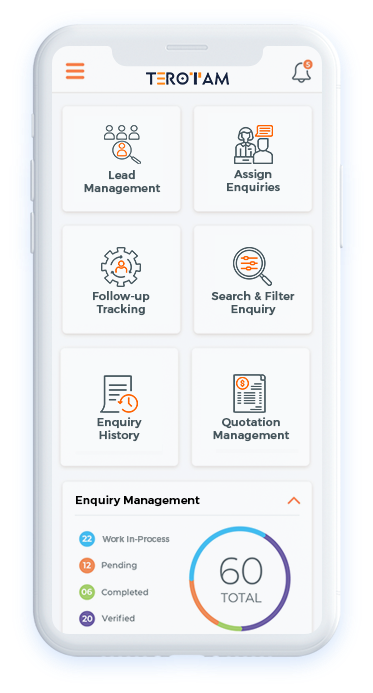 Search and Filter Enquiry
Finding any specific enquiry from a bunch of it can be time-consuming. With Search and Filter functionality, save your valuable time to locate specific enquiry and channelize it to productive tasks.
Quotation Management
Create and Maintain the Quotations from your desk and smartphone as well. Access them anytime to stay updated for making your future follow-ups stronger with all relevant past data analytics.
Smart Follow-ups with Smart Reports
Smart Follow-ups are always about the well-informed and data-driven follow-up activity. Make Smart Actions and follow through with Strong Analytics using Smart Reports.
Do you have questions?
The Most common Brain Teaser for Enquiry Management Software What is Enquiry Management Software by TeroTAM?
It's an Enquiry Management System that prioritizes user-friendliness. It offers all of the major capabilities that a sales force needs, but none of the functionality that most Lead Management and CRM packages have to help their day-to-day activities. Its major purpose is to assist you in better managing your sales funnel and closing agreements faster.
Is my Data Safe?
We take the security of your personal information extremely seriously. To maintain excellent data integrity, each account's data is completely segregated. Our technological implementations are built with security in mind from the start. Furthermore, all of our employees have received training to ensure that data security and privacy are respected.
How much does Enquiry Management Software cost?
It completely depends on the number of users you want to share access with and the kind of features you need to make it customized for you. To know more about cost, connect with us at contact@terotam.com
What if I need assistance while using Enquiry Management Solution?
TeroTAM's Enquiry Management Software is extremely user-friendly and intuitive. However, some of the application's more complicated functions may want assistance. As a result, we've created a knowledge resource to assist you in learning advanced methods. If your questions aren't answered in the knowledge base, you can submit a ticket to our customer service staff.
Why should I use Enquiry Management System?
By providing an easy-to-use interface that enables efficient data entry and updating of relevant information, Enquiry Management System allows you to save critical time that would otherwise be spent accumulating massive volumes of client data.
Testimonial
Paradigm Shift
With an easy to operate system and user-friendly Interface of TeroTAM, we integrated more than 200+ outlets operational within PAN India for 2+ years. This software enabled us to manage almost everything with a centralized dashboard, by sitting in one place, manage priorities and analyze all the key performance indicators with prolonged analytics. We are expecting to use TeroTAM for a long horizon with more advanced upgraded software in the era of growing new technologies.

Parthiban B.
(GM Facilities & Renovations Food & Beverages)
Tata Starbucks Private Limited
Ignited Innovation
TeroTAM has made our work easier & faster starting from complaint request generation to field and till the closer. Easy to upload data and updates, compatibility with multiple languages and lesser human efforts in writing saves a lot of time and energy and helps to produce the perfect data from beginning to end in a most customized manner. It's well received software, perfectly designed to match all our requirements, using satisfactorily with zero complaints for 2+ years.

Vikas A.
(GM Services Hospitality)
Equinox Solutions Limited
Excellent Platform
We have been using the TeroTAM platform for 1 year and we have seen a streamlined approach in our Staff management and Project Management. After we get started with them, our asset management has been upgraded and becoming cost-effective day by day. "Keep it up...Team TeroTAM.

Rohan Patel
(Owner)
Anand Color World
Business with TeroTAM is Super Easy
Starting from Asset Management to Complaint Management, each solution we used, has made our process fluent and flawless. We have remarkably reduced the cost of Inventory management and maintenance management with easy-to-use TeroTAM CMMS software. We experienced superfast tracking and location management with the QR-code scanning technology they offer. All-and-all, it's a one-stop solution for all your business needs. Strongly recommend it to all.

Harsh Chaudhary
(Owner)
Inventrik Enterprise
"It's Good and Useful Tool"
"I've been using this software for 1 year mostly for communication within the project team, task management, and collaboration with our customers. It's really easy to use & maintain, good support, easy to add asset details, cost-effective and flexible!"

Drashti Sharma
(Head of Management)
IT & Software Technology
Latest & Trending Blogs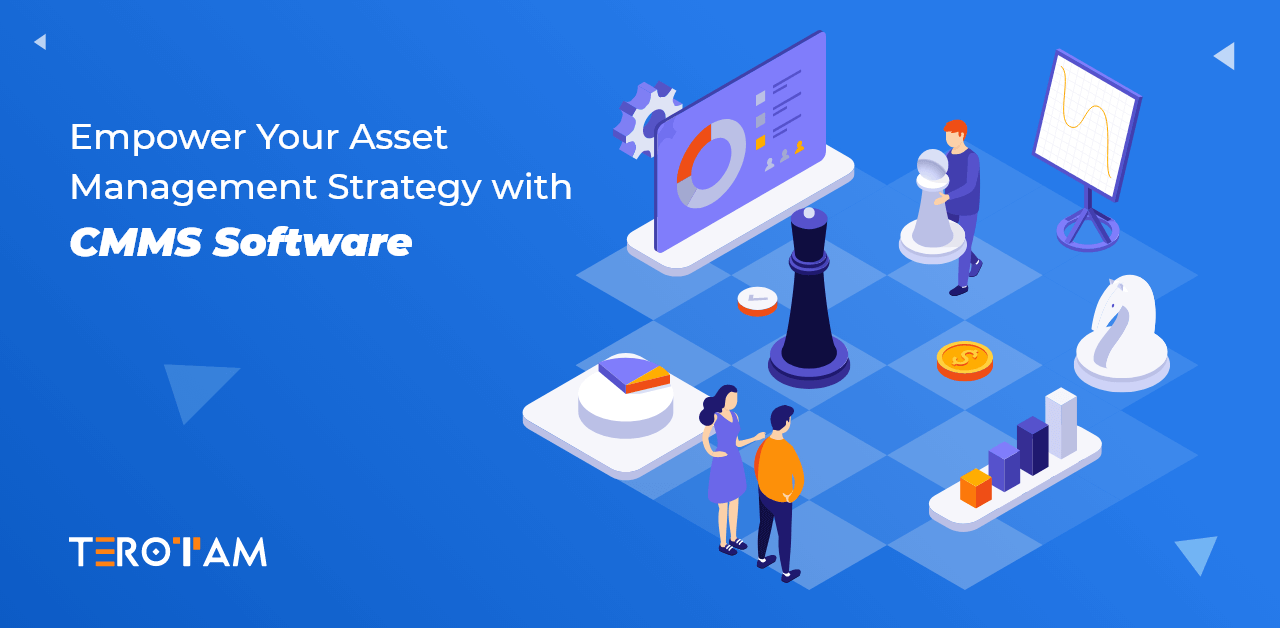 Posted On
Sep 27, 2023
| by
Mahendra Patel
Have you ever pondered over the inner workings of your organization's assets? How well do you really know them? From the factory floor humm...