Why You Need Staff Management Software?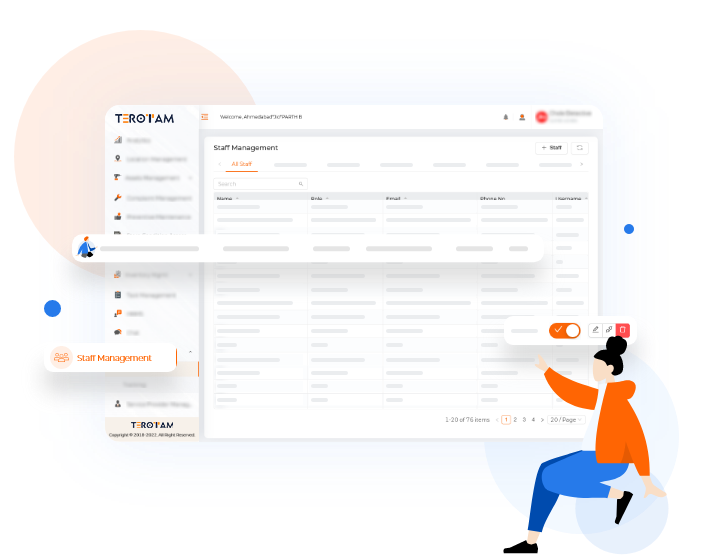 In the business or organization, employees are the main pillar, and they should be allocated different roles and responsibilities to perform various levels of work. Staff management plays a primary role in collecting the work status information to make decisions and update dashboards. And control the monitor the challenges that day by day facing in the organization and ultimately. For that staff management system helps you access the staff efficiency and potential growth of the business.
Staff management solution allows assigning the roles to various employees in the organization such as admin, super admin, supervisor, IT manager and track employees activities while performing their role duties. Also, having the feature tracking the staff with geotagging location through the web/mobile-based application adds a lot of value. If you are looking for the best employee management tool, TeroTAM Staff management solution is the best option to organize your business effectively. If you have a big team size wish to add extra advanced features in CMMS, staff management enables you to update features.
Staff Role Management
Role management is typically part of user registration and assigning the roles for each department to control the access to the employees and staff with digital operations. And you can customize to add and remove the roles based on requirements, enable and disable the access to authorization for the data access and perform the job. It helps to maintain workflow smoothly and enhance the workflow management system by avoiding conflicts and misunderstandings.
Create a New Role with Geotagging
Maintaining staff in a well-organized structure with a hierarchy to easily handle and know the required staff efficiency is important. It is simple to add the new joiners to the staff and assign a role with a location tag.
Staff Information and Actions
It needs to know the employee project details, working location, personal details to communicate with them to know the working status and resolve issues. And allow taking actions for each role to activate and deactivate service for any particular reasons.
Improve Staff Efficiency
When the team expands gradually, it tends to be difficult to handle. Our staff management system coordinates with individual staff to conduct upskilling training programs and improve quality in business operations.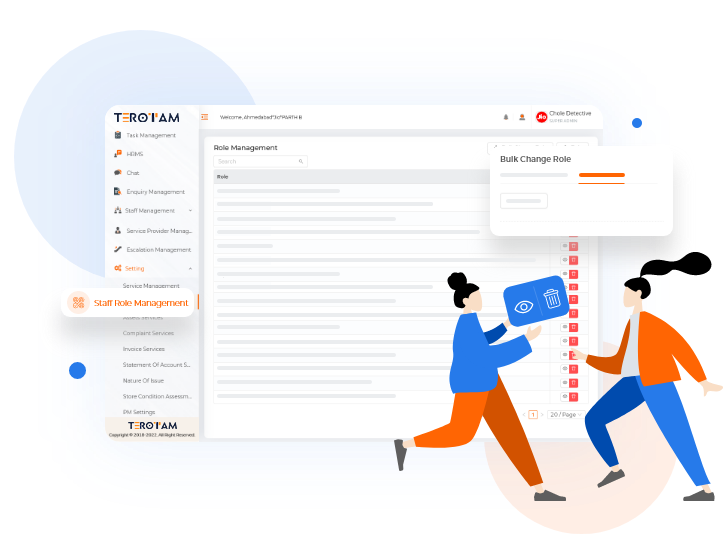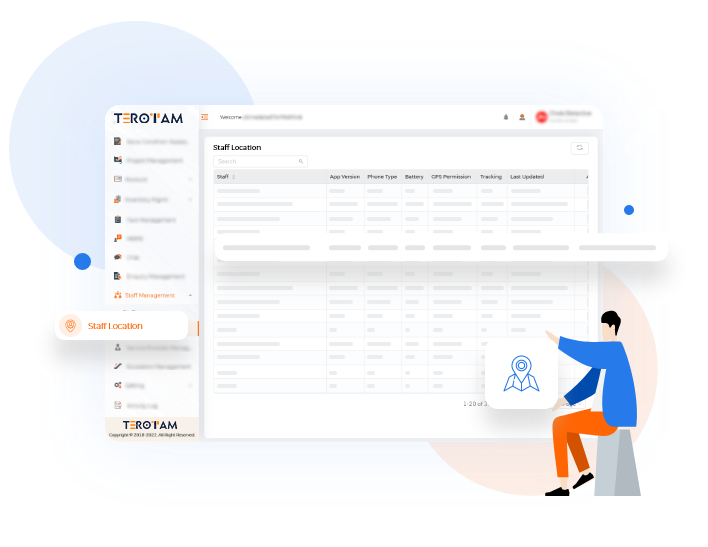 Staff Location Management
In current situations, most employees adopt modern hybrid culture to work from different base locations by having company assets and data. So it is vital to maintain employee data with contacts, address to fix any issue resolutions, and catch the employee's needs. It isn't easy to use manual or old versions of database systems that need good staff location management to digitalize the process. It helps versatility to the organization in terms of managing and company norms.
Contact Staff through Location Basis
This solution helps to reach the employees' location and securely deliver and collect assets. And always keep track of the employee's data by moving from one location to another. Also, allow you to escalate staff with digital data.
Quickly Search Individual Staff
The TeroTAM staff management application helps to quickly find the staff data by keeping filters city, zone, roles-category. Through it simply to pass any official information to staff. And allow you to update user data with new information.
Add Assets with Staff Location
In hybrid work culture, most employees work co-work spaces, remote basis, onsite. So it isn't easy to maintain staff manual data, for that staff location management is a solution to find the staff details with the live.
Staff Tracking System
TeroTAM's cloud-based CMMS software allows tracking the employee's timings when a task is assigned to employers and records staff swipe in swipe outs, all in a punctual manner. This application will send collected records to a central system to track the live data in dashboards. Which can be reviewed online as proof that work is being performed.
Manage Team Regularly with Staff Tracking Tool
Handle staff in the right approach and save time on many things by eliminating hustles and adjusting the staff to prioritize work. Follow the staff step movements with the beacon device to perform actions on time.
Employees Real-Time Tracking
The designated staff or employees are deployed over the company in different branches and wings. It is simple to track each employee inside a building or outdoor location through TeroTAM CMMS software with live broadcasting information with Gps/Gsm.
Staff Safety & Security
Employee safety is important to any organization. It is to keep aware of the employee safety and care while performing the work. Wich helps maintain staff security to avoid human risks and feel secure to perform work.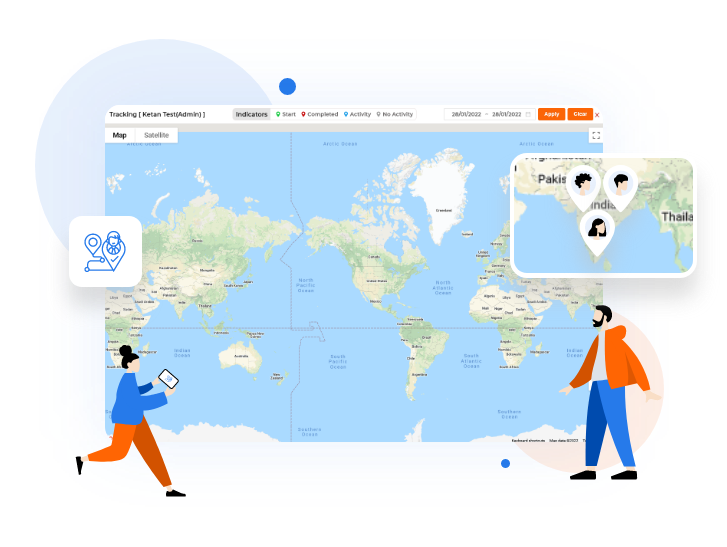 Be supportive with your staff all-time to track, manage, and secure them with a TeroTAM Staff Management Tool
The all-in-one staffing solution with a single tool to keep support with employee needs and manage them with easy software.
Manage Your Staff Management From The Web & App Enable Devices
Track the employees time tracking with real analytics
Increase the team productivity by eliminating the conflicts
Be accurate with digital live data to track and escalate
Quick access to individual employee information and take actions
Motivate and upskill the employees based on individual employee performance
Easy to view staff performance statistics and download the reports
Keep upgrading with innovative Staffing technology and make workflow easy
Staff management Platform Features
Streamline Workflow Process
Prioritize the workflow process to complete tasks on time, avoid the hustles in the workflow process, and enhance productivity.
Working hours Calculation
It is easy to calculate the employee working hours according to the estimated working rate with productivity and deliverables.
Prevent Tailgating
Track the ID card zones-wise, prevent the employee's outings using the same ID cards, and calculate the total break time.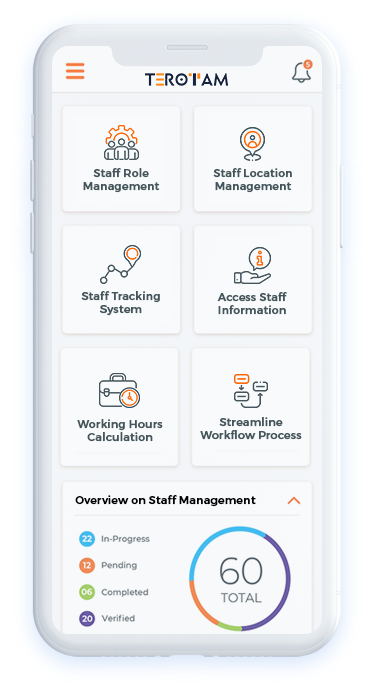 Visualize Work in Progress
Know the work is getting done by an efficient team with specific time with visual dashboards and download reports.
Access Staff Information
View and monitor the staffing and workflow information through mobile/web applicationS and take action from anywhere.
Track the Working Staff Activity
Track the employees working activity log at any time by keeping maintaining records with the date of starting and ending with brief information.
Do you have questions?
Let's make it clear with your queries, and be tech-savvy in your business What is Staff Management Software?
TeroTAM's staff management software is an application to track the employees on a location basis and know the staff efficiency. Performance can appear in the dashboard to take action. And create the roles for new joiners to assign the projects.
What are the benefit of a Staff Management System?
Using Staff Management reduces the HR operations efforts and saves lots of time sorting out staff efficiency for different working areas. Improve time management, profitability, and employees performance with smooth digital operations. Create a pleasant work environment culture and feel employees more joyful.
Can i track the staff/employees with location?
There is an option to track the individual employees or staff with geotagging by that can track employees inside office premises or an outdoor location through web/mobile application.
How does Staff Management help to enhance productivity?
Calculating staffing working hours makes it easy, and possible to estimate the production timeline and prioritize the tasks. And make sure to utilize working hours effectively to increase and speed up business productivity levels.
Why do we need Staff Management System?
A staff Management system allows managers to handle the workforce accurately and professionally to obtain the best results in employees' performance. And it helps to create work schedules to complete the task on the timeline in such a way as to reduce labor costs and improve productivity levels.
Testimonial
Paradigm Shift
With an easy to operate system and user-friendly Interface of TeroTAM, we integrated more than 200+ outlets operational within PAN India for 2+ years. This software enabled us to manage almost everything with a centralized dashboard, by sitting in one place, manage priorities and analyze all the key performance indicators with prolonged analytics. We are expecting to use TeroTAM for a long horizon with more advanced upgraded software in the era of growing new technologies.

Parthiban B.
(GM Facilities & Renovations Food & Beverages)
Tata Starbucks Private Limited
Ignited Innovation
TeroTAM has made our work easier & faster starting from complaint request generation to field and till the closer. Easy to upload data and updates, compatibility with multiple languages and lesser human efforts in writing saves a lot of time and energy and helps to produce the perfect data from beginning to end in a most customized manner. It's well received software, perfectly designed to match all our requirements, using satisfactorily with zero complaints for 2+ years.

Vikas A.
(GM Services Hospitality)
Equinox Solutions Limited
Excellent Platform
We have been using the TeroTAM platform for 1 year and we have seen a streamlined approach in our Staff management and Project Management. After we get started with them, our asset management has been upgraded and becoming cost-effective day by day. "Keep it up...Team TeroTAM.

Rohan Patel
(Owner)
Anand Color World
Business with TeroTAM is Super Easy
Starting from Asset Management to Complaint Management, each solution we used, has made our process fluent and flawless. We have remarkably reduced the cost of Inventory management and maintenance management with easy-to-use TeroTAM CMMS software. We experienced superfast tracking and location management with the QR-code scanning technology they offer. All-and-all, it's a one-stop solution for all your business needs. Strongly recommend it to all.

Harsh Chaudhary
(Owner)
Inventrik Enterprise
"It's Good and Useful Tool"
"I've been using this software for 1 year mostly for communication within the project team, task management, and collaboration with our customers. It's really easy to use & maintain, good support, easy to add asset details, cost-effective and flexible!"

Drashti Sharma
(Head of Management)
IT & Software Technology