Why You need CMMS for Maritime Industry?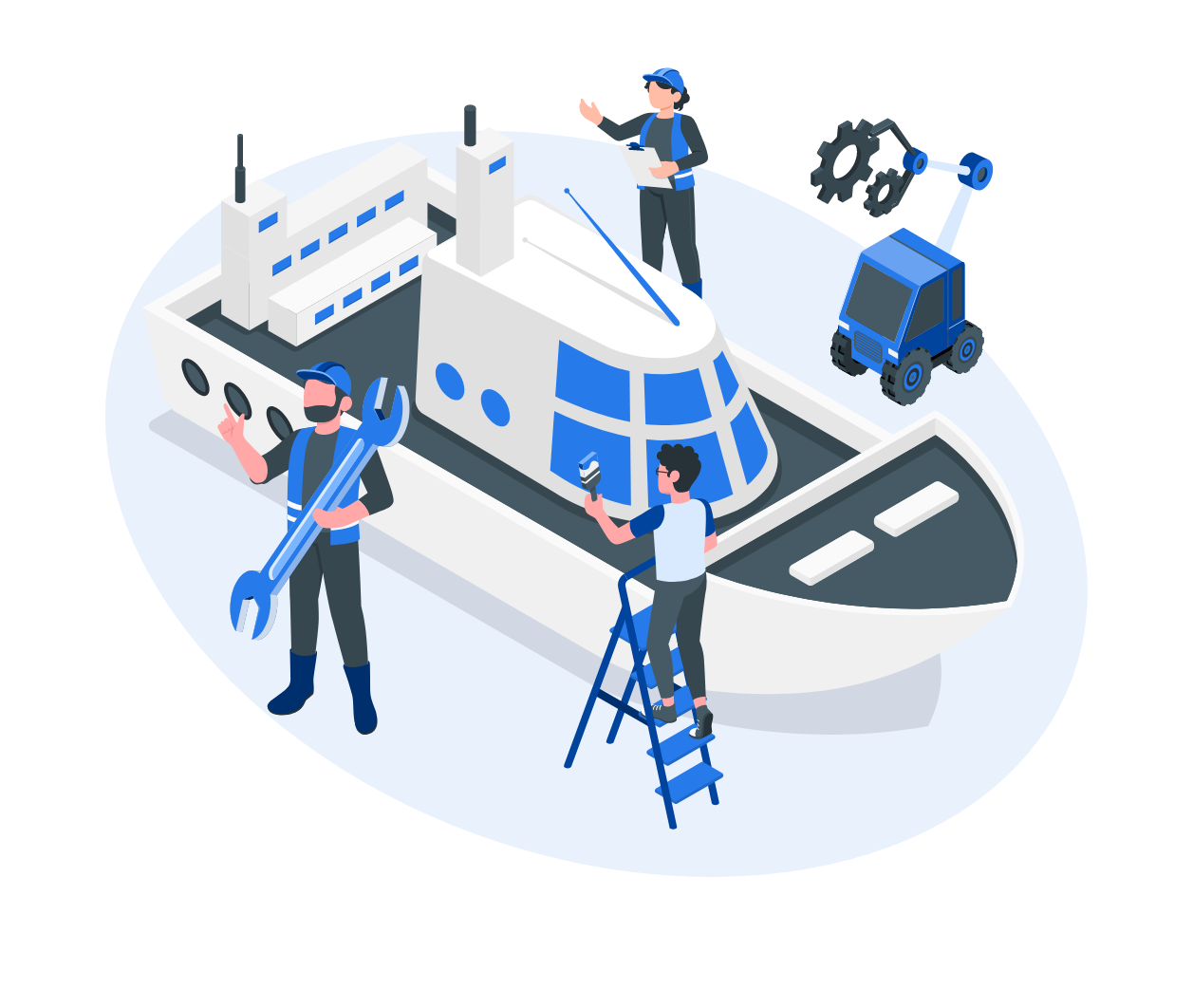 The tracking of assets, assemblies, and parts related with the vessel installation is provided by TeroTAM's Ship Maintenance System. The DNV GL type certified product can be customised to meet the needs of the manufacturer/class. The module includes capabilities such as task pre-planning and scheduling, as well as cost and time forecasts. Pre-planning capability allows for resource, time, and spares planning, all of which are important in inventory management based on predictive and preventative maintenance routines.
Our System seeks to maintain safe and dependable vessel operations by allowing ship owners and management to plan, perform, and document vessel maintenance while remaining compliant with Class and manufacturer regulations. To efficiently meet safety and environmental regulations, our System is tailored to the vessel type, class, and any additional criteria and measures.
Centralised Ship Maintenance
Centralised Ship Maintenance system allows you with an eagle-eye view of each and every activities and assets being used in those activities. It helps you Plan your Regular and Daily activities, schedule the work plans and assign them to respective crew members with relevant performance tracking to take relevant corrective actions.
All-in-one Centralised Dashboard
Our Centralised Dashboard – A one-of-a-kind offshore planned maintenance dashboard that provides details of completed and scheduled planned maintenance, and maintenance total man-hours (estimated / real) for the current year in a tabular and graphical format (monthly and quarterly).
Planned, Corrective, and Conditional Maintenance
Report completed work, take measurements, divide and distribute jobs to different resources, track completion progress, and keep track of expenditures based on reported hours.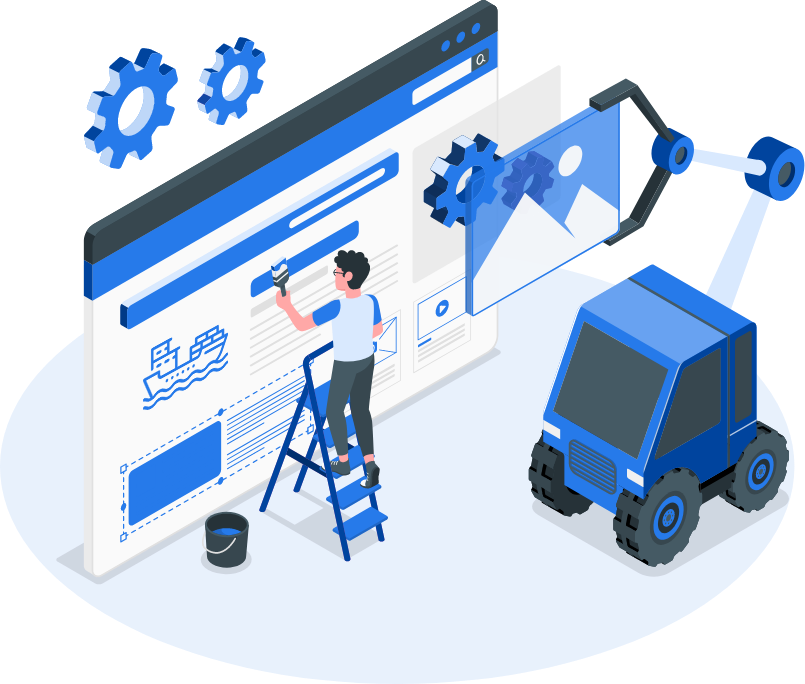 Highly Scalable Maintenance System
Our Ship Maintenance System is built in such a way that you can store and access all the necessary information as and when you actually need it. You can build an enigmatic Database system that helps you fetch all the necessary inputs to make the right decision and plan and schedule crew members jobs and maintenance activities.
Reach Data Building System
With Our software Data can be Built to ensure equal application across the fleet, allowing for simple commissioning, data administration, and reporting. Data can also be sorted and listed to display individual assets and operational status.
Job Plan Creation and Scheduling
Work history, scheduled jobs, spare parts, calibrations, specs, reports, and documents can all be stored and transferred using our Ship Maintenance System. It is possible to optimise maintenance and save downtime by exchanging these facts.
Up-to-date Work Ordering System
The Most important factor in any maintenance system is an accurate work ordering system that helps the management and the crew members to get alerts and notification about when and what kind of activities they need to perform and also help them to analyse the route cause for the down-time to take progressive actions.
Down-time Alerts and Notifications
Work Order reporting allows for reporting of details such as downtime hours, time returned to operation, time of receipt of notification of problems, time of diagnosis of problems, time problems are fixed, and associated costs – if any – that are required for future analysis of overall equipment efficiency.
Down-time Route Cause Indicators
Work Order reporting enables the reporting of failure causes and modes, assisting in the early discovery and elimination of probable product/process failure modes, as well as possible predictive maintenance.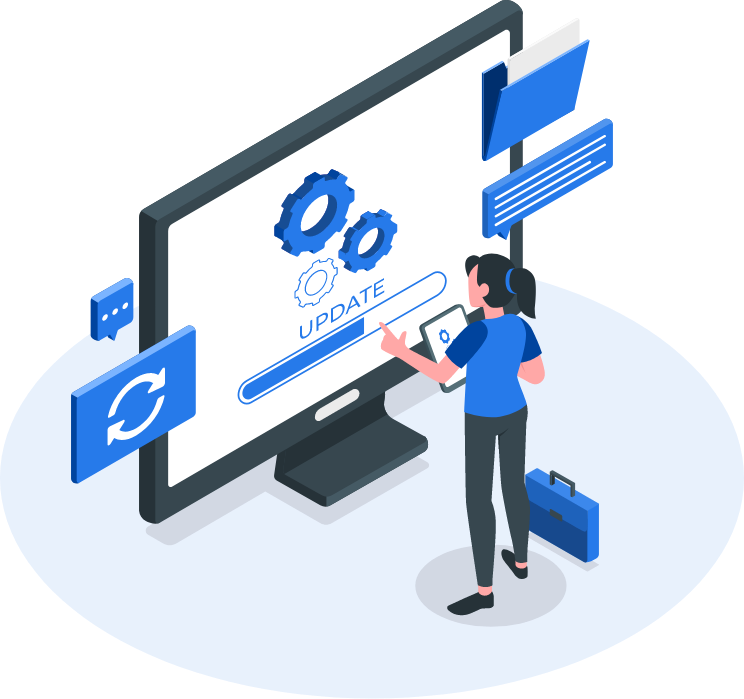 Optimise your Work Order Process with Marine Maintenance Software
Streamline your Work Orders and Schedule Maintenances with a System that built to Perform
Manage your Marine Business in a Palm-Easy Way with Smartphone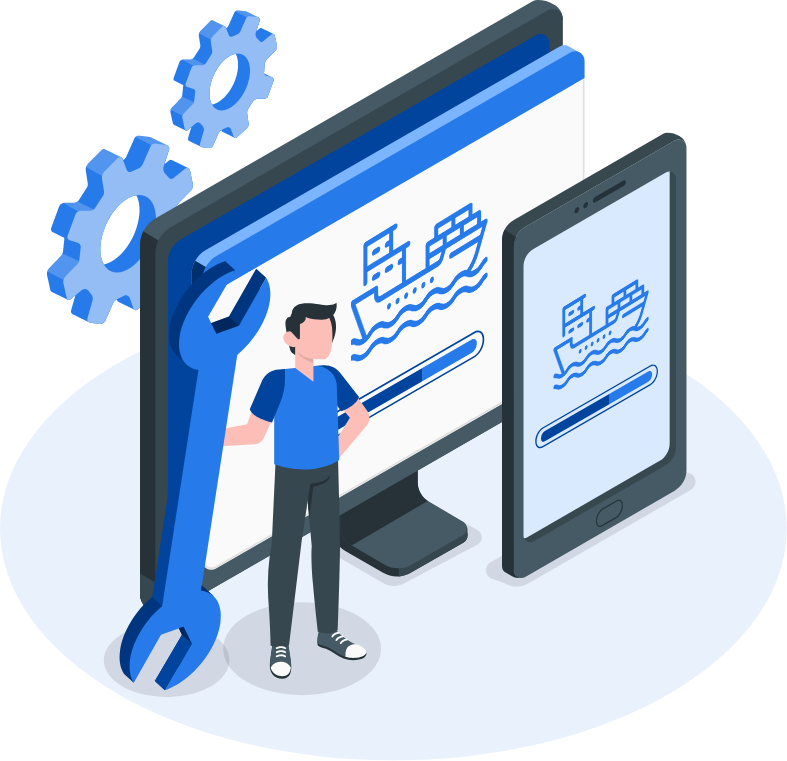 Get a complete overview of the Ship Maintenance on Centralised Dashboard through your Smartphone anytime anywhere you need.
Create and Assign Work Schedules for Maintenance team through your Smartphone in case of urgency to avoid downtime
Generate Job orders and assign a team to give them notification on their smartphones to reduce the chances of missing out.
Generate and Scan the QR codes for the assets and scan them through you Smartphones to get all maintenance history and future schedule
Upload and Update Documents through your Smartphone to keep the ship document management system up-to-date with copies of manuals and other documents.
Access Detailed Work Hour Logs on your Smartphone to track the performance on the go.
Advanced Features of Ship Maintenance System
Plan Special Corrective Maintenance
With time to time updates and notification you can plan and implement special corrective maintenance work order flow to meet offshore maintenance if needed.
Control and Manage Access Rights
Control Access manuals and safety-related documents on the ship or shore to keep the sensitive information safe and in between authorised persons only.
Regular User Updates
Users receive the most recent policy update information to comply with the regulations upon receiving updates and stay informed to plan their future course of action in the most accurate manner.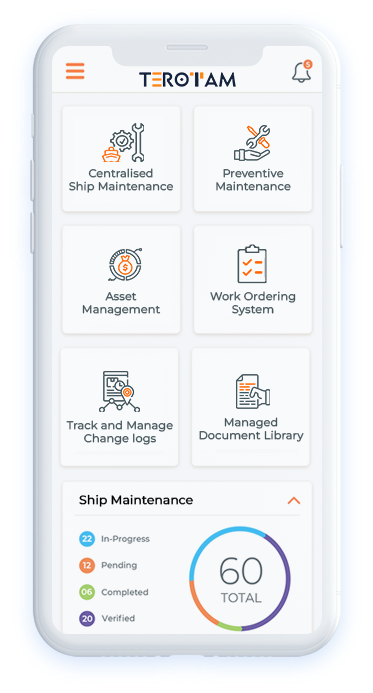 Centrally Managed Document Library
Manage your vessel's document library and manuals centrally to keep the Ship Database System Up-to-date with all relevant information as and when needed
Accurate Maintenance Management
Maintenance jobs can be identified in case of a production impact, shutdown or risk assessment requirement & can be scheduled or assigned to most relevant team to avoid unwanted downtime.
Track and Manage Change logs
This feature enables users to digitally track approvals and changes made into manuals in the document management system for fleet management.
Do you have questions?
Let's make it clear with your queries, and be tech-savvy in your business What is a Ship Maintenance System?
According to the International Safety Management Code, ships must have a ship maintenance system (ISM). It requests that the corporation implement procedures to guarantee that the vessel is kept in compliance with all rules and regulations.
What are Shipping Documents?
Shipping documents are the forms, records, or certificates required for a shipment's delivery or clearance through customs.
Why to Invest in a Ship Maintenance System?
The ship PMS software gives management a bird's eye view of all data related to the fleet and its performance.
Why is the Ship Management System Beneficial for Marine Industry?
The Marine Companies benefit from TeroTAM's Ship Maintenance System by having smoother workflows, better user management, appropriate data access for users, and secure and strong data transfer between the ship and onshore superintendents.
What role does the Ship Maintenance System play in Marine Business?
The Ship Maintenance System that is also known as Marine Maintenance Software, eliminates the drudgery of ship management on a daily basis. The platform serves as a single repository for all data related to your fleet, eliminating the confusion generated by data scattered over numerous disconnected platforms, resulting in data silos.
Testimonial
Paradigm Shift
With an easy to operate system and user-friendly Interface of TeroTAM, we integrated more than 200+ outlets operational within PAN India for 2+ years. This software enabled us to manage almost everything with a centralized dashboard, by sitting in one place, manage priorities and analyze all the key performance indicators with prolonged analytics. We are expecting to use TeroTAM for a long horizon with more advanced upgraded software in the era of growing new technologies.

Parthiban B.
(GM Facilities & Renovations Food & Beverages)
Tata Starbucks Private Limited
Ignited Innovation
TeroTAM has made our work easier & faster starting from complaint request generation to field and till the closer. Easy to upload data and updates, compatibility with multiple languages and lesser human efforts in writing saves a lot of time and energy and helps to produce the perfect data from beginning to end in a most customized manner. It's well received software, perfectly designed to match all our requirements, using satisfactorily with zero complaints for 2+ years.

Vikas A.
(GM Services Hospitality)
Equinox Solutions Limited
Excellent Platform
We have been using the TeroTAM platform for 1 year and we have seen a streamlined approach in our Staff management and Project Management. After we get started with them, our asset management has been upgraded and becoming cost-effective day by day. "Keep it up...Team TeroTAM.

Rohan Patel
(Owner)
Anand Color World
Business with TeroTAM is Super Easy
Starting from Asset Management to Complaint Management, each solution we used, has made our process fluent and flawless. We have remarkably reduced the cost of Inventory management and maintenance management with easy-to-use TeroTAM CMMS software. We experienced superfast tracking and location management with the QR-code scanning technology they offer. All-and-all, it's a one-stop solution for all your business needs. Strongly recommend it to all.

Harsh Chaudhary
(Owner)
Inventrik Enterprise
"It's Good and Useful Tool"
"I've been using this software for 1 year mostly for communication within the project team, task management, and collaboration with our customers. It's really easy to use & maintain, good support, easy to add asset details, cost-effective and flexible!"

Drashti Sharma
(Head of Management)
IT & Software Technology
Resources to Facility Management you may like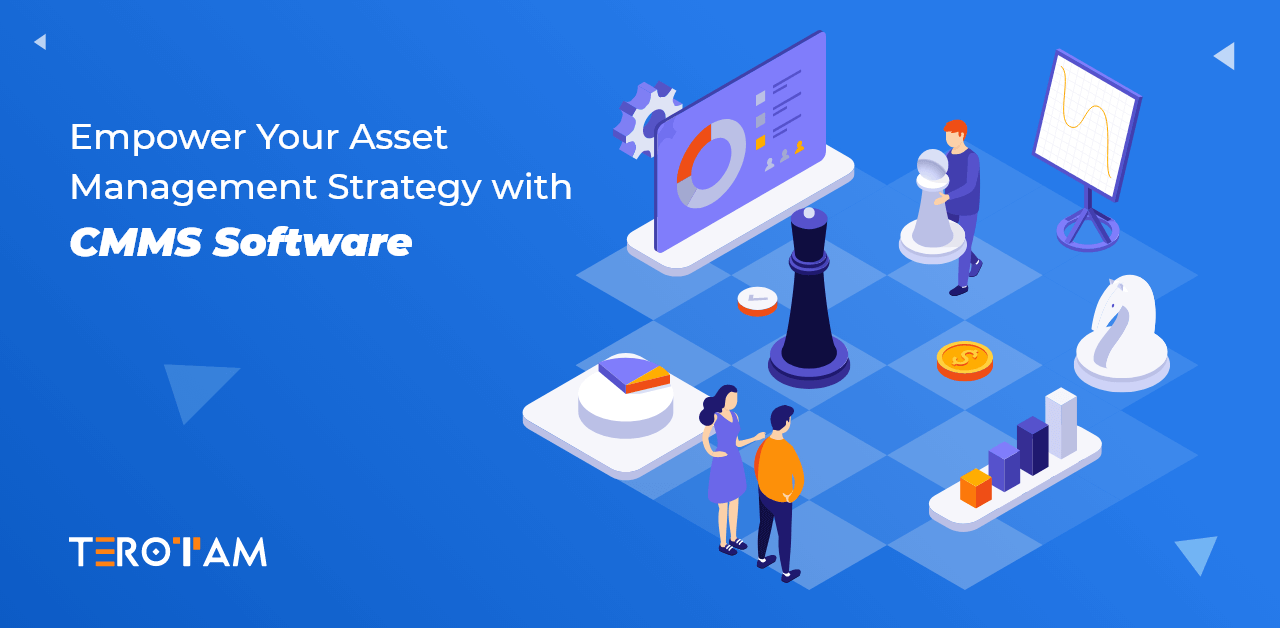 Posted On
Sep 27, 2023
| by
Mahendra Patel
Have you ever pondered over the inner workings of your organization's assets? How well do you really know them? From the factory floor humm...