Why You need CMMS for Oil and Gas Industry?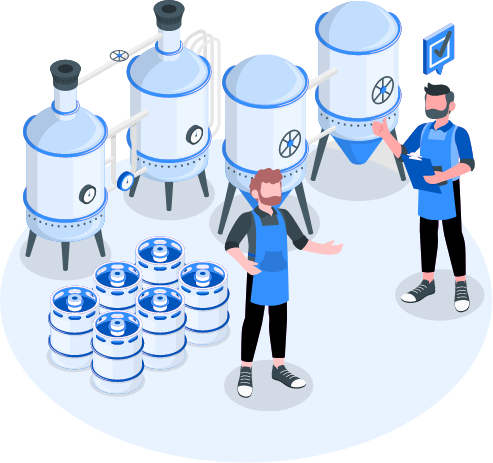 There are several Ifs and Buts that can be listed, each of which can have a detrimental impact on a variety of other firms. That is why Oil and Gas is an industry that relies on precise management and maintenance to succeed. That's when a CMMS comes in handy (Computerized Management and Maintenance System)
With the power of automation and high-visibility management, TeroTAM's Oil and Gas Asset Maintenance & Management software helps the organizations work at optimum efficiency. Our Software peregrinates the asset journey and makes the navigation simple, decision-making is clear, and work orders are simple to grasp with the optimized user interface. Machines cost less and produce more when processes are coordinated and streamlined. Employees are safer and more productive, and processes are more efficient.
Structured Work Order Management
Our CMMS software enables administrators to assign the appropriate staff to the appropriate jobs. This comprises building maintenance work orders for technicians, which can be done manually or automatically. New work orders can then be automatically alerted to technicians. They can use the CMMS to mark jobs as completed, update the status of a job, and add remarks. Admin can track a technician's movement through the pipeline in real-time and save the data for reporting purposes during this procedure.
Create Seamless Work Orders
Keep your technicians and staff organized with seamless work orders with their respective check-list to keep them updated with all pieces of information.
Assign and Alert with Notification
Assign the work orders and Send automatic alerts to the respective technicians with allotted tasks, equipment details, and deadlines.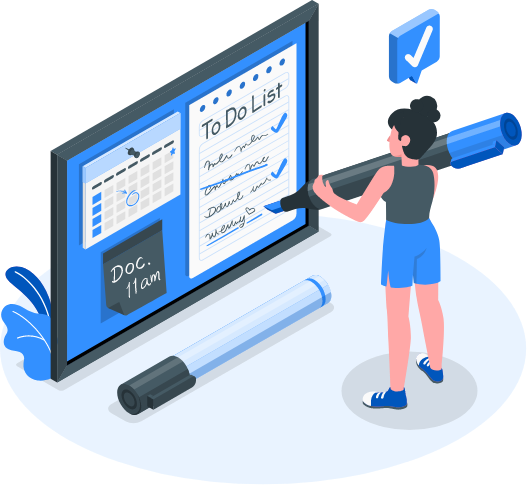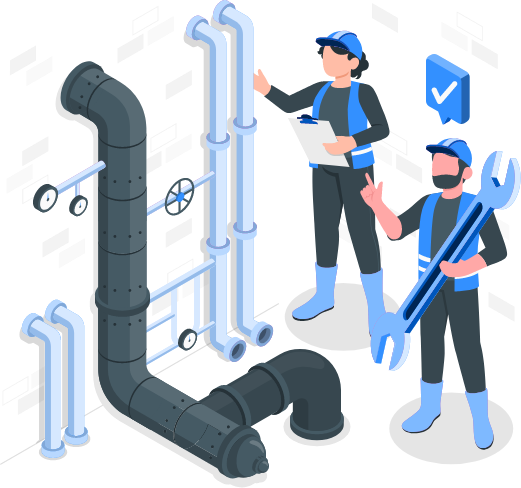 Pro-active Preventive Maintenance
Our Software helps you manage your assets effortlessly at every stage of their lives, and even safely extend their longevity. The Preventive Maintenance module includes all of the tools you'll need to boost equipment efficiency. Our preventive maintenance feature includes planning and scheduling tools and checklists to guarantee that no tasks are neglected. Asset breakdowns and equipment failures can be tracked and minimized easily.
No more Unwanted breakdowns
With preventive maintenance stay pro-active and keep your machines and equipment up-to-date and solve the issues before they arise.
Don't miss any maintenance task that is important
Stay updated with pre-planned and scheduled maintenance tasks to avoid missing and forgetting the important maintenance dates.
Systematic Inventory Management
Using our CMMS software, the Maintenance department can keep precise data on inventory and spare parts. This is especially useful when dealing with expensive and difficult-to-find inventory materials and parts and the requirement to have parts stocked at all of a company's locations. Controlling inventory and spare components leads to significant cost reductions. Managers no longer need to store inventory materials and respective records at each location. TeroTAM's CMMS software allows them to swiftly and easily search inventory for the parts they need and have immediate access to them.
Reduce your inventory costs
By controlling the unnecessary orders and unwanted quantity of spares and items, bring down the cost of your inventory to the optimum level.
Avoid obsolescence and theft of inventory items
Order only those items which actually needed to reduce the obsolescence due to huge stocks and track the inventories at each step to control thefts.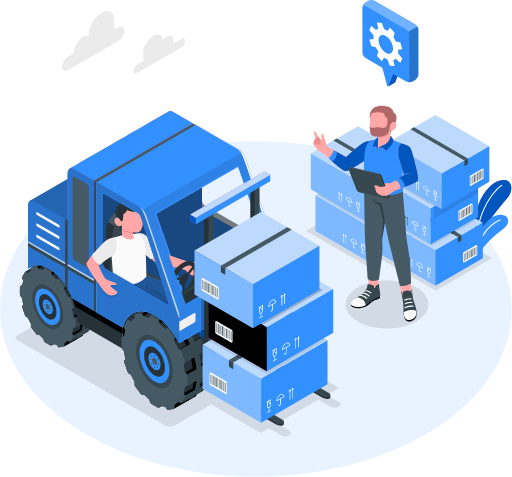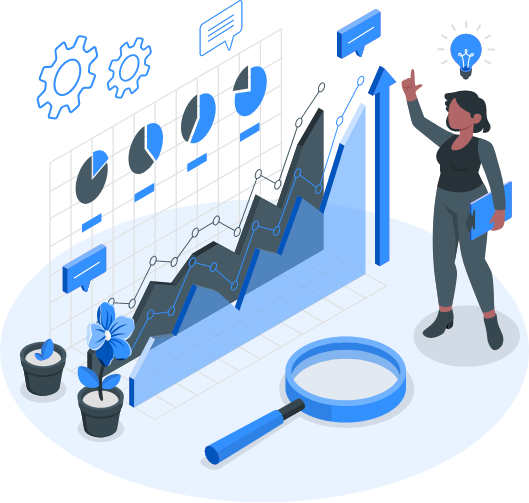 Tactful Decision Making with Top-Notch Report Management
Maximize asset performance with analytics, dashboards, and reports that quickly display key performance metrics such as asset health, maintenance costs, Preventive Maintenance compliance, equipment downtime, inventory, and drill-down capability to quickly identify areas of concern gain access to the details.
Get the up-to-date Analytics from time to time
Fetch all the data and analytics whenever you need to understand your business operations from top to bottom
Fast-track your Decision making with customized Report
Speed up all the decisions with the most relevant and customized information with detailed reports and data interpretation
Automate your Oil and Gas Maintenance Management with TeroTAM
Take your Production to higher efficiency with a Cloud-based CMMS Software
Manage your Oil and Gas Business in a Palm-Easy Way with Smartphone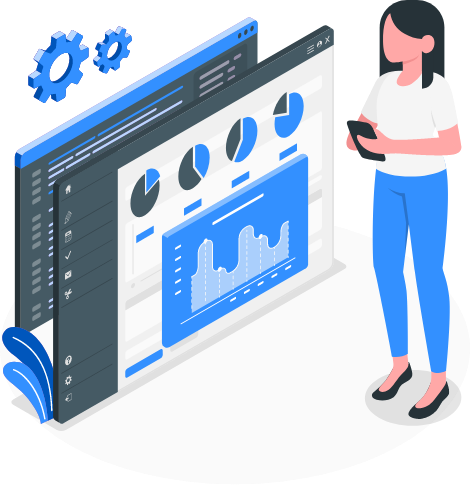 Keep track of all the assets and inventories with every movement from your most handy device – your smartphone
Manage your preventive maintenance of all your assets and equipment from your mobile to extend the average lifespan of your assets
Create and Assign tasks for your team and send them alerts on their mobiles with customized checklists
Track your assets with QR-code by scanning it from your mobile and see all the updates on the go anytime, anywhere
Oil & Gas Maintenance Management Software Features
Accurate Maintenance Checklist
Manage a personalized Maintenance checklist and share it with concerned coworkers to keep them informed about all of the duties they need to do.
Smart Staff Management
Keep your staff details updated on the centralized interface and keep tracking their work orders and work progress to control their performances.
Eagle Eye On Assets Tracking
Never miss an asset from your observation with Faster and Easy QR code tracking by assigning dedicated QR-code to each asset.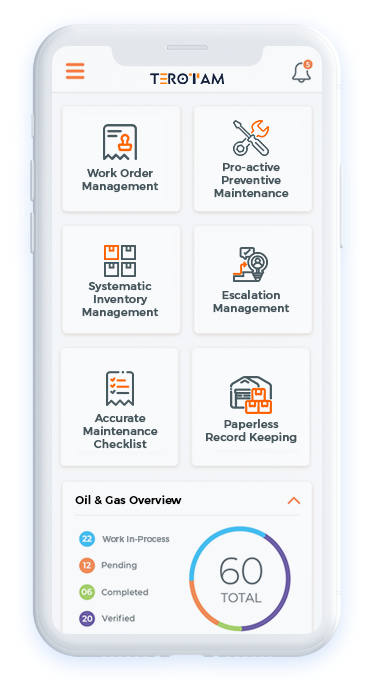 Marvelous Multi-Location Management
Experience the single-point management of tasks and assets located in different geographic areas, with a smart cloud-based system.
Effortless Escalation Management
Specify the types of service requests that will automatically be escalated to one or more staff if not responded to within a designated time frame.
Paperless Record Keeping
Keep all the data safe and secure on the cloud without any irritating paperwork. No more bunch of papers and files to manage for extensive reporting.
Do you have questions?
To empower the team of technicians with updates of customers, inventory, and assets with ease. How much does CMMS Software cost for the Oil and Gas Industry?
Every CMMS vendor has its attitude when it comes to software price, but according to industry experts, there are two sorts of pricing methods: Monthly Subscription and Pay-as-you-go pricing.
Reach us at contact@terotam.com to learn more about how charges for Oil and Gas Maintenance Management solution works at TeroTAM.
Why is a CMMS a must for the Oil and Gas Industry?
A Computerized Maintenance Management System (CMMS) assists organize Oil and Gas Business, eliminates the vast majority of unscheduled equipment repairs, boosts production, fulfills safety and regulatory standards, cuts costs, and responds quickly and completely to emergencies.
How CMMS software can help you stay compliant?
CMMS software gives you the tools you need to make your equipment and work environment safe, reliable, and compliant. Key Performance Indicators (KPIs) and metrics that demonstrate compliance are immediately available and easy to report on.
Testimonial
Paradigm Shift
With an easy to operate system and user-friendly Interface of TeroTAM, we integrated more than 200+ outlets operational within PAN India for 2+ years. This software enabled us to manage almost everything with a centralized dashboard, by sitting in one place, manage priorities and analyze all the key performance indicators with prolonged analytics. We are expecting to use TeroTAM for a long horizon with more advanced upgraded software in the era of growing new technologies.

Parthiban B.
(GM Facilities & Renovations Food & Beverages)
Tata Starbucks Private Limited
Ignited Innovation
TeroTAM has made our work easier & faster starting from complaint request generation to field and till the closer. Easy to upload data and updates, compatibility with multiple languages and lesser human efforts in writing saves a lot of time and energy and helps to produce the perfect data from beginning to end in a most customized manner. It's well received software, perfectly designed to match all our requirements, using satisfactorily with zero complaints for 2+ years.

Vikas A.
(GM Services Hospitality)
Equinox Solutions Limited
Excellent Platform
We have been using the TeroTAM platform for 1 year and we have seen a streamlined approach in our Staff management and Project Management. After we get started with them, our asset management has been upgraded and becoming cost-effective day by day. "Keep it up...Team TeroTAM.

Rohan Patel
(Owner)
Anand Color World
Business with TeroTAM is Super Easy
Starting from Asset Management to Complaint Management, each solution we used, has made our process fluent and flawless. We have remarkably reduced the cost of Inventory management and maintenance management with easy-to-use TeroTAM CMMS software. We experienced superfast tracking and location management with the QR-code scanning technology they offer. All-and-all, it's a one-stop solution for all your business needs. Strongly recommend it to all.

Harsh Chaudhary
(Owner)
Inventrik Enterprise
"It's Good and Useful Tool"
"I've been using this software for 1 year mostly for communication within the project team, task management, and collaboration with our customers. It's really easy to use & maintain, good support, easy to add asset details, cost-effective and flexible!"

Drashti Sharma
(Head of Management)
IT & Software Technology