Why Your business Need eProcurement Software?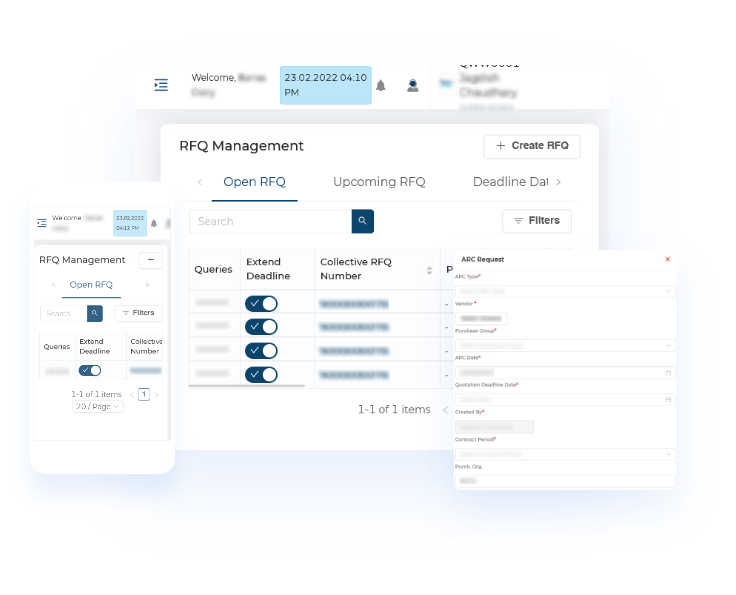 eProcurement is a web portal technology that simplifies the online purchasing procedure. The eProcurement software integrates a vendor portal with internal e-procurement tools. A vendor portal is always made up of supplier-related data that is neatly structured and easily available to buyers. It enables quick connection and communication with the vendor. Employees will be empowered to publish their needs, plans, predictions, and other information using internal procurement software, which is then forwarded to the procurement department. After that, it will proceed to the electrical approval procedures.
The eProcurement solution enables your organization to receive the greatest quality assets and demands in the market. You can also rapidly meet competitor vendors in the market by using mobile or web applications. It can keep track of the assets that have been purchased, ordered, and billed all in one place with correct digital data. And the web server stores all of the event's purchase and order history in a very secure manner so that the data may be retrieved at any moment. Users can easily create purchase requests from a web portal, keep fresh PR lists, process, collect all information, and sort and produce a quick report using e-procurement applications.
Simplified Purchase Requisitions
Every business needs to buy various Assets and Tools on a regular basis, but without a proper audit trail, the risk of fraud skyrockets. With the systematic eProcurement solution, The purchasing department gets equipped with a system in place which can issue a formal Purchase requisition to purchase managers to take the necessary action once the requisition is generated.
Pre-defined Requisition Forms with Ease of Bulk Upload
eProcurement software has a predefined structured custom form for collecting the purchase requirements in a systematic way with bulk uploading ability of purchase needs in the system.
Digital Sharing of PR with Vendors
The eProcurement tool makes it simple to fill out digital Purchase Request forms and send requests digitally to vendors by presenting pricing, quantity, and service length information.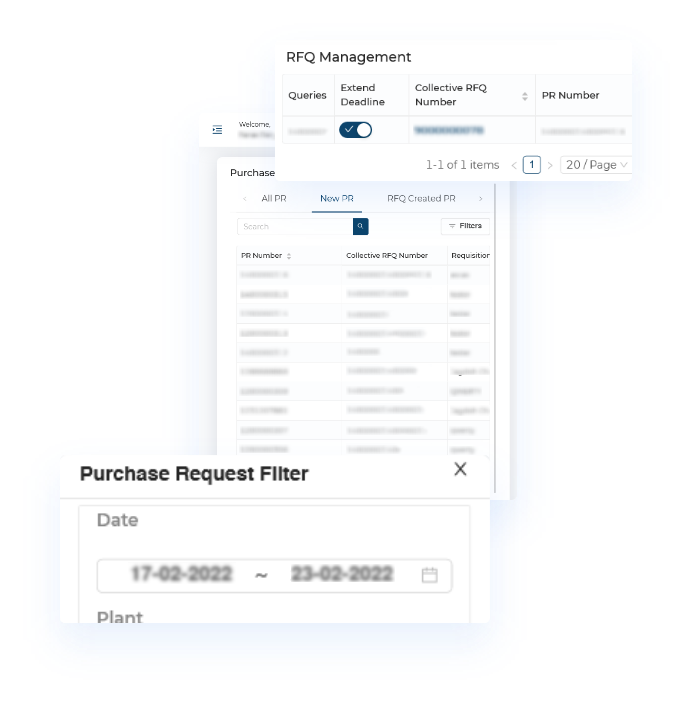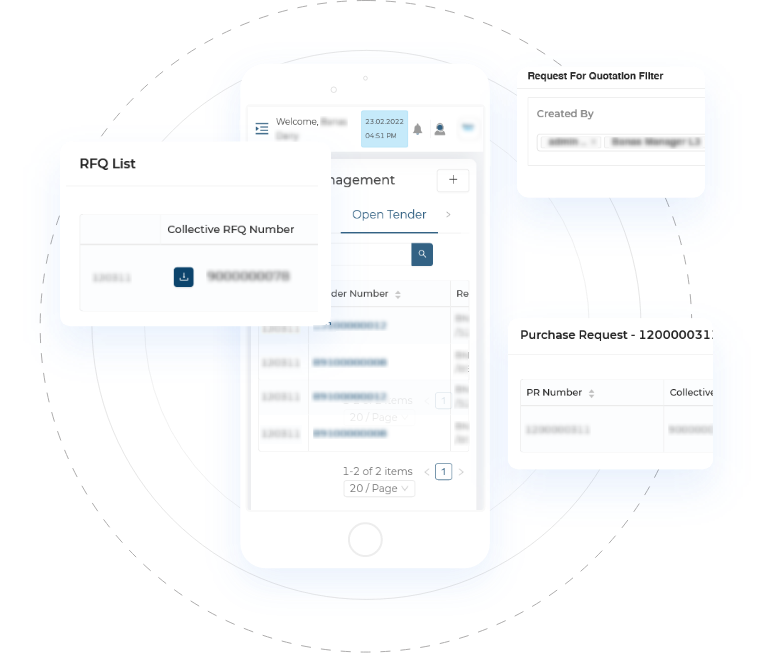 Smooth Quotation Management
Traditional quotation management can be a time-consuming and error-prone procedure that results in a corporate loss. Enhanced eProcurement technology allows you to manage all of your RFQs, RFPs, and RFIs without having to spend a minute gathering information from various suppliers.
Untangled RFQs
Easy to Create Request For Quote (RFQs) helps you get the best service provider to fulfill business requirements with dependable best pricing and details by establishing an RFQ.
Expounded Vendor Comparison
Digital RFQs equip you to easily compare and logically identify the best vendor quote for the organization.
Adaptable Purchase Orders
An Adaptable Purchase Order System handovers the power to track the journey of your product from raw material procurement to sale, which is currently a barrier for most organizations due to inadequate supply chain transparency.
Spontaneous Verification by Authorities
Digital Purchase requests can be seamlessly verified by the Purchase department and Purchase orders can be issued to the vendor.
Easily Manageable Purchase Order
Opening the Purchase order powered by bulk uploading makes the purchase process easier and faster with a quick review once the order arrives to close it painlessly.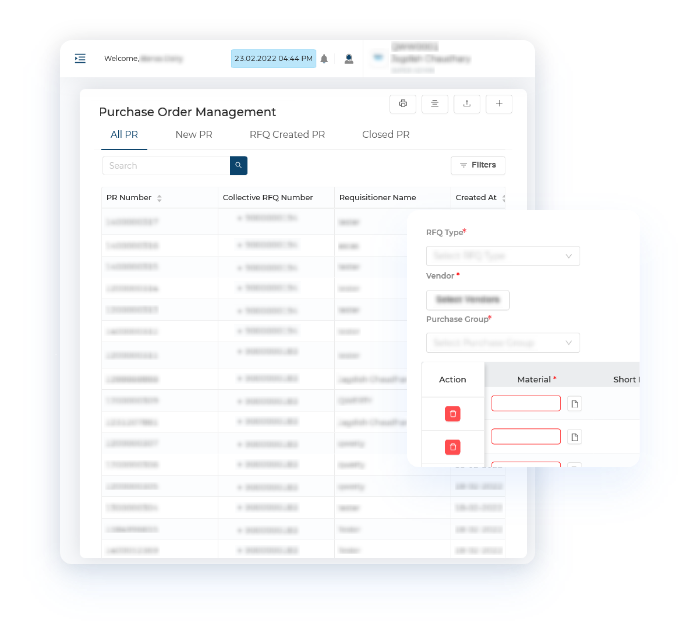 Stay upgraded and make your Workflow easy by using eProcurement Software
Make your business fully automated by saving lots of time and carrying & organizing your business data from anywhere through a web application.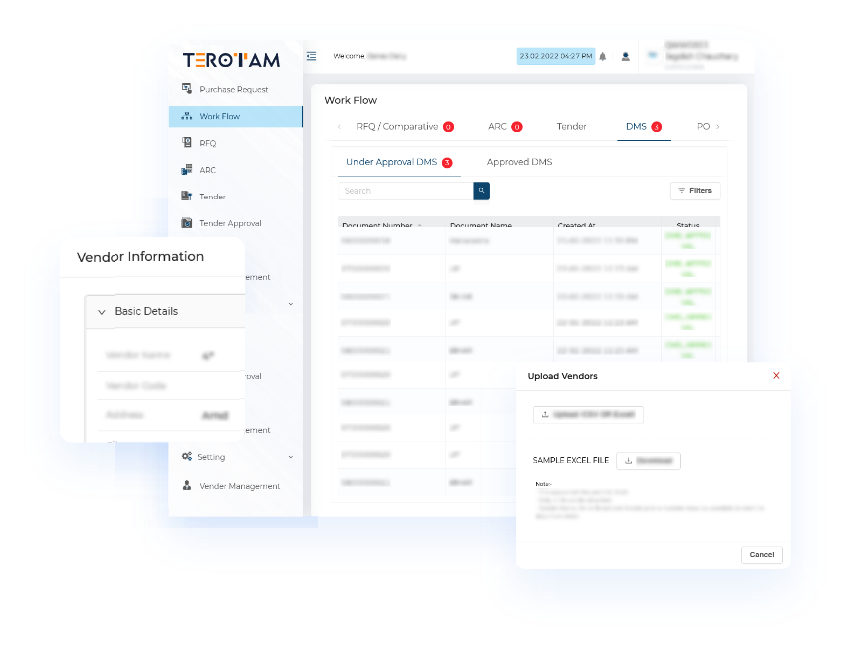 Agile WorkFlow Management
Agility is the key priority of the eProcurement software. With the eProcurement tool, Workflows are instantaneous and seamlessly performed without manual errors that allow for quick decision-making in emergency scenarios.
Dynamic Work Process
Workflow can be drawn out as a series of sequential processes for the dynamical workflow process of ordering, purchasing, and listing requirements.
Digitized Tasks and Tracking
Instead of manual labor, this can be aided by generating a digital form. To keep track of real-time data, attach a location tag to the purchased asset.
Scatheless Document Management System
The majority of firms have heavy documents influencing their operating costs by being handled with care and moved from one department to the next, requiring approval and revisions at each stop. Document Management System (DMS) aids in the secure backup of company data to prevent data loss.
Educate Staff with intact privacy through DMS
DMS stores company data and trains employees on different modules, how to use them, and how to make the best use of the resources available without compromising the integrity of the data. policy on privacy.
Easy to Search & Share documents
It saves time and effectively organizes information by allowing users to discover and view documents using filters. DMS makes it simple to share documents with internal or external teams via a secure path.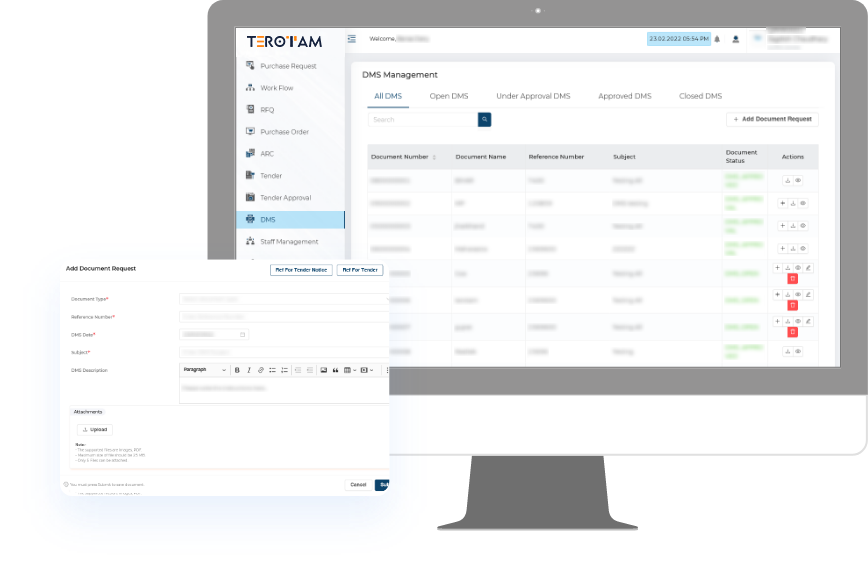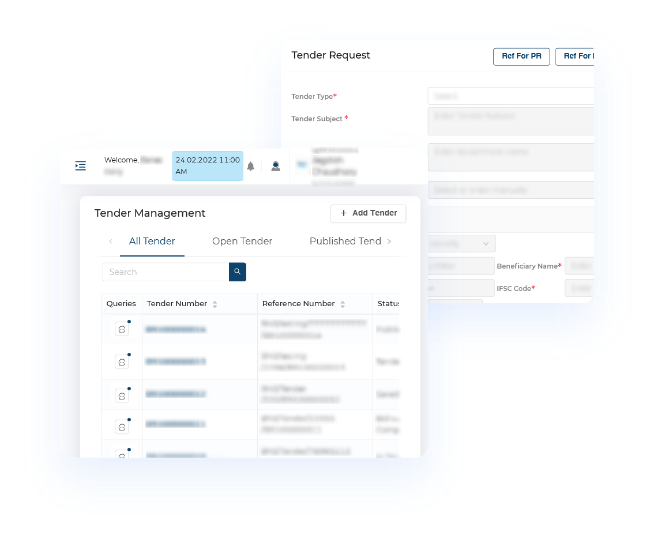 Space-age Tendering Process
Open tendering creates the most competition among vendors and has the added benefit of allowing new or developing suppliers to compete for quality work. As a result, eProcurement provided a modern option for selecting the appropriate proposal with bid price and ISO certification.
Click-easy Creation of Tender Request
It is a method of submitting a tender request using the eProcurement website and including the business requirement data along with some additional information. The tender is subsequently forwarded to the approval department for approval.
Quicker addition of New Tenders
The eProcurement portal will be included the first time the vendor section is selected, together with the details of the approved quotation, price, and service length.
One Tool for Gather All Purchase Requirements by Using eProcurement Software
Digitalize Process of Purchase Orders, ARC, RFQ, Tendering, and Vendor Engagement. Manage them All in One Place.
Cognitive Annual Rate Card System
An annual rate contract (ARC) is an agreement between the Customer and the Supplier to supply things at a fixed unit price for a set period of time, usually, until the rate contract expires. When it comes to vendor contracts, it serves as a standard and ready reference to avoid common misunderstandings.
Ready reckoner for Rates and Vendor Information
ARC can be a source of quick reference whenever you are looking for any specific details about any of your vendors, rates, agreement norms, etc.
Builds Smooth Relationship with Vendors
With every terms and condition noted in black and white in ARC, you can avoid most probable misunderstandings on rates, deliverables, contract conditions, etc.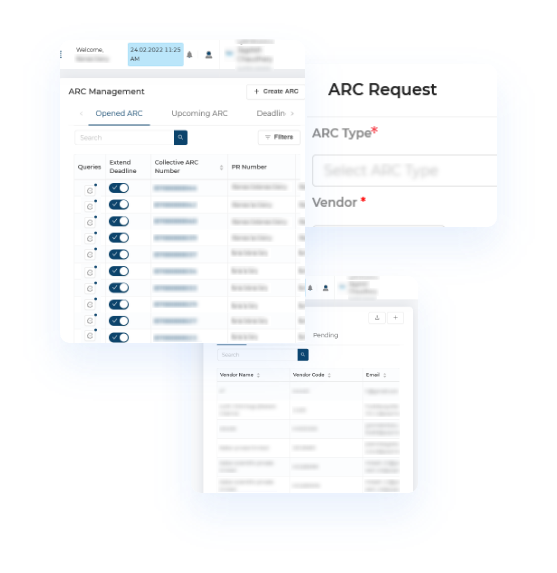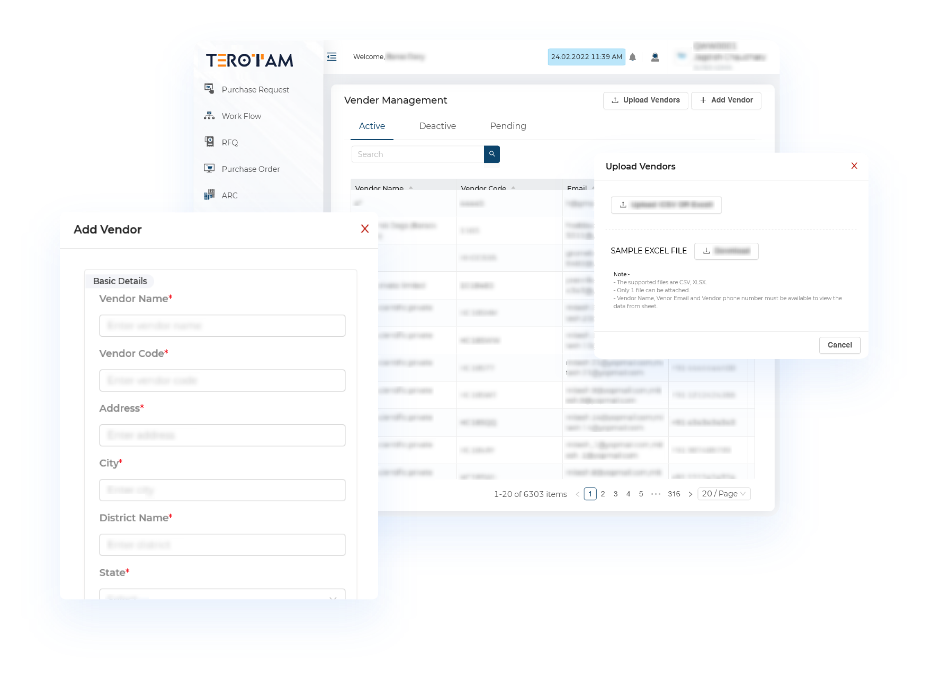 Versatile Vendor Management
Companies without an organized procurement system find it difficult to stay in touch with their vendors and stay on the same page. With the implementation of an eProcurement solution, you may access your geographically dispersed staff at any time and from any location with an integrated vendor management system.
Effortless Vendor Handling
The eProcurement tool enables you to collect data from the vendor portal using an E-form; it contains business requirements and needs information that aids in the selection of the best vendor in the market.
Dedicated Vendor Portal
Manage all Vendor activities from the dedicated Vendor portal where vendors can also login and update all their activities which can be directly integrated with the organization's ERP system to update vendor activities in real-time.
Digitized eProcurement Software to enhance your business requirements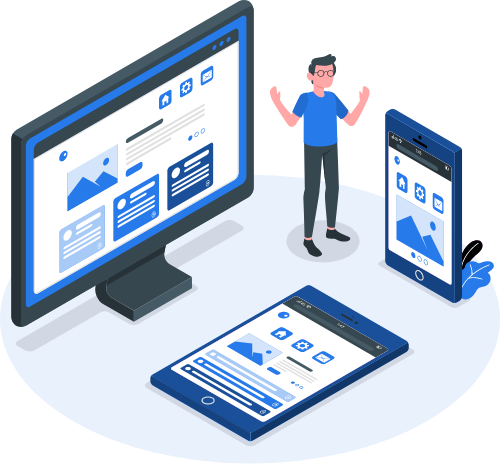 In the warehouse, effectively manage and sort raw supplies, stockpiles, and machinery.
Mobile-friendly interfaces make the procurement process simple and eliminate geographic limitations.
Customer and Vendor communication and data sharing are made faster and easier with a dedicated mobile application.
Departmental Approval of Purchase requests can be fast-tracked using a digital signature.
Instant cloud-based resolution for customer/vendor issues.
Using a staffing solution, you may effectively manage employees by department.
eProcurement Management Software Features
Adaptable SAP Integration
Connect all of your corporate systems via a sophisticated, specialized integration platform that includes out-of-the-box ERP and third-party solution integrations.
Negotiation
Empowers the procurement team to negotiate with Vendors through an in-built communication channel based on easily gathered data and comparison of multiple vendor quotations.
Reverse Auction
Auctions are open to all vendors An open auction for selected vendors will be held. Vendors can check their status for certain RFQs by logging into the system during a specific window.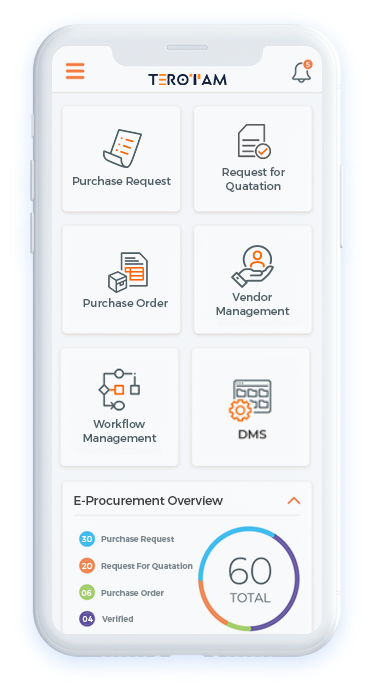 Data & Analytics in Real-Time
Analytics give you all information that is opened, closed, and processed in one place with digital representation and dependable information, allowing you to receive information quickly and easily.
Digital Signature
A digital signature helps to fasten the PR approval process by eliminating the small dependency of a manual signature and expediting the procurement process.
Material Management
Providing a supplier portal for conversations, transactions, and issue resolution can save thousands of hours for enhanced Material Management.
Do you have questions?
Go smart with eProcurement solutions and get quality suppliers in the competitive market. What is eProcurement software?
It helps to meet your business requirements easily by purchasing assets & hardware, ordering, buildings, tendering, choosing a vendor for service all can be done in one place with the punctual process.
Why is eProcurement software important to businesses/organizations?
To run a business efficiently it needs good service providers/ vendors, and procure resources in an effective manner for this eProcurement is a digital tool to collect and sort out information at one location.
How does eProcurement digitalize business requirements?
Yes, there is a portal for vendors/customers to collect the requirements by filling digital forms and sending it to further approval like it can carry brief information and access through web and mobile applications.
What are the advantages of eProcurement Software?
Digitize paperwork, centralize business data in web servers to access through web and mobile applications at any where. And easy to estimate and cost for requirements and needs.
How can eProcurement improve the efficiency of the supply process?
eProcurement makes production and supply chain easy with requirements and before that it can analyse the entire process to get a clear idea for business. And reduce costs, improve spending investment, boost productivity to promote innovations.
Testimonial
Paradigm Shift
With an easy to operate system and user-friendly Interface of TeroTAM, we integrated more than 200+ outlets operational within PAN India for 2+ years. This software enabled us to manage almost everything with a centralized dashboard, by sitting in one place, manage priorities and analyze all the key performance indicators with prolonged analytics. We are expecting to use TeroTAM for a long horizon with more advanced upgraded software in the era of growing new technologies.

Parthiban B.
(GM Facilities & Renovations Food & Beverages)
Tata Starbucks Private Limited
Ignited Innovation
TeroTAM has made our work easier & faster starting from complaint request generation to field and till the closer. Easy to upload data and updates, compatibility with multiple languages and lesser human efforts in writing saves a lot of time and energy and helps to produce the perfect data from beginning to end in a most customized manner. It's well received software, perfectly designed to match all our requirements, using satisfactorily with zero complaints for 2+ years.

Vikas A.
(GM Services Hospitality)
Equinox Solutions Limited
Excellent Platform
We have been using the TeroTAM platform for 1 year and we have seen a streamlined approach in our Staff management and Project Management. After we get started with them, our asset management has been upgraded and becoming cost-effective day by day. "Keep it up...Team TeroTAM.

Rohan Patel
(Owner)
Anand Color World
Business with TeroTAM is Super Easy
Starting from Asset Management to Complaint Management, each solution we used, has made our process fluent and flawless. We have remarkably reduced the cost of Inventory management and maintenance management with easy-to-use TeroTAM CMMS software. We experienced superfast tracking and location management with the QR-code scanning technology they offer. All-and-all, it's a one-stop solution for all your business needs. Strongly recommend it to all.

Harsh Chaudhary
(Owner)
Inventrik Enterprise
"It's Good and Useful Tool"
"I've been using this software for 1 year mostly for communication within the project team, task management, and collaboration with our customers. It's really easy to use & maintain, good support, easy to add asset details, cost-effective and flexible!"

Drashti Sharma
(Head of Management)
IT & Software Technology
Latest Insights from CMMS Software Solutions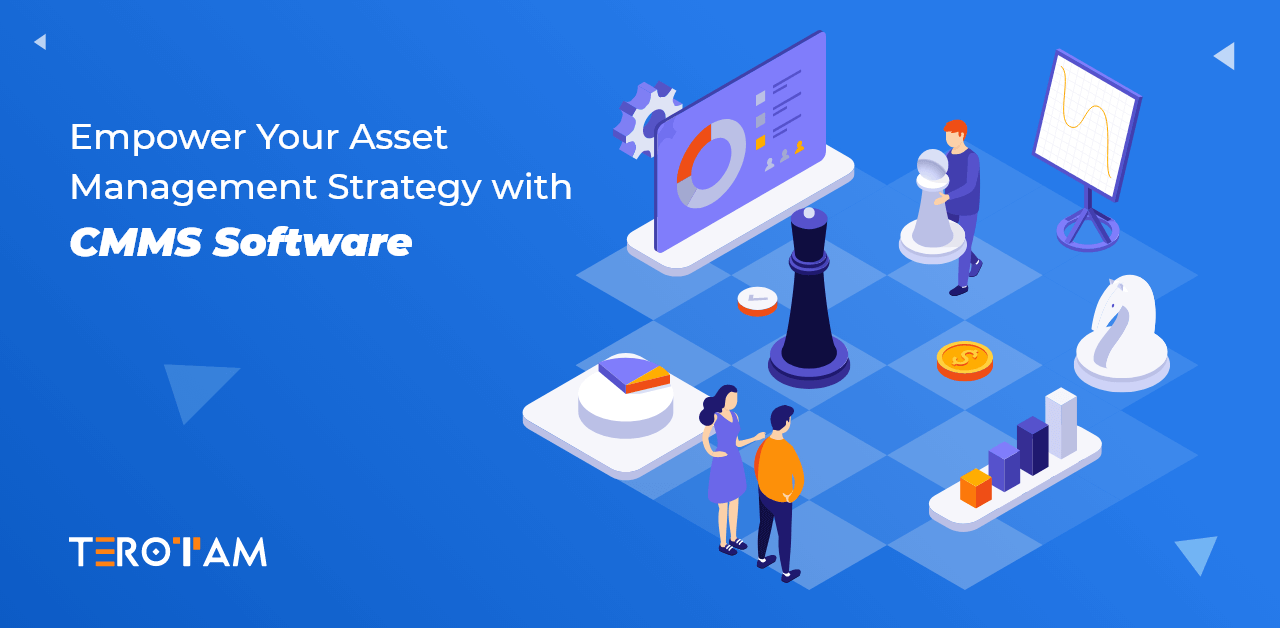 Posted On
Sep 27, 2023
| by
Mahendra Patel
Have you ever pondered over the inner workings of your organization's assets? How well do you really know them? From the factory floor humm...