Why Store Condition Assessment Software?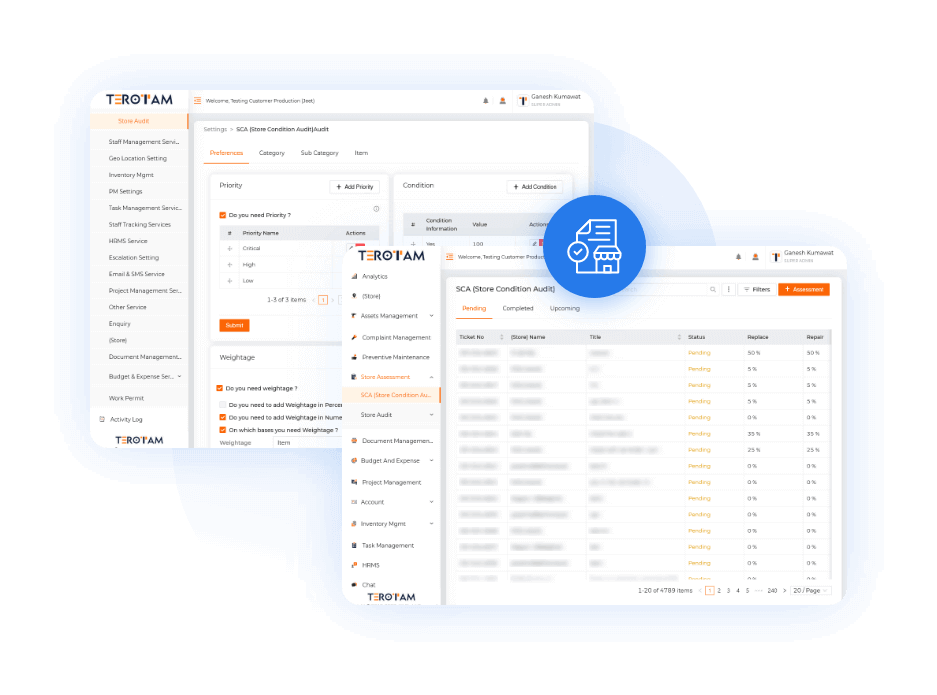 Store condition assessment software is an essential tool for businesses that operate physical stores or have a brick-and-mortar presence. This software enables companies to monitor the condition of their stores in real time, providing valuable insights into how their stores are performing and identifying areas for improvement. With store condition assessment software, businesses can easily track metrics such as customer traffic, product placement, inventory levels, and more, helping them make data-driven decisions to optimize their stores' performance. By identifying and addressing issues quickly, businesses can improve the customer experience, increase sales, and enhance their brand image.
TeroTAM's SCA software from TeroTAM enables owners or managers of store facilities or properties to Plan and proceed with the assessments for a surprise internal asset condition audit. It helps organizations to improve their portfolio and aid in maintaining the assets' physical condition and value to the greatest possible extent. A Facility condition assessment can be helpful when making renovation decisions and selecting new hardware or assets. With such a handy and helpful tool facility managers can create, coordinate and control the store asset conditions and get frequent timely asset data that can be helpful in many events where the store and the assets are included.
Eliminate Manual Store Assessments
No one is interested in performing a lengthy and unplanned store audit carried out with different procedures and in a different format. Every organization is looking towards a more streamlined and sophisticated approach. TeroTAM's Best SCA Solution makes it easy to manage and track store performance and asset condition for maximum efficiency.
Optimized Store Management
Our store condition management system allows you to quickly and easily monitor your store conditions in real time, providing you with the data you need to make timely decisions. Get detailed reports on all your store operations in one place to ensure maximum efficiency and accuracy.
Save Time & Money
With our SCA Solution, you can save time and money by streamlining processes and reducing manual labor costs. Our intuitive solutions allow you to quickly analyze data and obtain the information needed to make quick decisions.
Eliminate Paperwork
Get rid of the nightmares of tedious paperwork! Manage your store asset and audit data with a centralized interface and easily accessible platform by anyone, anywhere with authorized access. Cut costs with automated data entry to manage stores more efficiently.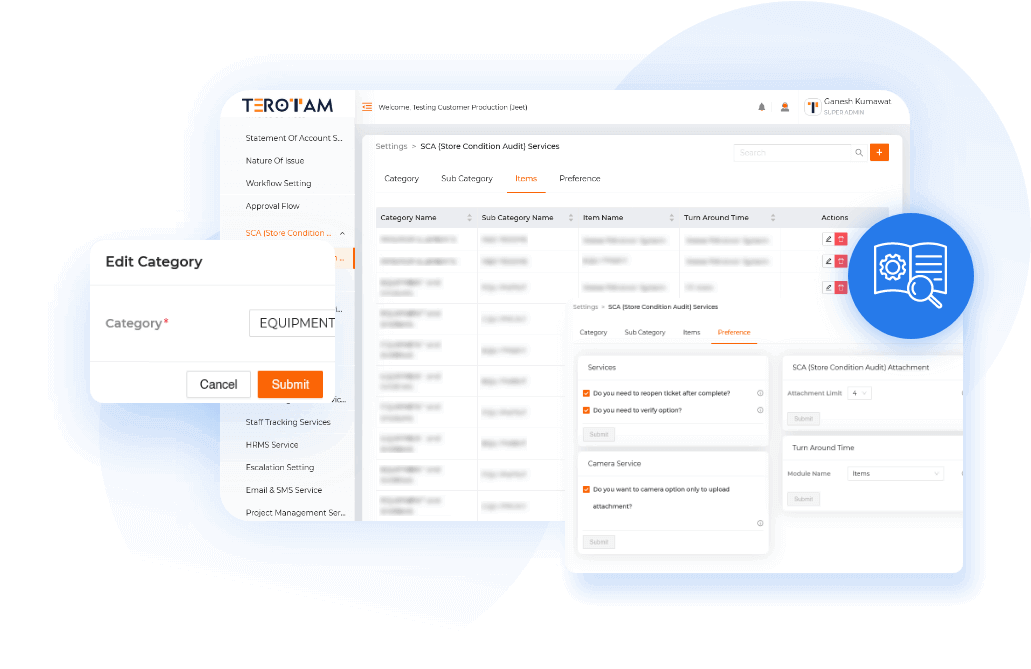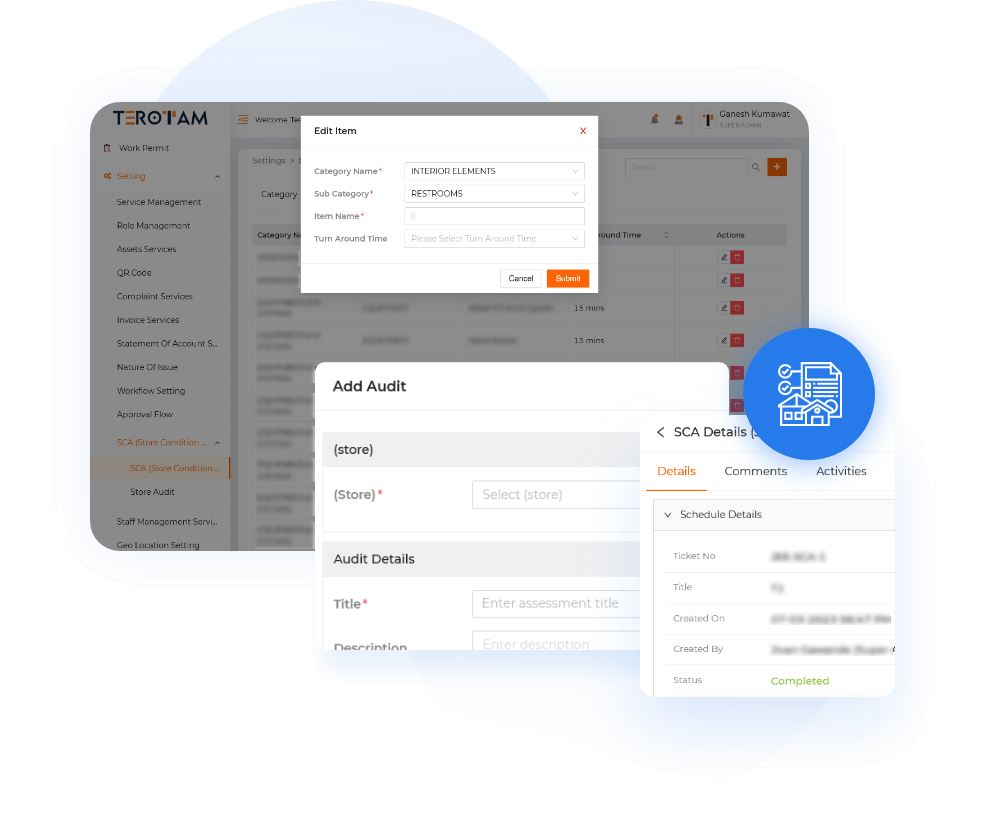 Taking Control of Asset Condition Management
Organizations always want centralized control of their assets and want to make sure the extended life of their assets helps their stores to run with a supreme level of efficiency and ease. With our cloud-based store condition audit tool, you can easily assign assessments to multiple teams, track assets and monitor results.
Efficient Stock Management
TeroTAM's SCA System helps you manage your stock and inventory with ease. Easily track items in stock, and out of stock and keep a check on the inventory levels in each location. It helps you stay always available with stocks to entertain your walk-in crowd.
Effortlessly Assign Assessments to Team
When you deal with multilocational stores, assigning assessments to the dedicated team is quite challenging. With our software, you can easily assign store assessments to teams which makes it easy to keep track of multiple tasks from one single platform.
Getting Ready for Safety Audits
Doing safety reports is crucial to helping you pass your audit whether your store facility is quite old or you've made significant improvements to it. Fortunately, the Asset audit software simplifies this. The data you collect will show you any safety problems and how to resolve them.
Automate your Store Audits and Keep your Stores Compliant and Safe
Get real-time insights into your store's condition and Monitor performance from anywhere with the best SCA software
Manage your SCA in Palm easy way with Smartphone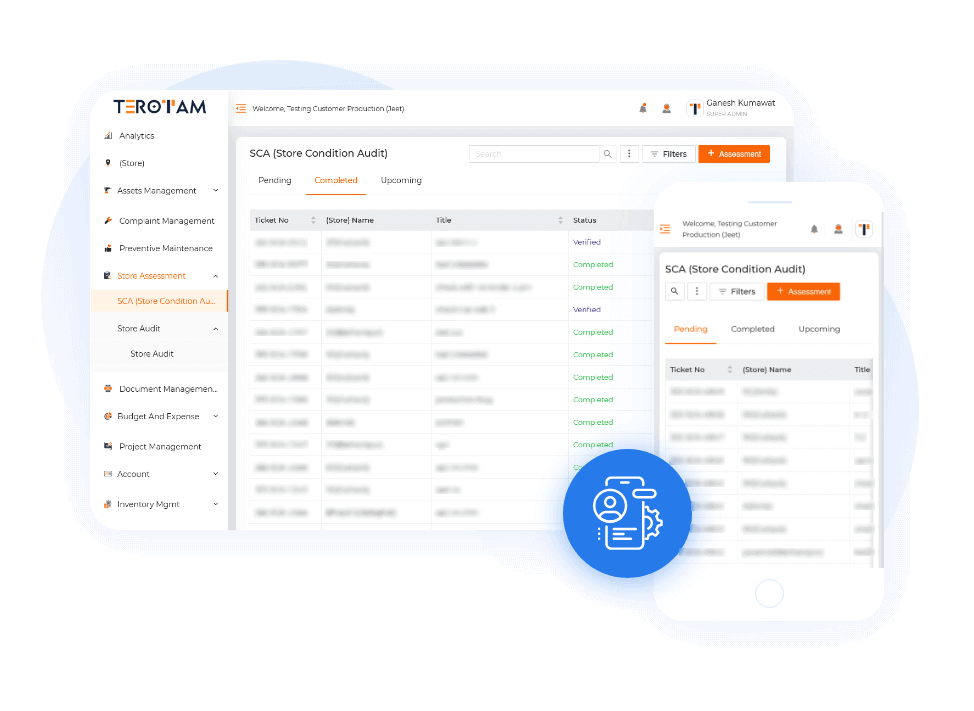 Create and assign the assessment tasks to a different team at a different location through your smartphone.
Craft a Customized Checklist for each store and each assessment team that can be accessed by them anytime anywhere.
Receive and update the assessment progress on your mobile to keep your team updated with the cloud-based system.
Take pictures and upload them with all the necessary documents with your assessment reports to keep the process easy and faster.
Mobile-enabled inspection allows the assessment team to carry out the assessment even offline and later on sync to cloud storage.
Rapidly deploy the assessment report through mobile to make the decision-making centralized and faster.
Features that Build Sophisticated Store Condition Assessment Software
On-point Integration
Integrate your business systems, such as inventory or customer relationship management software with SCA for comprehensive view of store performance.
Dynamic Form Creation
Create customized assessment forms to collect specific data about their stores' conditions.
Notification and Reminders
You can send alerts & reminders to managers or employees when assessments are due or when issues are identified.
Assign Assessments to 3rd party
SCA Software may allow businesses to assign assessments to third-party auditors or consultants to provide an objective evaluation of their stores.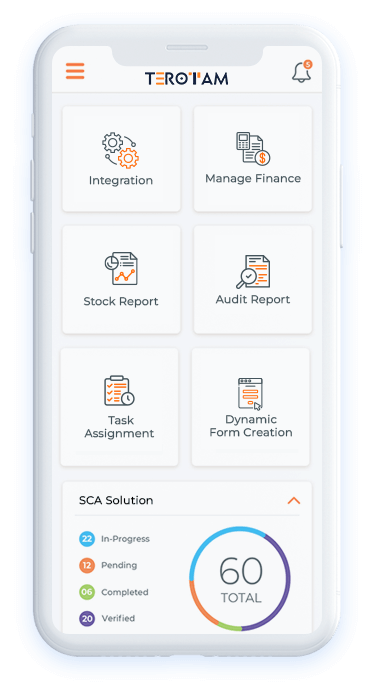 Meticulously Manage Finance
This software may include features for managing store finances, such as tracking expenses and revenue, managing budgets, and generating financial reports.
Systematic Stock Report
Generate reports on inventory levels, product placement, and other stock-related metrics.
Effortless Task Assignment
It's allow managers to assign assessments to specific employees or teams to ensure accountability and efficiency.
Detailed Audit Report
You can generate detailed reports summarizing assessment results, identifying areas for improvement, and providing recommendations for action.
Do you have questions?
We know the most obvious doubts one has in mind while thinking of SCA Solution. What is Store Condition Assessment Software?
Store condition assessment software is a tool that helps businesses monitor and improve the condition of their stores. It typically includes features such as real-time monitoring, customized assessment forms, alerts and reminders, and detailed reporting.
How Does Store Condition Assessment Solution Differ From Manual-Store Audits?
Store condition assessment solution offers several advantages over manual store audits, including real-time monitoring, automated data collection and analysis, and integration with other business systems. This makes it faster, more efficient, and more comprehensive than manual audits.
What Types of Businesses Can Benefit from Store Condition Assessment Software?
Any business that operates physical stores or has a brick-and-mortar presence can benefit from store condition assessment software. This includes retailers, restaurants, and other service-oriented businesses.
How can Facility Condition Assessment Software Help Businesses Improve their Stores' Performance?
It can help businesses identify areas for improvement, address issues quickly, and make data-driven decisions to optimize their stores' performance. This can lead to improved customer experience, increased sales, and enhanced brand image.
What is the Cost of the Best SCA Software?
The cost of SCA Solution varies depending on the features included, the size of the business, and the level of customization required. Many software providers offer pricing plans based on the number of stores or locations being monitored.
To know how TeroTAM's Cost for Store Condition Assessment Software works, schedule a quick call with our expert team or write us at contact@terotam.com
Testimonial
Paradigm Shift
With an easy to operate system and user-friendly Interface of TeroTAM, we integrated more than 200+ outlets operational within PAN India for 2+ years. This software enabled us to manage almost everything with a centralized dashboard, by sitting in one place, manage priorities and analyze all the key performance indicators with prolonged analytics. We are expecting to use TeroTAM for a long horizon with more advanced upgraded software in the era of growing new technologies.

Parthiban B.
(GM Facilities & Renovations Food & Beverages)
Tata Starbucks Private Limited
Ignited Innovation
TeroTAM has made our work easier & faster starting from complaint request generation to field and till the closer. Easy to upload data and updates, compatibility with multiple languages and lesser human efforts in writing saves a lot of time and energy and helps to produce the perfect data from beginning to end in a most customized manner. It's well received software, perfectly designed to match all our requirements, using satisfactorily with zero complaints for 2+ years.

Vikas A.
(GM Services Hospitality)
Equinox Solutions Limited
Excellent Platform
We have been using the TeroTAM platform for 1 year and we have seen a streamlined approach in our Staff management and Project Management. After we get started with them, our asset management has been upgraded and becoming cost-effective day by day. "Keep it up...Team TeroTAM.

Rohan Patel
(Owner)
Anand Color World
Business with TeroTAM is Super Easy
Starting from Asset Management to Complaint Management, each solution we used, has made our process fluent and flawless. We have remarkably reduced the cost of Inventory management and maintenance management with easy-to-use TeroTAM CMMS software. We experienced superfast tracking and location management with the QR-code scanning technology they offer. All-and-all, it's a one-stop solution for all your business needs. Strongly recommend it to all.

Harsh Chaudhary
(Owner)
Inventrik Enterprise
"It's Good and Useful Tool"
"I've been using this software for 1 year mostly for communication within the project team, task management, and collaboration with our customers. It's really easy to use & maintain, good support, easy to add asset details, cost-effective and flexible!"

Drashti Sharma
(Head of Management)
IT & Software Technology