Why Budget and Expense Management Software?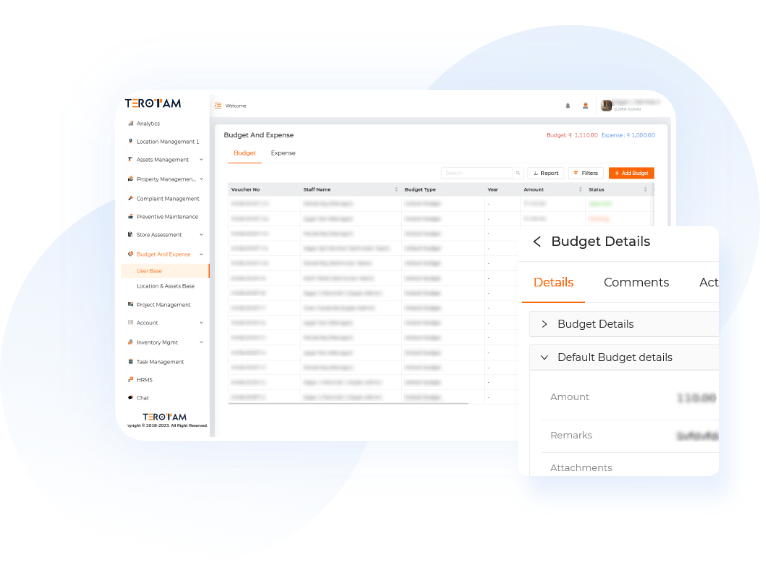 Businesses need budget and expense management software because it makes it possible for them to correctly track their costs and earnings. Businesses may simply monitor their cash flow and make wise financial decisions with the help of this program. The software offers in-the-moment data on costs and earnings, enabling companies to modify their budgets accordingly. Additionally, this solution helps you get rid of manual expense and income tracking, which lowers the risk of error and saves time. Businesses can optimize their financial management, enhance decision-making, and boost profitability by employing budget and expense management systems.
To increase their financial transparency, firms also require budget and expense management software. This tool enables companies to produce thorough reports on their costs and income that can be used to evaluate their financial performance. To illustrate the company's financial stability and expansion potential to stakeholders including investors, lenders, and regulators, these reports can be distributed. Additionally, such a platform can assist companies in locating opportunities to cut costs or boost income, enabling them to create more efficient strategies. Businesses can increase their financial transparency, cultivate stakeholder confidence, and improve their overall reputation by using budget and expense management software.
Say Goodbye to Unplanned Expenses
Unwanted expenses are the biggest worries when it comes to financial decisions in businesses. A well-defined Budget & Expense Tracking system will allow your business to get rid of unwanted expenses that ruin your planned budget and always keeps you aligned with your financial budget.
No More off-the-cuff Expenses
Off-the-cuff expenses are headaches that you never want to eat your budget that is not allotted to it. The budget and expense management system helps you identify and assign a specific amount to a specific activity with priority to stay on the track with planned budget.
Activity-Based Budget Allocation
Every activity has its own need and limit of expenses which need to be handled with care to keep the operations in line with a cost-effective manner. The budget and Expense Management system help you plan an activity-wise budget that helps you understand what and how much to spend.
Multi-location Budget Planning
Multiple locations mean multiple budget planning. Every location has its own expense culture. You can't run them with one yardstick. TeroTAM's Budget and expense management software empowers you with multi-location budget planning to streamline each profit center on track.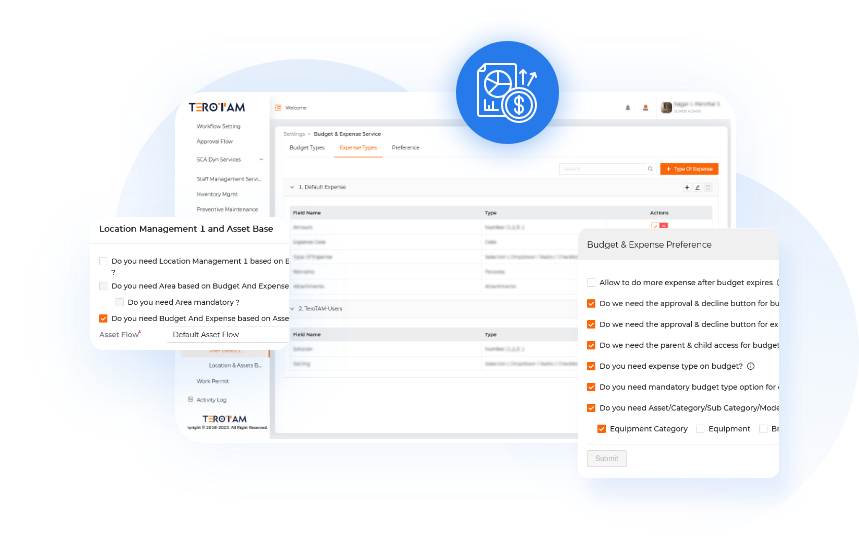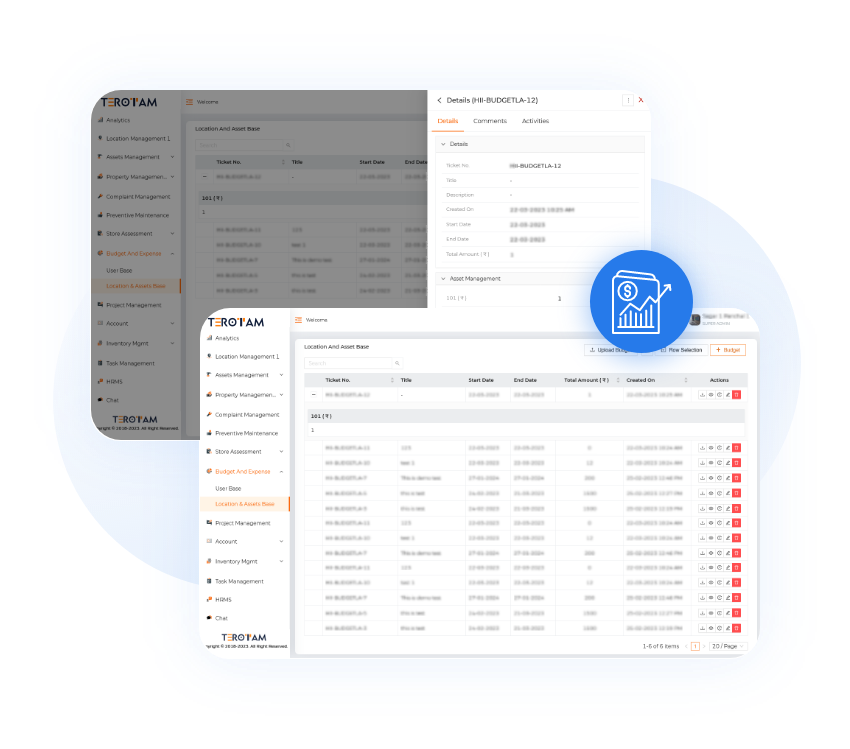 Streamline Expense Tracking
Assigning the Budget doesn't solves the purpose. What business more require is tracking their expenses and comparing them with the planned budget so that they can plan corrective actions in the expenses to control the expenses in a cost-effective manner and manage the business profitability.
Track the Expenses for Each Departmental Activity
TeroTAM's Budget and expense management system helps you track each and every activity from each department and track their expenses against the allocated budget to their department. It helps you keep the department budget and cost aligned with the financial goal of the organization.
User-based Expense Tracking
In addition to location and department-wise budget, TeroTAM's Expense management tool lets you track the expenses made by every user to compare against their allocated budget and if mismatched, lets you take corrective actions to keep them on track if the expenses are made unnecessarily.
Alerts and Notifications on Over Expenses
It is important that the controller gets alerts when expenses occurred by a store, or department, or a specific user so that the controller can compare and authorize the expenses in real time and stay aware of where the money is flowing and how it is going out of the system.
Get a Clear Picture of Your Finances - Try Our Budget & Expense Management Software Now!
Are you struggling to stay on top of your finances? Our budget and expense management solution is here to help. With our powerful tool, you can get a clear picture of your financial situation and take control of your money. Start using our software now and start managing your expenses like a pro.
Manage your Budget and Expenses in Palm-Easy Way with your Smartphone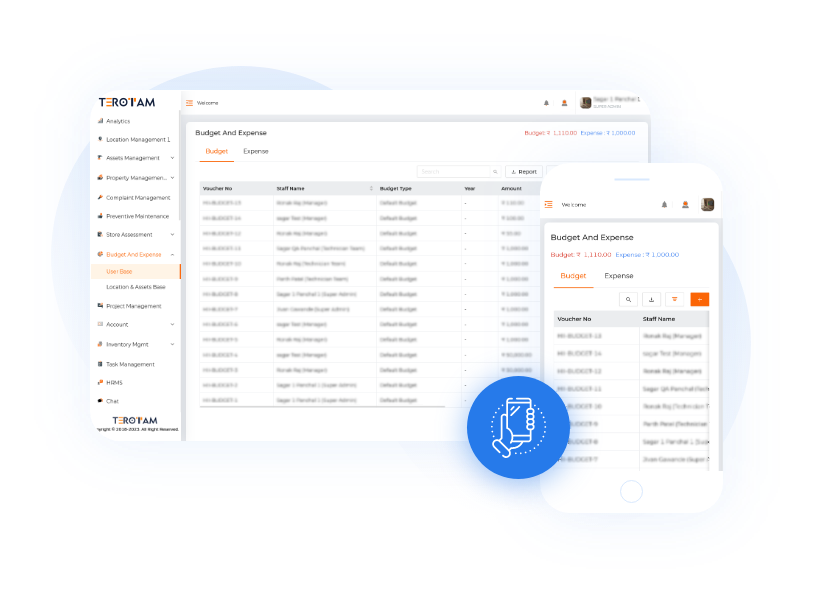 Create and assign the Budget to a different facility at a different location through your smartphone.
Craft a Customized Budget for a specific team or department that can be accessed by them anytime anywhere.
Receive and update the Budget planning and expenses on your mobile to keep your team updated with the cloud-based system.
Take pictures and upload expense vouchers or invoices in the system with your smartphones to keep the team aware and updated.
Mobile-enabled expense tracking allows financial control to carry out the expense assessment at any given point in time.
Rapidly approve or reject the expenses from your smartphone with every alert and notification received to keep it on track.
Features that Build Sophisticated Budget and Expense Management Software
Real-time Visibility into Spending
Every member of the team who has permission can access the expense data in real time with expense management software. This level of clarity eliminates pointless inquiries about expenses.
Digital Audit Trails
Digital audit trails signify tracking an expense back to its source to determine who or why it was started. As a result, anybody can understand why the expense is authorized. Our effective expense automation software can track all payments in every detail.
Easy Expense Approval Process
With a multi-layered approval system with authorized department users and authorized approvers, expense approval can be easier and faster with a well-defined system and a cloud-based and mobile-friendly expense management tool.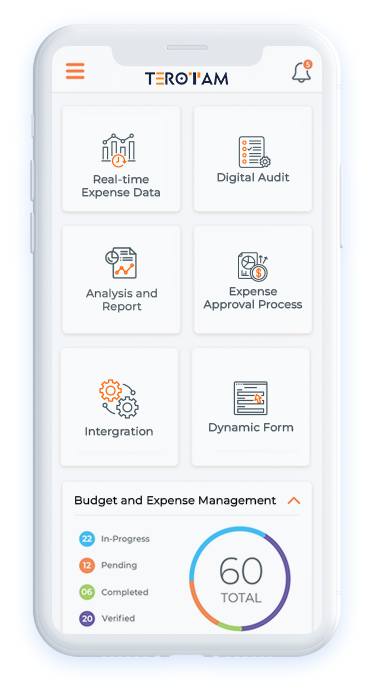 Create Dynamic Form
Vendors can create their custom expense form with their required fields that need to be mentioned while sending it for approval for better and clear understanding and quicker approval.
Advanced-Data Analytics
Our Budget and Expense management tool lets you analyze every expense and situation with advanced data analytics to help you understand the expense motives and trends in the organization and help you practice data-driven decisions.
Effortless Expense Reporting Process
Employees are empowered to Upload, Submit and Track the expenses and claim approval without any manual intervention and dependency with crystal clear transparency with our expense management tool.
Frequently Asked Question
The Most common Brain Teaser for Escalation Management Software What is Budget and Expense Management Software?
Budget and expense management software is a tool that allows businesses to manage their finances by tracking expenses, creating budgets, generating reports, and providing real-time updates on financial performance.
Why Do Businesses Need Budget and Expense Management Solutions?
Businesses need budget and expense management software to accurately track their expenses and revenues, make informed financial decisions, and improve financial transparency. The software also helps businesses optimize their financial management, reduce errors, save time, and increase profitability.
What Features Should I Look For In Budget and Expense Management System?
The features to look for in budget and expense management software include expense tracking, budget creation and management, report generation, real-time updates, integration with other financial tools, and security features.
How Much Does Budget and Expense Management Software Cost?
The cost of budget and expense management software varies depending on the specific software you choose and the features you require. To know how TeroTAM's Budget and Expense Management solution costs you, connect with us at contact@terotam.com or schedule a call with our experts now.
Is It Possible to Integrate Budget and Expense Management Platform With Other Financial Tools?
Yes, TeroTAM's Budget and Expense management platform allows for integration with other financial tools, such as accounting software and payment processing systems. This integration helps businesses streamline their financial management processes.
Testimonial
Paradigm Shift
With an easy to operate system and user-friendly Interface of TeroTAM, we integrated more than 200+ outlets operational within PAN India for 2+ years. This software enabled us to manage almost everything with a centralized dashboard, by sitting in one place, manage priorities and analyze all the key performance indicators with prolonged analytics. We are expecting to use TeroTAM for a long horizon with more advanced upgraded software in the era of growing new technologies.

Parthiban B.
(GM Facilities & Renovations Food & Beverages)
Tata Starbucks Private Limited
Ignited Innovation
TeroTAM has made our work easier & faster starting from complaint request generation to field and till the closer. Easy to upload data and updates, compatibility with multiple languages and lesser human efforts in writing saves a lot of time and energy and helps to produce the perfect data from beginning to end in a most customized manner. It's well received software, perfectly designed to match all our requirements, using satisfactorily with zero complaints for 2+ years.

Vikas A.
(GM Services Hospitality)
Equinox Solutions Limited
Excellent Platform
We have been using the TeroTAM platform for 1 year and we have seen a streamlined approach in our Staff management and Project Management. After we get started with them, our asset management has been upgraded and becoming cost-effective day by day. "Keep it up...Team TeroTAM.

Rohan Patel
(Owner)
Anand Color World
Business with TeroTAM is Super Easy
Starting from Asset Management to Complaint Management, each solution we used, has made our process fluent and flawless. We have remarkably reduced the cost of Inventory management and maintenance management with easy-to-use TeroTAM CMMS software. We experienced superfast tracking and location management with the QR-code scanning technology they offer. All-and-all, it's a one-stop solution for all your business needs. Strongly recommend it to all.

Harsh Chaudhary
(Owner)
Inventrik Enterprise
"It's Good and Useful Tool"
"I've been using this software for 1 year mostly for communication within the project team, task management, and collaboration with our customers. It's really easy to use & maintain, good support, easy to add asset details, cost-effective and flexible!"

Drashti Sharma
(Head of Management)
IT & Software Technology