Why Do You Need Vendor Management Software?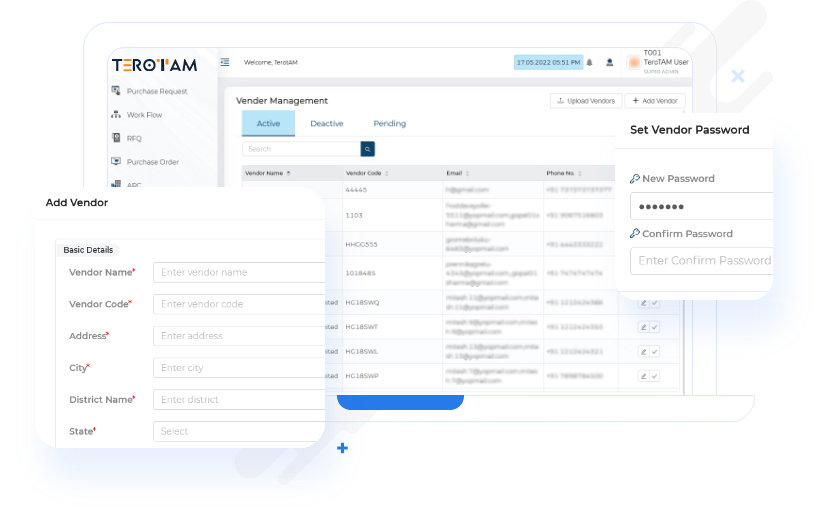 Using outside vendors can be a major pain. Keeping track of their contact information, invoices, work history, and timetables, as well as ensuring that the actual work is completed, can entail a lot of paperwork, spreadsheets, and stress. Vendor management software is a web-based solution that helps businesses control expenses, improve service, and reduce risk so they can get more value from their vendors throughout the business life cycle.
Vendors can be fully and seamlessly integrated into your maintenance system with TeroTAM's Vendor Management Software. You can get the same data from a Vendor as you would from a member of your own maintenance staff, making managing outside Vendors as simple as managing your own.
Centralized Vendor Management
When working with contractors and third-party providers, you need to be able to integrate them into your existing internal operations. With TeroTAM's Vendor Management Software, manage each and every vendor related activity from a single centralized dashboard to keep track of every vendor information and analytics for streamlined operational decisions
Easy to Access All Vendor Information
Get all the necessary information about your vendors at single place with click-easy way as and when needed to make well informed vendor decisions
Keep Track of Vendor Performances
Track your Vendor's Past and Present work performances, invoices, quotations to analyze their future suitability with the organization for seamless operations.
Eagle-eye on Third-party Related Inventory
Keep a strict eye on inventory by Third-party with Vendor Management software to avoid over-stocking as well as out-of-stock position and maintain optimum inventory level.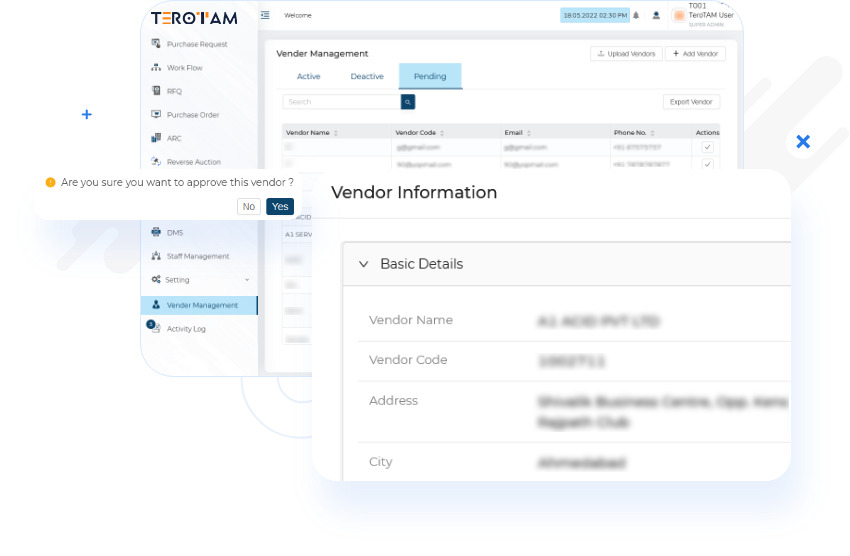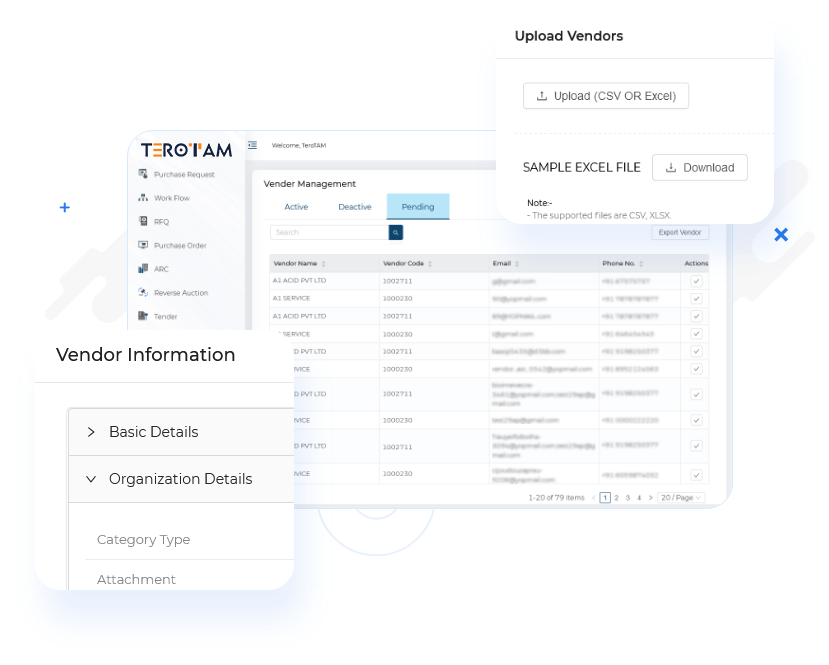 Streamline Effective Vendor Communication
Simplify the communication between you, your vendors, and your suppliers to streamline the day-to-day updates with automated updates and alerts regarding your vendor related information. Track and Rate their performance and send them feedback with an in-built vendor rating system.
Stay Informed with Automated Updates
The comprehensive dashboard lists all ongoing contracts and keeps you up to date on their progress. Contracts that are about to expire will receive automated reminders, allowing you to renew them on time and continue working without interruption.
Rate Vendors Based on Performance
Define precise performance indicators and conduct periodic vendor evaluations. You can rank them based on service quality, delivery time, complaint history, quality management systems, and a variety of other characteristics.
Performance Based Contract Assignment
Vendor ratings and work reviews are included in the built-in rating system, which helps you award contracts to vendors appropriately. This way, depending on their track record, you'll always know which vendor to hire for a job.
Easily Enroll and Engage Vendors
Invite and onboard new vendors and suppliers to expand your catalog. Manage your existing vendors and suppliers and invite new ones to be a part of your ecosystem. Centrally Manage digital agreements and contracts and view all your vendor and supplier contracts and pricing. Expedite your Vendor On-boarding with a cloud-based digital system.
Quick Vendor Screening
Retrieve and validate supplier information such as business reports, financial information, and credit risk information. Confirm goods receipt notifications (GRNs), goods return ship notices, and other documents in real time.
Simple & Faster Vendor Onboarding
Gather important vendor information in order to screen them based on their reputation, historical performance, and other factors. Register suppliers fast and easily, access vendor information promptly, and use multilingual catalogs.
Vendor Self Service
With a separate vendor dashboard, merchants can simply update their information and receive alerts on order and payment details. Let them Integrate their system with our vendor management platform to allow them to keep you informed.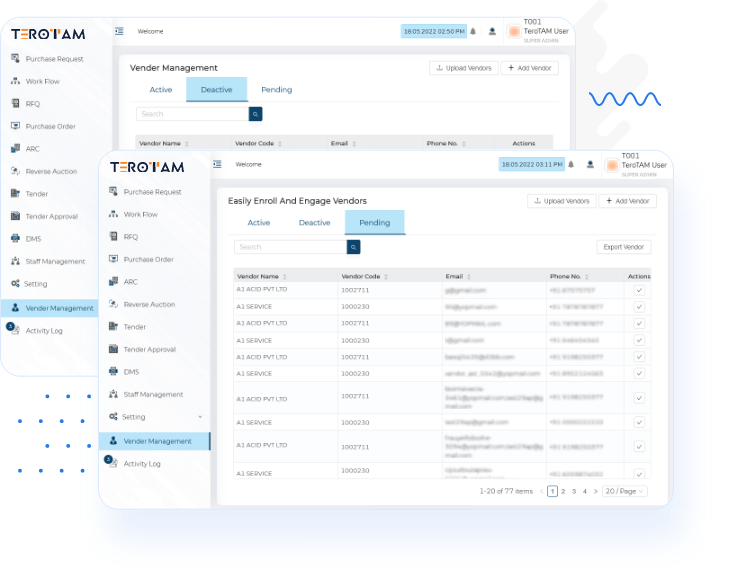 Take your Vendor Management System to the Next-Level
Experience a 360-degree perspective of all supplier-related data, including performance and risk with a Centralized Dashboard
Manage your Vendors in a Palm-easy way with Smartphone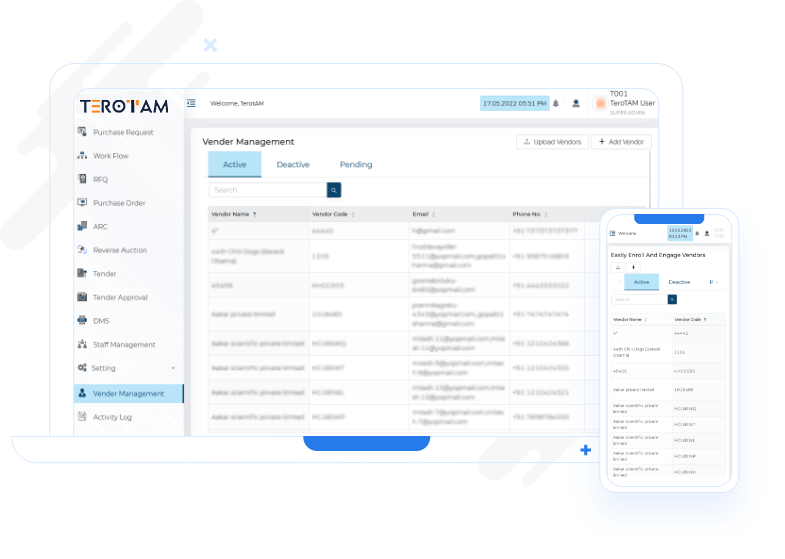 Manage all your Vendor related information on the go with Vendor Management Software on your Smartphones
Access all Vendor Past Performance Records anytime anywhere to make a cognitive decision.
With a Mobile-Friendly User Interface, you can keep track of any vendor's work progress on your smartphone.
Get Alerts and Reminders for scheduled vendor expiry and renewal dates to streamline your vendor management.
Create and assign tickets for vendor related issues on your mobile device. Keep track of how many actions have been taken on it, as well as what the next action will be and when it will be taken.
Allow Vendors Create and share Quotations and Invoice with Vendor Dedicated dashboard through their Smartphone
Get Alerts and Notifications regarding, Goods receipt, Goods return shipments, and other important delivery updates on your smartphones.
Features that help you build Effective Vendor Management System
Quick Vendor Screening
Obtain and verify supplier information such as business reports, financial information, and credit risk information. Do the Initial Screening of the Vendor before you make the decision. Compare all the quotations on the centralized platform and choose the best one for the business.
Centralized Information Portal
All POs, PRs, contracts, and secret vendor payment information are accessible from one location. You need not pull up the bundles of files and papers now nor do you need to scroll down the excel sheets, you can just get all the information from the centralized portal of vendor management software.
Digitized Payment
Collect all the payment related details at the time of on-boarding of the Vendor. Make the digital payments through account transfers and generate the digital payment receipts to experience the smooth financial transactions and keep the payment cycle clean and clear with no objections and obstacles.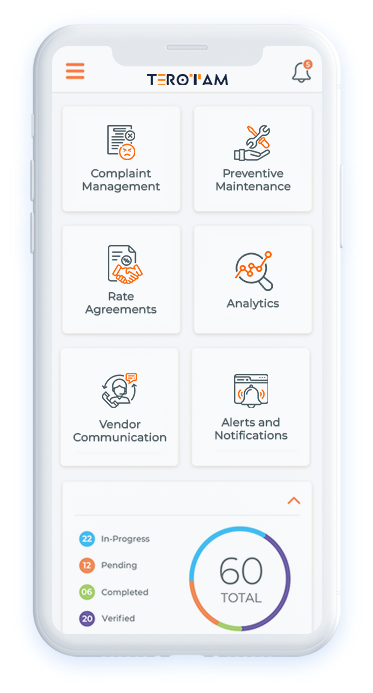 Corrective Measures
Initiate corrective action plans (SCAR) or offboard suppliers who perform poorly. On the vendor management software compare the supplies, rates, timing all the key parameters of their performance and rate them according to their quality of services. On-board the best performers and off-board who are generating costs for the enterprise.
Rate Agreements
When catalog prices are raised, incorporate rate contracts and enforce contract pricing. Work on the pre-decided rates, no more negotiations and rate up-down with every transaction with Rate agreements at the time of Vendor On-boarding on the system. Keep your Vendor dealing hassle-free.
Hassle-free Onboarding
Gather important vendor information in order to screen them based on their reputation, historical performance, and other factors. Make all the records and documentation on-line with the help of e-vendor management system where vendors also have the dedicated portal to update all the information.
Do you have questions?
The Most common Brain Teaser for Vendor Management Software What is Vendor Management Software?
Vendor Management Software is a cloud-based software platform that helps numerous worldwide organizations identify, engage, and manage their external workforce, including contract or contingent labor and service providers.
Why would a company need a Vendor Management Software?
Vendor management software can help a company enhance its operations in a variety of ways. It saves time, enhances organizational efficiency, raises visibility, detects overspending, and aids budgeting.
What are the Key Benefits of Vendor Management Software?
The 5 Key Benefits of a Vendor Management Software are:
Achieve Measurable Results with Advanced Reporting and Analytics
Improve Efficiencies and Shorten Process Life Cycles
Lower Operational Costs.
Maintaining Corporate Compliance
Make your vendor onboarding process more efficient.
Why Do Businesses Use Vendor Management Software?
A Vendor Management Software can assist many businesses better manage their outsourced workforce. It's a full-featured platform that lets you store vendor contact information, maintain contracts, monitor spending, pay suppliers directly, automate vendor onboarding, and much more.
How much does Vendor Management Software Costs?
It is entirely dependent on the features you require to make it tailored for you. Contact us at contact@terotam.com for additional information about pricing.
Testimonial
Paradigm Shift
With an easy to operate system and user-friendly Interface of TeroTAM, we integrated more than 200+ outlets operational within PAN India for 2+ years. This software enabled us to manage almost everything with a centralized dashboard, by sitting in one place, manage priorities and analyze all the key performance indicators with prolonged analytics. We are expecting to use TeroTAM for a long horizon with more advanced upgraded software in the era of growing new technologies.

Parthiban B.
(GM Facilities & Renovations Food & Beverages)
Tata Starbucks Private Limited
Ignited Innovation
TeroTAM has made our work easier & faster starting from complaint request generation to field and till the closer. Easy to upload data and updates, compatibility with multiple languages and lesser human efforts in writing saves a lot of time and energy and helps to produce the perfect data from beginning to end in a most customized manner. It's well received software, perfectly designed to match all our requirements, using satisfactorily with zero complaints for 2+ years.

Vikas A.
(GM Services Hospitality)
Equinox Solutions Limited
Excellent Platform
We have been using the TeroTAM platform for 1 year and we have seen a streamlined approach in our Staff management and Project Management. After we get started with them, our asset management has been upgraded and becoming cost-effective day by day. "Keep it up...Team TeroTAM.

Rohan Patel
(Owner)
Anand Color World
Business with TeroTAM is Super Easy
Starting from Asset Management to Complaint Management, each solution we used, has made our process fluent and flawless. We have remarkably reduced the cost of Inventory management and maintenance management with easy-to-use TeroTAM CMMS software. We experienced superfast tracking and location management with the QR-code scanning technology they offer. All-and-all, it's a one-stop solution for all your business needs. Strongly recommend it to all.

Harsh Chaudhary
(Owner)
Inventrik Enterprise
"It's Good and Useful Tool"
"I've been using this software for 1 year mostly for communication within the project team, task management, and collaboration with our customers. It's really easy to use & maintain, good support, easy to add asset details, cost-effective and flexible!"

Drashti Sharma
(Head of Management)
IT & Software Technology