Why Location Management Software?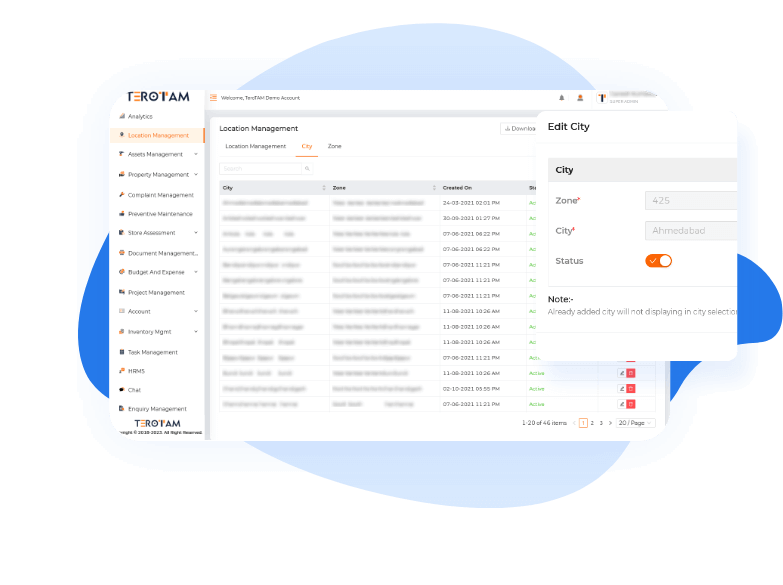 If Businesses look for expansion, geographic expansion is always among their expansion strategy, but when it comes to discussion, the prime obstacle is always managing multiple business locations. There comes the location management software. Businesses with multiple locations greatly benefit from location management software as it provides centralized control and oversight. It allows businesses to effectively monitor and manage operations across all locations from a single platform. With real-time visibility into each branch's performance, inventory levels, and sales data, businesses can make informed decisions, identify trends, and implement strategies to optimize operations and drive growth.
Location management system enables businesses to standardize operations and enforce brand consistency across all locations. By establishing standardized workflows, operating procedures, and policies, businesses can ensure that each branch adheres to the same standards, delivering a consistent customer experience and maintaining brand integrity. The software also facilitates seamless communication and collaboration between headquarters, regional offices, and individual locations, allowing for efficient coordination and information sharing. Multi-store management software empowers businesses to optimize their multi-store operations, drive operational excellence, and achieve sustainable growth.
Systematic Multi-Location Management
Multi-location management is more complex than it seems to be. Every single store location has its own set of assets, vendors, employees, and of course their own issues and complaints. Managing all from a single-point system is quite difficult without a systematic approach like multi-store management software.
Streamlined Asset Management
Multi-store management system enhances asset tracking, maintenance, and decision-making, enabling businesses to effectively manage their assets across multiple locations. It lets you effectively track and manage assets across various store locations, ensuring optimal utilization and minimizing losses.
On-point Property Management
Each location deals with a dedicated property and managing them needs a system. A location management system helps you with location finding, lease management, and location-wise expense tracking and keeps you aligned with all other property locations with superfine reports and analytics for each property location.
Bespoke Budget & Expense Management
Every store location deals with its own allocated budget and planned expenses. With the use of a multi-store management system, you can assign a dedicated budget to each store location, keep track of income sources, control spending, and improve your financial performance in order to reach centralized annual goals.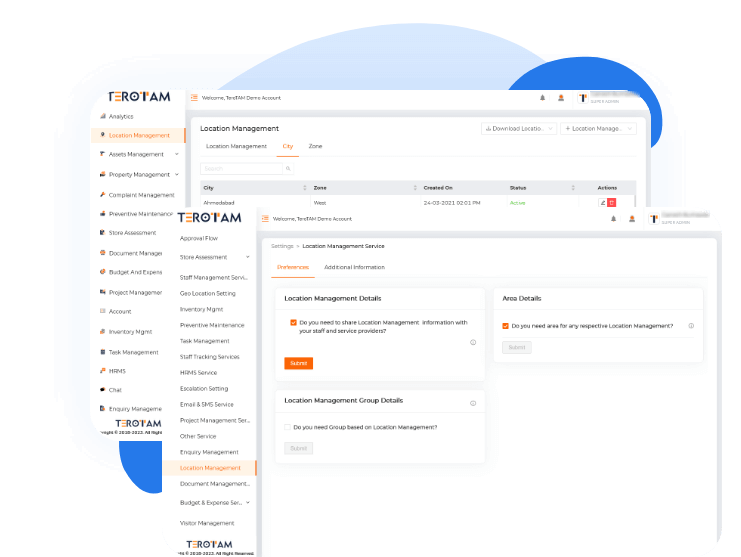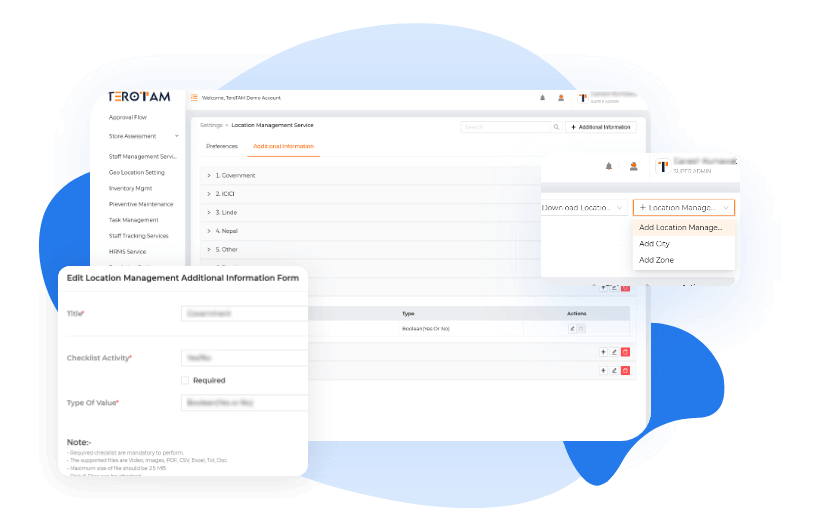 Careful Condition and Compliance Management
Dealing with multiple locations asks for lots of store condition audits, maintenance, and compliance guidelines to keep each location safe, secure, and legally compliant. Location management solution is the centralized tool that lets your business manage all these actions from a single dashboard with a simple but systematic approach.
Vigilant Maintenance Management
Location management solution dedicated helps with more efficiently managed maintenance and repairs by keeping track of maintenance tasks, managing work orders, and coordinating maintenance operations with respective store location managers. It helps you keep every single store location well-maintained and well-equipped.
Store Condition Assessment
Multi-location management software allows businesses to capture and store data related to store maintenance, cleanliness, and overall condition. With real-time visibility into the condition of each location, businesses can identify areas that require attention, prioritize maintenance tasks, and allocate resources effectively.
Rigorous Regulatory Compliance
Location management tool ensures regulatory compliance across multiple branches or locations of your business. It enforces standardized processes, workflows, and operating procedures that align with regulatory requirements that help businesses mitigate legal and financial risks.
From Chaos to Control: Transform Your Widespread Business with Location Management Software
Embrace the Future of Multilocation Management Achieve Unparalleled Visibility, Control, and Scalability in Geographically Growing Business.
Manage Every Store Location in Palm easy way with Smartphone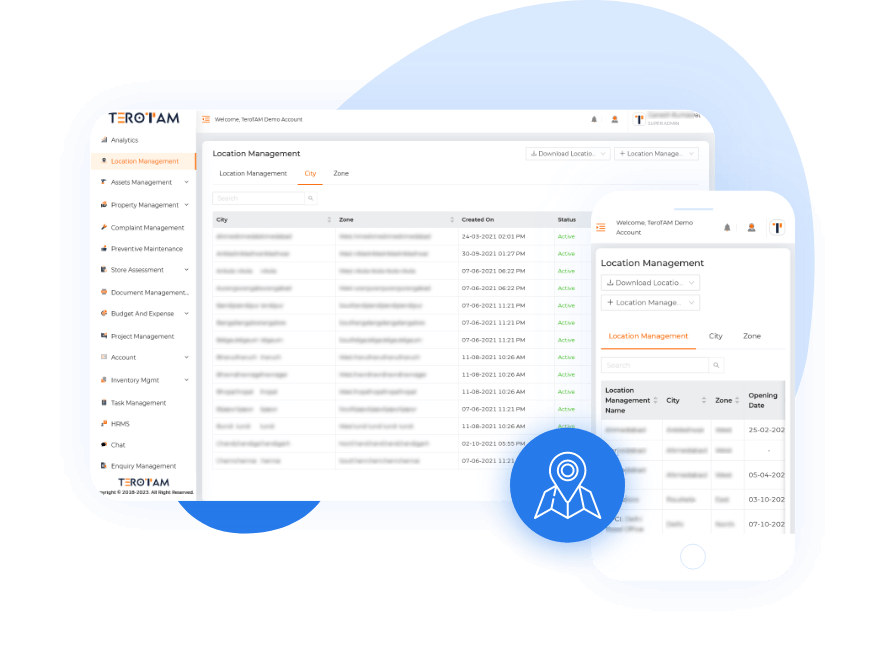 Get instant access to every store location information and management tool from anywhere, to keep you informed about each location with every detail.
Monitor real-time metrics such as sales, inventory levels, and employee performance across all store locations.
Mobile-enabled property inspection allows the assessment team to carry out the assessment for multi-location properties and sync to cloud storage.
Generate and view comprehensive reports and analytics on your smartphone to gain insights into the performance of each store location and make informed decisions.
Assign tasks, track progress, and manage workflows for each store location through your smartphone using club-based infrastructure
Enjoy the seamless communication between location managers, employees, and maintenance personnel through quick updates and alerts, and messages on mobiles.
Features that Build a Sophisticated Location Management System
Asset Management
Simply identify which assets require maintenance or repair by keeping track of their location, state, and maintenance history by providing a single database of multi-location assets.
Workers/Staff Management
Manage workers and staff members by attending, scheduling shifts, allocating work orders and duties, and tracking performance and inter-location employee transfers.
Permission Management
Edit, Update, and Monitor permissions for every location and store to specific assets and work orders, and other permission through a centralized permission management system.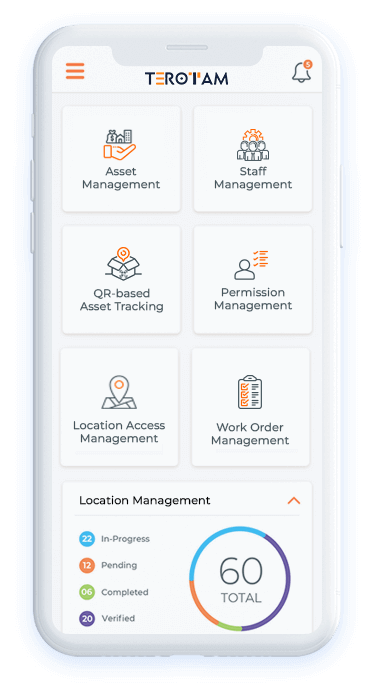 QR-based Asset Tracking
Assign a dedicated location-wise QR code to assets for on-point asset tracking that helps you share and transfer an asset between multiple store locations for optimum utilization.
Work Order Management
Assign and track tasks for each store location. Use your smartphone to receive notifications and updates on task progress, ensuring efficient coordination and timely completion.
Location Access Management
Allow a user to access a specific or a group of locations with a centralized location access management system that keeps the locational secrecy to authorized users only.
Do you have questions?
The Most Common Brain Teaser for Location Management Software What is location management software?
Location management software is a solution designed to help businesses efficiently manage operations, communication, and coordination across multiple store locations or branches. It provides centralized control, real-time visibility, and tools for streamlining workflows and optimizing performance.
Can a location management system track and manage inventory across different locations?
Yes, our location management solution offers inventory management capabilities. It allows businesses to monitor stock levels, track inventory movements between locations, automate replenishment processes, and optimize inventory distribution for improved efficiency and cost savings.
Is it possible to generate consolidated reports and analytics for all store locations?
Yes, Our Multi store location management system provides reporting and analytics functionalities that consolidate data from all store locations. It allows businesses to generate comprehensive reports, gain insights into performance, analyze sales trends, and make data-driven decisions to drive growth and profitability.
Is it possible to integrate location management software with other existing business systems?
Yes, At TeroTAM, we offer options for integrating location management solutions with other business systems such as POS (Point of Sale), ERP (Enterprise Resource Planning), or CRM (Customer Relationship Management) systems. This integration enhances data flow and streamlines operations across different platforms.
How much does location management software cost?
The cost of a location management platform varies depending on the features, functionality, and the number of locations that need to be managed. At TeroTAM, we do believe in customized solutions likewise the cost can also vary from case to case.
To know more about the cost of our location management solution, connect with us at contact@terotam.com
Testimonial
Paradigm Shift
With an easy to operate system and user-friendly Interface of TeroTAM, we integrated more than 200+ outlets operational within PAN India for 2+ years. This software enabled us to manage almost everything with a centralized dashboard, by sitting in one place, manage priorities and analyze all the key performance indicators with prolonged analytics. We are expecting to use TeroTAM for a long horizon with more advanced upgraded software in the era of growing new technologies.

Parthiban B.
(GM Facilities & Renovations Food & Beverages)
Tata Starbucks Private Limited
Ignited Innovation
TeroTAM has made our work easier & faster starting from complaint request generation to field and till the closer. Easy to upload data and updates, compatibility with multiple languages and lesser human efforts in writing saves a lot of time and energy and helps to produce the perfect data from beginning to end in a most customized manner. It's well received software, perfectly designed to match all our requirements, using satisfactorily with zero complaints for 2+ years.

Vikas A.
(GM Services Hospitality)
Equinox Solutions Limited
Excellent Platform
We have been using the TeroTAM platform for 1 year and we have seen a streamlined approach in our Staff management and Project Management. After we get started with them, our asset management has been upgraded and becoming cost-effective day by day. "Keep it up...Team TeroTAM.

Rohan Patel
(Owner)
Anand Color World
Business with TeroTAM is Super Easy
Starting from Asset Management to Complaint Management, each solution we used, has made our process fluent and flawless. We have remarkably reduced the cost of Inventory management and maintenance management with easy-to-use TeroTAM CMMS software. We experienced superfast tracking and location management with the QR-code scanning technology they offer. All-and-all, it's a one-stop solution for all your business needs. Strongly recommend it to all.

Harsh Chaudhary
(Owner)
Inventrik Enterprise
"It's Good and Useful Tool"
"I've been using this software for 1 year mostly for communication within the project team, task management, and collaboration with our customers. It's really easy to use & maintain, good support, easy to add asset details, cost-effective and flexible!"

Drashti Sharma
(Head of Management)
IT & Software Technology