Manufacturing companies are looking for ways to streamline their processes and enhance manufacturing efficiency in the face of fierce competition and rising consumer demands. RFID technology has shown to be a highly successful option for workers, allowing them to rapidly identify and track assets by location across the supply chain.
Unlike barcode monitoring, which requires a direct line of sight and can only provide a limited amount of information, RFID readers can readily track everything in their immediate surroundings and provide asset information with pinpoint accuracy.
Evolution of RFID
Do you realize that the items in your favorite retail store have traveled quite a distance? The principle of RFID is not new; it was first used during World War II. During WWII, the British employed RFID to track and identify the aircraft manufacturing system.
Mario Cardullo received the first functioning RFID tag patent in 1973. In addition, in 1990, the first ultra-high frequency reader was developed. When it comes to the commercial application of RFID technology, we may estimate that Walmart spends roughly $50 million on RFID.
If you wished for the same, I have some excellent news for you. This is now possible thanks to RFID (radio frequency identification), a cutting-edge technology. So, what exactly is RFID?
What Exactly is RFID?
"Radio frequency identification" is what RFID stands for. It's a technology that uses radio waves to capture digital data encoded in smart labels and RFID tags.
Data from a label or RFID Bluetooth beacon tag is captured by the device and afterwards stored in the database, similar to that of a bar code or the magnetic strip of an ATM card.
RFID, on the other hand, outperforms barcodes and ATM magnetic strips. The most notable benefit of RFID over barcode is that it does not require placement or positioning in relation to the scanner.
Another advantage is that, unlike barcodes, RFID allows you to scan many objects at once, saving time and energy. We've all witnessed the effort that store clerks face in maintaining the location of barcodes so that they can be read.
Additionally, ATM cards must be swiped through a specific scanner.
Because RFID operates within a few feet of the scanner, it addresses all of these problems. To scan a grocery bag, for example, all you have to do is place the bag on the scanner without thinking about its precise orientation or placement.
What Role does RFID play in Facility Management?
RFID is a technology that can be used for a variety of purposes, including location tracking. Wal-Mart, for example, utilizes it to manage its inventories. They can see how many pallets are on the loading dock or the exact amounts of a given product using a software interface. These can be updated in real time from the same interface, resulting in extremely precise counts or reports. In the sense that inventory handlers do not need to "scan in" the position when inventory is transferred, RFID outperforms barcodes.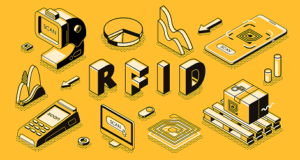 When facilities management employs a CMMS to generate work orders, there may be a delay between when the work order is produced and when it reaches a technician. The asset may have been transferred or taken out of service by another technician during that period. By enabling real-time position tracking and reducing the need to search for or identify mobile assets, RFID integration combined with an online solution would help make the process more efficient.
A hospital wheelchair or utility cart are examples of movable assets. RFID can provide useful information as well as security. Consider an alarm that goes off when an asset is transferred outside of a certain area or building. RFID has the potential to be a terrific resource when it comes to maintaining assets or buildings.
Apart from the benefits it provides in terms of optimization and efficiency, one of its lesser-known advantages is its ability to reduce costs in terms of both time and money. Although the initial expenditure in RFID technology might be substantial, especially if a company requires active tags, the ROI can be realized in a realistic and acceptable amount of time.
Discover three ways that RFID can help your company save money.
3 Way RFID can Save Costs and Enhance your Business Efficiency
Increases Throughput at Receiving Bays
Traditional barcodes are still employed in many businesses' fixed assets, such as warehouses, factories, and other comparable processes, to this day. Barcode technology, while theoretically using technology, is limited in that it can only scan one item at a time in reception bays and requires direct line-of-sight.
This gradual, but consistent process can cost companies time that could be better spent elsewhere. Throughput levels in the receiving process have been shown to increase dramatically when such systems are upgraded with RFID. All of this is made feasible by RFID's inherent capacity to scan several items at once, even without requiring a direct line of sight.
Businesses can save time (because of increased speed) and money if the process is upgraded further to eliminate the human aspect (no need to pay for extra manual labour during stock taking).
Improves Fulfillment Center Picking
Picking individual items and orders for delivery is one of the most expensive and labor-intensive processes in the fulfillment process in fulfillment centers for a business's online branch.
Warehouse pickers may drastically improve their workflow by using RFID tags, which allow them to instantly identify the contents of each box, allowing for fast verification and a large reduction in picking errors.
Tracks the Location of Supplies in Real Time
Starting with raw materials from suppliers and ending with finished items on the shelves, every item in the supply chain can be fitted with RFID tags. Warehouse managers can verify operations status by having specific facts and numbers about departing and incoming shipments, ensuring daily, weekly, and monthly progress levels stay on track.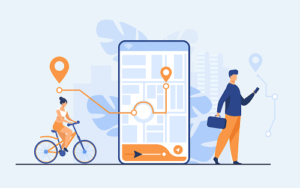 However, workflow systems are prone to errors, such as delayed shipments, which can occur at any time. However, with the use of technology such as an RFID asset monitoring system, managers may quickly detect such problems and take action to resolve them. Inaction caused by a lack of timely data is no longer an issue, and this ensures a productive workday.
Conclusion
Without a question, RFID technology has become a vital asset for every company that deals with real goods. Not only is optimisation simple to achieve thanks to the efficiency advantages derived from its application, but cost-cutting measures are one of its key benefits. If you require RFID equipment to optimize your business operations, contact us at contact@terotam.com for a solution that is tailored to your specific needs.