In a sense, the solar sector is reinventing itself in response to a variety of market demands, including technological advancements, internet development platforms, and Government-issued short-term solar investment tax incentives (ITC). The extended tax benefits by the government also make economic sense for solar power. This transformation raises issues and concerns about the challenges that facility managers of solar & power facilities may face in upcoming years
The group of experts cites a number of causes that are fueling the industry's growth, including the fact that more facilities and enterprises are turning to solar energy for at least part of their operations followed by full conversion to solar energy.
Some of these elements are:
Solar power generates electricity without polluting the environment.
Small-scale solar photovoltaic (PV) systems, which account for the majority of solar installations, as well as large-scale PV
and concentrating solar power (CSP) systems, are all seeing rapid expansion.
Solar power is cost-effective, with certain prices that have recently dropped.
Businesses in the Energy sector are turning to Solar energy
Aside from energy companies switching to solar power, one company is likely to have astonished analysts and other industry executives. Coal India, the world's largest coal firm, switched to solar photovoltaic panels in 2013, according to ThinkProgress. "Installation of rooftop solar panels at the Ranchi Central Mine Planning and Design Institute, where it conducts mining research," Coal India explored at the time.
Facility Managers of Solar & Power industry Facilities Face Difficulties
The solar power industry continues to flourish as a booming energy sector, as renewable energy continues to demonstrate promising development and technology improvements that are currently helping the industry reinvent itself. The way solar & power business facilities use robust CMMS software solutions to aid in the competency of work order management tasks is an important issue for facilities that use solar power in some or all of their operations.
What are the Benefits of a Good CMMS Software Solution for Facility Managers?
Facility managers who use a powerful Computerized Maintenance Management System (CMMS) software solution for their work order management responsibilities may effectively manage simple or complex facilities. A good CMMS software solution will have capabilities that are tailored to specific needs or industries, such as those that use solar power in their daily operations.
A CMMS's versatility in use and simplicity of customization frequently means it can handle the specific issues faced by facility managers trying to streamline work order management tasks. The difficulty of streamlining corporate and employee operations is ubiquitous, regardless of how unique these firms and industries appear.
What Are the Benefits of TeroTAM CMMS Software for the Solar & Power Industry?
According to a recent audit of the renowned solar panel projects, they have to "improve its planning and management of the installation of its solar power systems, and implement controls to assess whether the completed solar projects are delivering planned power generation."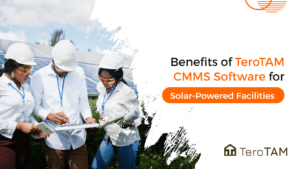 TeroTAM offers industry-leading cloud-based work order management software, also known as CMMS (Computerized Maintenance Management System), and facilities management software (or Software).
How can TeroTAM CMMS software streamline Work Order Management issues that are specific to Solar power facilities?
TeroTAM is a pioneer and industry leader in work order management (WOM) and facility management software solutions, as well as the best of the competition when it comes to Work Order Software Management difficulties specific to solar-powered facilities. With the digital simplicity of online work order administration and new facility management software solutions, our software continues to raise the performance bar.
Our CMMS software is meant to track maintenance and repairs, both on-demand (when something breaks and/or requires care) and planned/preventive/routine maintenance, which is typically scheduled. It makes no difference if the maintenance is for a broken coffee machine at a fast-food restaurant, a leaking faucet in a restroom, a malfunctioning elevator in an office building, a faulty microwave dish on a cell tower, or a solar mirror that is intended to track the sun but isn't moving. "Everything is the same."
Solar mirrors affect investors' bottom lines, therefore it's critical to keep them in good functioning condition and running, as well as to understand overall maintenance and repair needs, as well as where "Hot spots" are situated and other critical information.
The TeroTAM simplified CMMS (computerized maintenance management system) is simple to install and configure. With almost two decades of experience in Work Order Management. Our software is the new standard in work order administration, delivering the best in smooth performance. It has been noticed that traditional software packages are difficult to learn, take a long time to implement, and are extremely expensive, but TeroTAM's Cloud-based CMMS solution is simple to use, intuitive, and cost-effective.
"Without getting bogged down in too much detail," our software helps improve workflow processes and efficiency by sending the correct information to the right people.
Bottom line:
Solar energy and their power plants are growing technology but in heavy demand, definitely going to have a lot of challenges. Solar power plants ask for lots of equipments and resources to be managed and expected to keep all of them well maintained and working to ensure seamless operationality and that is where the CMMS software comes into the picture as a savior, who helps you manage your assets and facilities from top to bottom with a centralized cloud-based solution that is easy to use. To know more, how TeroTAM's CMMS software can streamline the Solar energy plant and its maintenance activity, connect with our team at contact@terotam.com and get your demo scheduled today!