Whenever it comes to Warehouse management, it comes with various tasks that need to be performed to achieve its objective. Warehouse management is not only about managing assets and belonging to the warehouse, it includes people management, task, and repair scheduling, plans, and prioritize maintenance with effective implementation in a preventive manner. Till now, these whole set of activities are being managed in traditional manual methods, but with the growing digital era and technological advancement, now industries are upgrading their process with software like CMMS (computerized maintenance management system) which can help them to simplify their harder tasks and help them to manage everything smartly in a paperless manner and share a seamless experience.
Let's see what Warehouse management is all about and how CMMS software can help to upgrade it next level.
What is Warehouse Management?
Warehouse management is the process, control, and optimization of warehouse operations from the entry of inventory into one warehouse—or multiple warehouses—to the movement, sale, or consumption of items.
How CMMS can simplify your Warehouse Management?
Efficient Organization and Management
What makes a CMMS special and effective is that it is on the cloud. This removes all the hurdles managers were facing in the traditional approach due to dependency on staying available at a physical location. With cloud-based CMMS now they can perform their tasks from anywhere, what they need is just a good competitive device with a good source of internet. Each data, asset, or merchandise can be tracked easily. The Manager will be able to analyze and utilize the capacity of the warehouse and map the inventory accordingly for better space utilization. With its cloud system, you can manage several tasks without being present at an actual location, which can be beneficial for those organizations that operate from multiple locations. With well-designed task management, feature workflows can be designed easily, and tasks can be delegated and tracked efficiently and directly sent to concerned people on their mobile or computers for better communication. This makes it faster and easier to process communication.
Increased labor productivity
Most of the time, labor productivity gets suffered due to the unavailability of the information at the right time, the right person, and the format they need. But with quick information available on CMMS labor or concerned person can make it available the information about spare parts, asset-related data, repair, and maintenance history, operating procedure, etc. which in return reduce the time and the delay that happened in such activities by labor, and tasks will be completed faster and without dependency on any other party. This ultimately helps to increase labor productivity.
Better Inventory management
CMMS can help you improve the response time, workflow management, task completion rate and reduce the equipment downtime when inventory management is practiced with it. In addition, better inventory control can be achieved with CMMS as it caters to a well-designed and systematic platform for vendors, suppliers, purchasing department, acquisition department, store, and dispatch department.
With CMMS you can track your assets, equipment, stock level, purchase orders, approvals, delivery, loading-unloading of all inventory items. You can also easily plan your buffer, inventory level, next purchase order, etc., to keep the inventory at the optimum level in the organization.
Well managed Inspections and Audits
One of the biggest tasks that are associated with warehouse management is regulatory audits and inspections, compliance, and safety audits. Some of the inspections are needed to be performed regularly like safety audits, hazard inspections, compliance audits, quality control inspections, etc. This requires data gathering from a specific time range, but with CMMS, you can generate these data reports very easily and save it on the cloud for future purposes. In addition, you can schedule and perform premise audits, equipment audits, and other various inspections.
In addition to that, it allows you to manage your fixed assets audit and update your audited data in the system in real-time, and generate customized reports required for audit purposes. This easy and anytime availability of data makes the audits easier and errorless.
Improve efficiency with RFID technology
Radio Frequency Identification technology is a very well-known and already existing technology for years, the only thing that has been started in use in warehouse management in recent years. RFID (Radio Frequency Identification) is a system that transmits identity in the form of a unique serial number of a product on a wireless basis. RFID is an auto-identification technology majorly used when organizations are looking forward to reducing time and labor and upgrading their real-time data accuracy.
Warehousing is a task where routine activities related to logistics are performed regularly like storage of stocks, order status tracking, paper processes, sorting of different items and documents, loading and unloading of stock items, and other dispatch and customer service-related tasks. Bad facility layout planning and space utilization, manual errors, wrong loading and unloading, errors in product identification while receiving and dispatching items, and wrongly located items within the warehouse causes reduced productivity and profitability, which hampers the organization's credibility and business growth.
Generally, the RFID tag is having a microchip connected to a radio antenna mounted on a substrate. This helps to connect all inventory items of the warehouse to the internet for tracking activities, and it can update all the information related to such inventory items in the business reports and supply chain in real-time.
Benefits of RFID technology for Warehouse management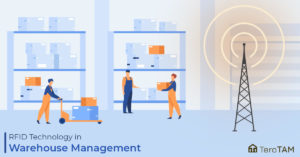 Reduced labor work that ultimately brings down the cost of labor and additional workforce occupied in manual activities
Decrease in manual errors in warehouse activities
High Level of productivity with the usage of advanced technology that reduces laborious work and chances of manual errors.
Smooth Inventory management that gives you all in and out information about stock items in real-time.
Provides accurate information for your accounting purpose for the stock accounting especially for whatever method you use FIFO (First in First out) or LIFO (Last in First out).
Keeps you ready with all needed information to avoid additional tax liabilities
Gives you instant access to the inventory database and gives you the 24hour visibility required to track all in and out entries within the warehouse.
Real-time tracking of all the shipments to make sure the right package is delivered to the right location in proper condition within the defined time.
Image capturing capability can help you with proof of the condition of the items, which becomes useful while handling the transactions related to the return of goods.
Quick RFID tag scanning gives you on-the-spot verification that the item picked for dispatch is the correct one and immediately gets deducted from the inventory balance.
With TeroTAM RFID functionality you can perform all these activities and take advantage of it within the CMMS software only.
Increase your supply chain visibility with NFC technology
NFC (Near Field Communication) is a modern technological approach that has emerged recently and taken into use for warehouse management, but with its introduction, it shows big changes in the industries and successfully making moves for which it was introduced.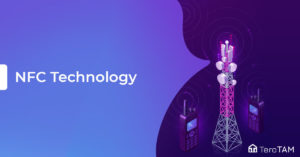 There are two small chips enabled with NFC transmitters and readers will interact real-time data back and forth over a very short distance. Of course, the limitation of covering short distances is majorly for the data security purpose, which can have limitations against RFID; still, NFC does have benefits.
NFC offers Increased flexibility in the long run as this technology can be used by simple android phones and doesn't have any dependency on any extra special equipment.
NFC tags are not one-time use entities. You can reprogram it virtually with any data very easily, which offers an added advantage where QR codes and RFID give you limitations if you have such recurring use of tags in your business.
Make your Inventory Tracking easy with QR codes
Quick response code, popularly known as QR code can help you to make your asset tracking easy. It stores various data for locator, identifier, or tracker that points to a website or an application. It can easily scan this QR code from your android devices, and with a simple scan, you can get all the information about that relevant stock item whose QR code you have scanned. The only thing is you need to attach the specified QR codes to each inventory item.
Common advantages of QR codes in Warehouse and Inventory management:
QR codes used to track various information like product name, prices, serial number, lots date, in and out data of inventory items, and other data relevant to such inventory items.
QR codes are easy to read through a simple android phone and don't ask for any specialized equipment to read, making the process easier and faster.
QR codes are scannable form 360 degree that makes it easier to read and has less issue with background
QR code reduces inventory management costs as it does not ask for any special setup or high-end equipment.
Every employee within the warehouse is equipped with an android smartphone that makes each of them compatible with this scanning activity.
It's not required that your smartphone is connected to the organization's system or in nearby areas only. It can be managed from anywhere.
Digitize your Inventory tracking with Beacons
Bluetooth Low Energy (BLE) Beacons operate similarly as barcode and QR codes work, the only thing is there is no need to read any sticker with this technology. A line of sight between a scanner and the tag isn't required as a wireless reader will read the tag information. The BLE sensor network extends a wireless local data network into a warehouse from where data is collected.
The beacon tracking system is quite simple which requires 3 primary things:
A compact Bluetooth beacon
A mobile scanner to read beacon signals
An access point to a network
With access points or mobile scanners available, warehouse employees aren't required to scan labels or to log in to remote terminals or workstations to access information.
Conclusion:
Warehouse management, unlike its earlier days, becomes very easy and smooth to implement with the introduction of such new-age technologies and when you get all such technologies within the same platforms like TeroTAM's CMMS software, then it helps you make it easier, accessible, and smooth to work on. To know how TeroTAM can take your warehouse and inventory management to the next level, connect with our experts today at contact@terotam.com and get started today.