The world is growing day by day, the population is on blast, businesses are increasing, entrepreneurs are coming at a good pace every day in the market, the startup is the future in all growing and developed countries. But the problem is the world is growing but physical space is not. It's the same and cannot be increased. Instead, it's becoming congested and unavailable day by day. Then what's the solution for those start-ups or small companies or freelancers who want to start their own business but are dealing with a lack of space, equipment, environments, etc.
This was started in 2005 in San Francisco by Software Engineer Brad Neuberg by introducing a shared work area popularly known as Co-work space, which is becoming popular and regular between individual entrepreneurs and startups. But what exactly does Co-workspace mean? Let's check it out.
What is Co-workspace?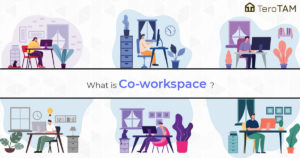 Coworking is a new age concept where individuals work independently or collaboratively in a shared space to figure out the solution for the non-availability of working space at some desired marketplace in a cost-effective manner. Coworking is also promoted as it helps to make available all desired amenities at a working place which can be very costly to buy and set up in an individual office set up. Coworking space helps to bring the initial office expenses down, especially for startups looking to cut down their expenses to reach break-even point as soon as possible.
Some businesses use co-work space to provide their employees with relevant equipment, environment, and engagement with related experience people they might not generate and provide in their startup phase.
Biggest Challenges faced at Coworking Space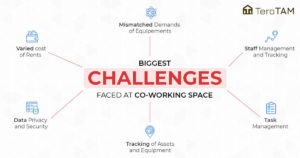 There are some issues that pull back some entrepreneurs and startups to use co-workspace. These are the issues which are related to amenities, security, and differences of service and regard to differentiating the need of different co-workers.
Varied cost of Rents
Mismatched Demands of Equipment's
Mismatched Work Environment Expectations
Data Privacy and Security
Tracking of Assets and Equipment
Task management
Complaint Management and Tracking
Vendor Management
Absence of Streamlined Communication
Staff Management and Tracking
How TeroTAM's CMMS software can be a Single point solution for Coworking Space issues?
TeroTAM's CMMS software, with its multiple features and varied solutions, can handle all the management and maintenance-related work of a coworking space provider. Using which they can create a Vital and vibrant coworking space that will be Fun, Facilityfull and Flawless for their users to carry out their individual works and maintain a great inventory of Assets, Inventories, vendors, Employees, etc. Let's see which services of TeroTAM CMMS software can make a co-workspace a better managed and maintained place
Asset Management can make all assets High performing assets
Asset management helps the co-workspace provider with the system to collect, coordinate and control all the data related to each asset from a centralized platform. It enables businesses to identify trends, analyze data, build asset life cycles, and efficiently monitor all assets.
With Cloud Asset management tools, they can have detailed access to the information related to Installation, warranty, supplier, Complaints and Breakdowns of respective assets, Service and maintenance activities requested and scheduled. This Asset management solution can be their hawkeye to easily manage a whole set of assets at a single access point.
Get a Handle on Preventive Maintenance
Preventive maintenance is one of the biggest problems that leaders face, as, without a perfectly programmed tool, they cannot predict the maintenance before they actually need it. With TeroTAM's CMMS software, they can plan and measure the future maintenance requirement before any breakage or downtime happens.
Preventive maintenance has so many beneficial values that keep the organization free from unwanted downtime and breakages, reduce the maintenance cost as it assesses the need for it before it actually requires and saves the organization from unwanted repairs and replacement that brings a lot of cost to it.
Preventive Maintenance can help Coworking Companies with some unique functions:
Designated Responsibilities: it helps the relevant engineer or technician know their specific duties and exact responsibilities and the day-to-day checklist to keep everything intact and aligned.
Complete Maintenance checklist: With Preventive Maintenance, they can get the pre-planned maintenance checklist which helps them to check the health of assets and equipment and keep them fit to perform at their best.
Work order management space: With this leaders can easily manage and track the work order to be maintained for streamlined and proficient productivity.
Pre-designed Maintenance schedules: With preventive maintenance, maintenance schedules at a regular interval can be planned and executed to keep every asset well maintained in advance.
Keep your Complaint Management crystal clear
If a co-work space provider meets any user complaints, it's essential to solve them as every user is an important part of the system. The major issue is to track each complaint and its progress. But with the TeroTAM complaint management tool, they can track each complaint made on any asset or facility and even assign that complaint to a relevant engineer or technician and track its progress to keep the client updated on their issue.
Simplify Vendor Management
Selecting a vendor that keeps the regular supply available and maintaining records for each vendor is very important when you are providing co-work space because, in this space, you need to provide facilities to so many users whose requirements can be varied and unique that calls for a high level of vendor management
It calls for activities like Searching and selecting relevant vendors, negotiating and levying contracts, cost controlling, supply and stock management, vendor-related risk and uninterrupted deliveries. Application on strong vendor management can build a strong relationship with both the parties, vendors and users, which results in best business results by unstopped deliveries and satisfied customers.
Vendor Management process that can be performed through TeroTAM CMMS software
Selection of Vendors
Contractual Negotiation
Vendor Onboarding
Monitoring Vendor performance
Monitoring and Managing Risk
Rate card manual or customizable
Payment
Track your Assets anytime, anywhere with a QR code
With QR code features, TeroTAM CMMS becomes the easiest way to track the assets. By just scanning the QR code people can save the details directly to their mobile devices, like date, time location, contact information, all in and out details of any asset associated with the relevant QR code.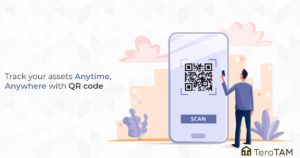 QR code's tracking feature helps them optimize the Asset management and track tracking and even complaints. With the QR Code facility in asset tracking, you can perform tracking activity anytime, anywhere with your smartphone.
It replaces the traditional paper-based management system and eradicates the error levels and ensures seamless asset management and tracking.
Maintain your Planned Project Timeline with Project Management
With TeroTAM's Project management tool, leaders can organize all the details of their workspace within a single place, share feedback and progress and collaborate more effectively to get a high level of productivity.
A project management tool reduces your pain to shuffle between spreadsheets, email and other tools which can distract your attention and cause an error. A project management tool gives a painless user journey and makes the management better.
Plan and Manage your Team tasks with Task Management
Task management solution with TeroTAM allows the users to monitor all clients, their activities, any schedules you want to create and alert you want to assign to them so they must not miss any important activity to perform on time.
Even it gives clear ideas to specific users about their roles, responsibilities and deadlines. Even this tool can help with hand-in-hand communication with a feature of chat on the same unified platform where they can share updates, messages, documents, etc, and keep the communication alive and updated.
Staff Management and Tracking
Staff management solution with TeroTAM helps eliminate the manual process and saves a lot of time and money for the concerned team. This solution helps to keep all the due records, documents and history related to each employee of the organization which can be handy as and when needed.
It's also risky to maintain all employee records on paper as they can be misused anytime by anyone. But with this solution, you can maintain all the records and documents within the system
Location Management
With the Feature of Location management in TeroTAM, you can track the real-time location of the assets. In case you are working on multiple locations and have multiple assets to be managed in each location, you can easily do it from a single dashboard and the same location. You can allocate the assets based on the location they are situated at like cities, zones, or areas or regions.
You can even track the location based on the assets, complaints related to that asset and preventive maintenance schedule. Even with this feature, you can manage your staff centrally from a single point platform, who are working and situated at multi-location.

Inventory Tracking allows your operations to keep going
Inventory management is crucial to avoid unnecessary purchases at the same time for timely and adequate purchase of Raw material and other items to keep the work going on.
For an inventory, management users have 4 things in the solution: Dashboard, Group and Items, Sales and Customer and Purchase and Service provider. In Dashboard they can have a summary of all top inventory items, top purchases, top vendors and providers, top customers, etc., Also they can see the totem amount received and paid about inventory. In groups and items, they can bifurcate different inventory items in respective categories for better view and understanding.
In sales and customer, users can see all the documents, invoices, challan related to sales and deliveries, and payment-related receipts and bills. The Purchase and Service section belongs to all kinds of purchase orders, bills and payments made, service purchased, contracts renewed and paid, etc.
Housekeeping and Sanitization Management
With the New features recently added keeping the current scenario in the eye, you can manage the Housekeeping and sanitization activities through TeroTAM CMMS software.
Most owners and small business people don't count housekeeping and cleaning as a cost to the company, where it plays a major role directly and indirectly to the company's cost.
Housekeeping management with TeroTAM includes
Cleaning of premises and work units during the shifts
Day-to-day cleaning
Waste disposal management
Removal of Unused Material
The well maintained sanitization process
Health and sanitation Inspection
Sanitization and housekeeping are important to job site safety. A well-maintained and executed sanitization and housekeeping ensure the job site safety. It reduces illness and injuries and helps to promote positive behaviors, habits and attitudes.
An Effective Housekeeping program is a key to workplace safety and health management in the workplace which is a must nowadays in accordance with the current world health scenario.
Coming back to you
A Well designed CMMS software like TeroTAM can perform all the tasks a Co-work space provider needs and make their journey seamless and super productive though easy to manage with a single dashboard. To know please contact our experts at contact@terotam.com and book your demo now.