Who takes the most care for us other than the Family, it's Hospitals. Their job is pretty simple to look after us and our health. But is this really easy? Have we ever thought about what kind of challenges hospitals face when they have a number of patients with all different kinds of disease and requirements for each of us? Have you ever thought about how much we panic and get disorganized when someone from our family gets ill badly. Then think hospitals have not one of such kind, they have many. What kind of mess they must have gone through on a day-to-day basis.
Handling Patients, Doctor and Nursing staff, administrative staff, Inventories and Equipment, vendors, and their requirements is a challenging job as you have to satisfy each of them, can't ignore any of them.
Let's take a look at challenges Hospital management faces in their day-to-day operations.
What are the biggest challenges against Hospital Management?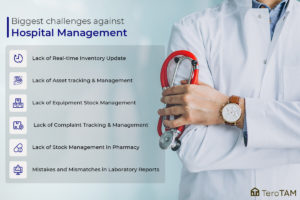 1. Lack of Real-time Inventory Update
Most of the time, management doesn't have the real-time update on Inventory which eventually results in wrong items and the wrong quantity of right items and equipment that costs them a lot in the long run.
2. Lack of Asset tracking Visibility of Equipment
When Hospitals have the equipment, they face the situation most of the time that most of them are occupied when needed some other place. Still, in half of the cases, such equipment is not needed where they are or not in use but can't be available due to exact tracking.
3. Lack of Stock items due to Mismanagement of Vendors
Vendors are very important parts of Hospital management, but when not managed properly, scarcity of stock items occurs in hospitals.
4. Risk of patient's health due to slow processing of requirements
Due to undefined workflows and slow and unorganized communication channels, information cannot get passed faster and not in the right manner sometimes, which in result take place as mistakes. Such mistakes and a slow response rate on requirements can be fatal for patients.
5. Absence of Preventive Maintenance
Hospital equipment and the facility should be ready 24*7 and with zero downtime due to maintenance which is possible with Preventive maintenance. Still, in most hospitals, it is never practiced or not possible due to the absence of an effective tool or system.
6. Shortages of Beds even when Facility is well equipped
We have recently seen worldwide during COVID-19 Pandemic that beds were not available for patients where in some cases, it was really not available, but at the same time in some places, it was a clear case of worse Bed Management.
7. No Tracking of Complaints generated
Sometimes some issues are being noticed and complained to a higher authority. Still, due to bad complaint tracking and management, it is completely lost or takes so much time that the whole purpose of doing a complaint becomes useless.
8. Overstocking and Unwanted Stock items in Pharmacy
Pharmacy is a very integral part of many big hospitals today where patients and relatives no need to go out hunting for medicines. But this pharmacy is sometimes being overstocked with some medicines that are not being used frequently, and there is a shortage of those in demand at some specific time, which shows a clear case of mismanagement at the pharmacy.
9. Mistakes and Mismatches in Laboratory Reports
Due to lack of a proper system, sometimes laboratory reports are being shuffled and exchanged, resulting in wrong medication and wrong treatment to patients. There is no better case of mismanagement like this in hospitals.
How can TeroTAM benefit Hospital Management to remove Bottlenecks?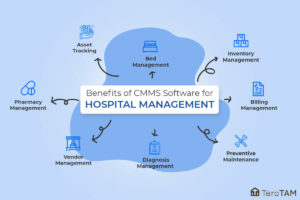 Inventory Management
As we discussed above, inventory management is one of the major problems in hospitals, and it affects a lot of costs if not managed properly. Certainly, management can not overlook its importance within hospitals. Hospitals have so many Inventories to be managed to start from huge medical equipment to small tools and spares, which play a vital role in day-to-day tasks.
With TeroTAM CMMS software you can manage your inventory systematically and keep an eye on each transaction that happens and needs to happen. You can track inventory with QR codes, their current positions, their positions while moving; it's current stock, so you can analyze your future needs and give an optimized inventory order using some popular inventory management techniques.
Asset Tracking
Tracking assets in Hospitals is actually needed nowadays with a different purpose. By tracking assets, you can identify the current status of the assets, whether in use or free. Assets like Beds, Ventilators, Operation Equipments, etc., can be tracked and based on which hospitals can decide their current vacant capacity and help patients to allot such things as and when needed based on the priority.
With TeroTAM Hospital Management Software Solution, you can easily track your assets, check their status in real-time, and stay updated.
Vendor Management
Vendors are the Key component in the whole system, who keeps everything available and keeps the stocks available. Managing vendors is a key thing to keep the day-to-day operations smooth.
With TeroTAM CMMS, you can easily perform vendor management with a dedicated vendor management feature, where you can save all the details related to the respective vendor and keep all the data and store and track at any point of time needed.
Preventive Maintenance
Precaution is always better than cure. Everyone knows but very few apply this common rule in business. Preventive maintenance does almost the same thing. Keep everything maintained and reduce the rate of breakdowns and heavy and frequent maintenance activity.
With TeroTAM's Preventive maintenance feature, you can plan and execute your preventive maintenance and apply it on a given date and time to keep every asset fully maintained and usable. It reduces the cost of maintenance and new purchase by keeping the asset life durable for the long term.
Bed Management
Beds are in demand everywhere in hospitals nowadays. People were not able to get it due to heavy demand against small supply. In such a time, a smart Hospital Bed Inventory tracking system can be a savior for any hospital to respond immediately.
That's what exactly TeroTAM can offer in its CMMS software with a Real-time Tracking system that makes the response faster and management and patients get a real picture of bed availability very easily.
Cleaning and Sanitization Management
What is most expected out of hospital management is cleanliness and maintaining hygiene at most. For this, they have to have a very systematic Cleaning and Sanitization management.
TeroTAM comes up with this feature where management can schedule Cleaning and Sanitization activities, assign them to the concerned person or team, and set alerts for them not to miss.
Pharmacy Management
A pharmacy within the hospital is a big relief for patients and helps them keep the needed medical aids available immediately for treatment. But pharmacy needs the highest systematic approach to keep everything organized.
TeroTAM's pharmacy inventory tracking software can keep an eye on each inventory and medical item, track them, and help them get the information on the computer where it is stored, which medicine is for what disease, billing-related issues, sales, and purchase a voucher, etc.
Billing Management
When it comes to Financial things, everything needs to be crystal clear and up to date to keep the profitability maintained and aligned with every record for audit and future purposes.
TeroTAM gives you the perfect solution for Billing management where hospitals can maintain patients details with their pending and cleared payments, charges for bed, nursing fees, pharmacy charges, bills receivables, etc.. At the same time, it helps to keep an eye on outflow by purchase bills, payment, and bills payable, vendor payments, etc.
Diagnosis Management
What is the most crucial task when a patient visits a hospital, their disease should be diagnosed accurately? Laboratory and Radiology departments majorly connected with this. They need to manage samples and report very accurately for perfect diagnosis for the proper treatment of patients.
TeroTAM's CMMS software helps laboratory and Radiology labs to manage patients' records, their samples with customer's proper tag, and their concerned reports to be carried out and at the end their reports which should not be exchanged at any cost. With an accurate system like TeroTAM, it can be smoothly performed with zero error possibility.
How can CMMS Software give Happy Patients and Staff to Hospitals?
TeroTAM's CMMS can perform almost all the tasks which keep the Patients and Staff safe, easy, and satisfied with every task performed easily and systematically.
Hospital Patient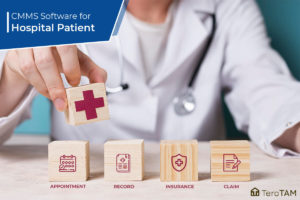 1. Appointment Bookings
Appointments can be managed with CMMS software, so none of the patients miss their appointment and get their turn to meet the doctor at the right time.
2. Previous Treatment Records
TeroTAM's CMMS can help maintain previous treatment records by maintaining a separate profile of each patient so every detail can be saved and used for better treatment. Patients need not worry about handling all these records and papers.
3. Insurance and Claim Management
With TeroTAM software, each information about a patient's insurance and claim-related documents can be prepared and saved, and communicated to the insurance company to give patients a hassle-free experience.
4. Parking and other facilities
With TeroTAM's CMMS software, hospitals can allot the dedicated parking to the patients who need to stay at the hospital for long and can manage the things needed by the person living with the patient.
Hospital Staff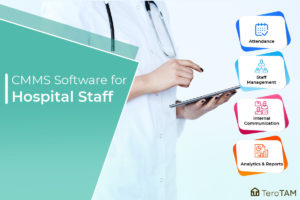 1. Attendance Records
With CMMS software management can keep the attendance records of the staff and records about their day off so the shifts can be managed accordingly to keep the uninterrupted service in the hospital.
2. Staff Management and Tracking
With TeroTAM,  can solve Nursing Home Management or Hospital management issues regarding staff management and their tracking. Can assign their shifts and duties, patients and cases can be assigned and tracked so that patients can see their allotted doctor or junior doctor around.
3. Internal Communication and Sharing platform
Staff can share the information and message with their colleagues and subordinates on TeroTAM's internal chat platform, share the information and details, and share the files and documents if needed.
4. Analytics and Reports
With all the information available in real-time and real-time reports available about all the assets and staff, managing analytics and reports will be much easier for the hospital management.

Conclusion
As we all know, Hospitals and Nursing homes are nothing without the assets they have. There are plenty of assets and tons of tasks they need to manage to keep everything organized which definitely needs software for Nursing home management or Hospital management in recent times. To know more about how a CMMS can help you modernize your hospital management, hospital inventory and bed inventory tracking, and other similar important tasks, schedule your call with our team of experts now at contact@terotam.com and get started today.