Vendor complaints are an inevitable part of doing business. Whether it's a delayed shipment, a defective product, or a miscommunication, these issues can impact the relationship between a company and its vendors. Effective management of vendor complaints is critical to maintaining positive vendor relationships and ensuring the smooth functioning of operations. However, without proper tools and processes in place, vendor complaint management can be a complex and time-consuming task.
This is where escalation management software comes into play. Escalation management software can streamline vendor complaint management by providing a centralized platform for tracking and resolving issues that arise with vendors.
In this blog post, we will explore how escalation management software can help organizations manage vendor complaints more effectively.
Let's take a look.
Why Do You Need a Complaint Management System for Your Organization?
Any company that wants to keep a good reputation and have a top-notch vendor network needs to have a complaint management solution. Without a sound system in place, complaints can swiftly spiral out of control and harm the company's reputation. However, a complaint management system can effectively address and resolve issues, helping organizations with issue tracking and ticket management system, increasing vendor satisfaction and loyalty with asset safety and a longer life span. The system also gives the company the ability to monitor and examine complaints, spot patterns, and trends, and implement the required changes to stop similar complaints from happening in the future.
Many businesses have found that the easiest approach to follow complaints from submission to resolution is to use a complaint and escalation management system. Having a complaint management software solution enables you to design your procedure and then focus on making sure your vendors are happy and kept protected because complaints are sensitive by nature.
Acknowledgment and Communication: How Do Your Vendors know they are being heard?
When you have a complaint, it is crucial that it be taken seriously and that your issue is resolved. Complaints cannot be resolved if they are misplaced. You can set up automatic acknowledgments using a good complaint management system. Although software can transform an email into a tracked incident that can be updated and automatically shared with the vendors or complaint-generating emails, you can still use your preferred means of submission. This informs them that you have heard their issue and are working to find a solution. Making your vendors feel valued can be achieved in large part through effective appreciation and regular contact.
The Duty of Care: Who Is Following the Complaint?
How can you tell if someone handled a complaint correctly if it is given to them to resolve? You can create a ticket and escalate it to any team member or a large group of people using complaint management software. Any communications will be time- and date-stamped, allowing you to trace them with an organized Issue tracking system. By doing this, you hold your team members accountable for the tickets for which they are accountable.
Repetition & Reporting: What are the Trends and Patterns of Vendor Asset Complaints?
Can you gather information on the causes of the complaints? In the end, you need to be able to spot patterns and stop further complaints. Would you be able to rapidly gather the data if your manager requested you to tell them how many complaints were filed last month and how many were resolved? You could set up a report for your boss that would be delivered and available automatically using complaint management software. When necessary, good reporting guides you in making crucial business decisions that will help you avoid future issues.
How Does a Ticket Management System Function as the Foundation of Your Complaint Management Strategy?
An integral part of a complaint management strategy, a ticket management system enables businesses to effectively track, prioritize, and address consumer concerns. When a vendor registers a complaint about any asset or any other issue, it is given a special ticket number and categorized according to the nature, seriousness, and other aspects of the complaint. This makes it possible for the company to assign resources and prioritize complaints according to their urgency.
Additionally, the best ticketing system enables businesses to issue tracking of every complaint all the way through to resolution. It makes sure that complaints are not misplaced or overlooked and that the vendor is notified of the complaint's progress. Furthermore, the system enables businesses to escalate particular employees or teams to manage complaints, ensuring that the proper person with the required qualifications handles the issue.
Escalation Management System- Connecting Dots between Vendor Complaints and Complaint Management
An escalation management system is a process designed to handle vendor complaints or issues that require immediate attention or intervention from higher-level management or specialized teams. It is an essential component of a complaint management system as it ensures that complex or high-priority complaints are handled promptly and effectively.
A set of established escalation levels are often used in the escalation management solution to identify the best course of action for a given kind of complaint. Usually, the degrees are determined by the seriousness of the problem, the degree of vendor annoyance, and other elements. A level one escalation, for instance, would entail a manager or supervisor stepping in right away, whereas a level three escalation might necessitate a specialist team or senior management.
How Does Escalation Management Software Help to Solve Complaints? – Benefits of Escalation Management System
An escalation management solution helps companies streamline the process of managing complaints and ensure that the concerns are addressed promptly.
Automated Tracking and Escalation
Escalation management software can automate the tracking and escalation of vendor complaints. When a complaint is received, the software can automatically log it and assign it to the appropriate team or individual for resolution. This ensures that complaints are not lost or overlooked and are addressed in a timely manner.
In addition, the software can escalate complaints that are not resolved within a certain timeframe. For example, if a complaint has not been resolved within 24 hours, the software can automatically escalate it to a higher level of management for resolution. This helps to ensure that complaints receive the necessary attention and are not ignored.
Real-time Monitoring
The escalation management system can provide real-time monitoring of vendor complaints. This enables teams to identify trends or patterns that may indicate larger issues that need to be addressed. For example, if multiple complaints are received from different vendors about the same issue, it may indicate a systemic problem that needs to be addressed.
Real-time monitoring also enables teams to quickly identify and address urgent complaints. For example, if a vendor is experiencing a significant issue that is impacting their ability to deliver goods or services, the software can alert the appropriate team members to take action.
Collaboration and Communication
Escalation management solutions can facilitate collaboration and communication between teams and vendors. For example, the software can provide a platform for vendors to submit complaints and for teams to communicate with vendors regarding the status of their complaints.
The software can also enable teams to collaborate internally to resolve complaints. For example, if a complaint requires input from multiple departments, the software can facilitate communication and collaboration between those departments to ensure a timely resolution.
Reporting and Analytics
The Escalation management tool can provide detailed reports and analytics on vendor complaints. This enables teams to identify areas for improvement and measure the effectiveness of their processes.
For example, the software can provide data on the types of complaints received, the time it takes to resolve complaints, and the satisfaction levels of vendors. This data can be used to identify trends and areas for improvement, such as identifying recurring issues that need to be addressed.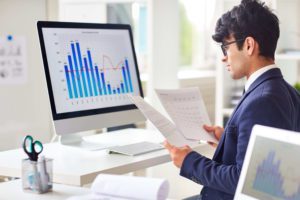 How TeroTAM Can Help You Take Control of Your Complaints and Escalation Management?
TeroTAM is an excellent CMMS software for organizations that want to implement an effective complaint and escalation management system. It offers a range of features and benefits that make it an ideal solution for handling complaints and issues.
Excellent Ticket Management Solution
It provides a ticket management system that enables organizations to efficiently track and prioritize complaints. The system assigns a unique ticket number to each complaint, categorizes them based on their type, and allows organizations to allocate resources accordingly.
Empowered Escalation Management Software
TeroTAM provides an escalation management system that ensures that high-priority complaints are handled promptly and effectively. The system has predefined escalation levels that determine the appropriate course of action for each type of complaint, enabling organizations to quickly and efficiently resolve complex or urgent issues.
Automated Complaint Management and Tracking
Our CMMS software allows organizations to automate and streamline their complaint management processes, reducing the time and effort required to handle vendor complaints. The system also provides real-time updates, allowing them to track the progress of their complaints and stay informed about the status of their issues.
Systematic Reporting and Analytics
TeroTAM offers powerful reporting and analytics capabilities, enabling organizations to identify patterns and trends in vendor complaints and make necessary improvements to prevent similar complaints from occurring in the future.
What are you waiting for then? – Try TeroTAM Now
If you are looking for Complaint and Escalation Management Tool to empower your complaint and escalation management- Just book a call with our experts or write us now at contact@terotam.com and get relaxed.