It's a digital solution for tracking men and machines to utilize time efficiently, and it's a simple solution to fit into any business premises. Asset tracking solutions are quietly spreading in business culture to overcome modern issues, and it is a way to track people and things quickly through the internet.  To get the best use of your IT and Non-IT assets effectively by tracking, handling, and maintaining it all done by one solution: an asset tracking solution.
What do we look for in Asset Tracking Solutions? 
It's an immense pride of bringing high technology into intelligent solutions, our network is involved with technology to get new data with every minute in this fast-growing culture. And this can work all time 24*7 to track and get frequent assets data. and we are one of the best with modern technology.
Asset tracking is a sophisticated technology that offers to stay up in your business without hustles and reach high prudently by eliminating all uneven time losses. This application can help you find your workstations, hardware, and things in a single place and let you know every single step movement by tracing and sending live data to servers. And it's a smart intellectual way of handling and organizing assets gently by connecting through web applications.
How Does Asset Tracking System work?
Asset tracking can be done in 5 different ways for individual purposes, either inside the building or outside the location, and it can be used for any cases of utilizations and business organizations. And it can collect and store live data in the base system and display the analytics with brief information. It can be helpful in versatility save time, punctual workflow process; assets care; likewise, it can give protection in the specified radius.
Assets Tracking methods for Building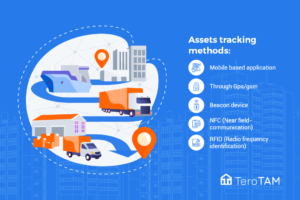 Mobile-based Application

Through GPS/GSM

Beacon Device

NFC (Near Field Communication)

RFID (Radio-Frequency Identification)
Mobile-based Application
It can be used to track things or machines by installing the mobile application. It directly connects through the chosen device GPS/GSM by using an internet connection. And at every time, get refresh data while moving to another location; meanwhile, send a response to the webserver. And it is quick and easy to find a location in mobile applications, possible to share locations in maps to reach the destination. And This process can be done with the using reference of mobile maps
Through GPS Tracking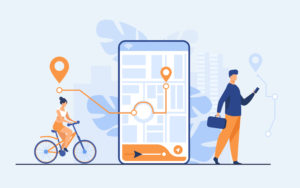 A GPS tracking unit, geo-tracking unit, or simply tracker is a navigation device normally on a vehicle, asset, person, or animal that uses the Global Positioning System (GPS) to determine its movement and geographic position (geo-tracking).
GPS tracking uses a network of satellites to find the location of a device or machine. And it is specifically designed to know global positioning accurately and at the same time location information sync with web applications. When a GPS tracker for a car can broadcast its location, it typically uses the same technology that your cell phone does to make calls or connect to the internet.
Through GSM Tracking 
On the other hand, Global System for Mobile Communication (GSM) is not a method for Automatic Vehicle Location. Rather, GSM is used as an Event Activated Tracking System (EATS).
All GSM Asset recovery devices are usually battery powered due to the low power requirements. They are much harder for thieves to detect because they are not wired into the vehicle's electrical system, transmit continually or have a visible antenna. This makes them viable devices for non-powered units like trailers or caravans and powered vehicles and construction equipment. Improved designs and new technology have also contributed to lengthening battery life, making them a viable option for use in theft protection.
Beacon Device
Beacons are small wireless transmitters that use low-energy Bluetooth technology to send signals to other smart devices nearby. They are one of the latest developments in location technology and proximity marketing. Put simply, they connect and transmit information to smart devices making location-based searching and interaction easier and more accurate.
They are using Beacons for Indoor Positioning, Tracking and Indoor Navigation. Beacons are small radio transmitters that send out Bluetooth signals. Beacons can be used for both client-based (indoor navigation) and server-based (asset tracking) applications. This beacon can be with any electronic device or machine and it sends a response to the gateway (receiver) while moving or shifting on the floor.
NFC (Near Field Communication) Tracking
NFC tags to track assets or machines in the organization. When utilized as an anti-theft solution in a brick-and-mortar retail store, the system monitors the movement of merchandise through the exit. It sets off an alarm if it detects a shoplifted item.
NFC communication uses the extremely close-range magnetic field for bi-directional communication, having a range of 4cm or less for two devices to share data. NFC is an anti-theft solution in your business; the system will monitor all the movements of assets through their entry and exit.
RFID (Radio-Frequency Identification)
An RFID system will be able to show you all of the RFID tags in a particular area –whether you expect to see them there or not -often uncovering items that have gone missing.
RFID can improve accuracy by adding a higher level of detailed asset tracking information. Because RFID has the ability to capture asset information so rapidly, systems can be put into place to record more detailed and frequent information. Because RFID allows for faster data sharing and decreases, data processing – performing an inventory is more efficient and easier to share.
RFID Systems can also be set up to manage and monitor configuration controls. The actual configuration of an embedded component in a digital asset can be checked against the expected configuration using RFID without physically touching or opening any of the assemblies.
The technology of RFID is similar to barcode technology. However, the main difference is RFID works faster compared to the Barcode scanner. RFID uses radio waves to track product data.
Real-time asset information through a web application
It's hard to keep reminding the assets and information and particular assets assigned to them. And we use the same assets with different companies, and different configurations are sometimes shuffled with others' identity. The standardized asset tracking solution can be operated by a web application and mobile application to fix it all.
Asset tracking web applications can catch all the fresh real-time data at every second and constantly work to centralize data. Using a web application visually lets you instantly trace any hardware with an IEMI id and list the number of assets in selected premises. It's easy to pull out data from anywhere with your fingertips.
Why do we need to use an Asset tracking solution?
Asset tracking is a versatile solution for any business and organization, it might be inside premises or outside locations to track most accurately, it can give alters for while entry and exit of the gate with time punctuality. Also can track the human resources inside the building by giving them identification tags.
Conclusion –
Our business or industries have been designed to operate with sustainable conditions and keep all assets well-keeping care. in this manner set order to avoid the conflicts and hustles technology brought the digital solution for asset tracking. It expands your capability and control over asset handling from anywhere with any number of assets with impeccable results.