With the widespread use of Artificial Intelligence (AI) in industries such as oil and gas, healthcare, transportation, and chemicals, it is now extending to the environment as well. To improve the quality of the environment, the environmental industry is turning to smart techniques presented by AI. It is a significant technology that aids in the conservation of numerous natural resources, such as water and energy, as well as the prevention of waste and contamination.
For a long time, traditional approaches such as collecting samples and then analyzing them in labs to obtain results have been used to monitor the environment. Everything has become automated since the introduction of AI technology and smart solutions. With the use of sensor-fetched data, analysts can now determine air quality more easily. Within closed places such as offices and museums, the sensors are implanted in the appropriate locations. They gather information about the environment, which is then analyzed using AI-based techniques and shown on the user's dashboard. You can keep track of the environmental conditions within sensor-enabled buildings in real-time. This aids in the acquisition of actionable knowledge into climatic or other changes that require immediate correction.
Why is Artificial Intelligence (AI) is the New Normal for Environmental Monitoring?
Due to the widespread distribution of particulate matter, hazardous gases, and other pollutants, environmental monitoring can be challenging. IoTization of the environment entails the deployment of advanced sensor devices that collect data and utilize it to forecast various outcomes. The following are some of the reasons why IoT should be utilized to monitor the environment:
Obtain real-time information
Reduce your carbon footprint.
Predicting better outcomes
Make use of a data-driven strategy.
Keep an eye on the quality.
Less effort is necessary.
Artificial Intelligence (AI) uses autonomous modules to collect and display data. Here, the odds of making a measurement error in terms of quality or quantity of any resource are slim to none. As a result, it has a direct impact on analysis and forecasting results, allowing authorities to work toward growth and a more sustainable environment.
For example, with increased pollution in our environment, it is critical to monitor air quality and take steps to keep the air clean. The air is growing more polluted as a result of industry and urbanization, and there is a massive spread of toxins in the water. This is causing a slew of health problems and putting people's lives in jeopardy. Smart environmental monitoring has become vital in companies, schools, and rooms where people congregate. It is easier to forecast future scenarios and respond in accordance with the rise of sensor-based technologies and data-driven results.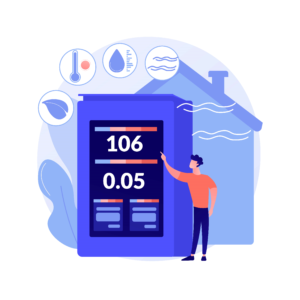 Progressive shift Towards Advanced and Sustainable Future
Artificial Intelligence is a cutting-edge technology that offers a plethora of commercial options. As an industrialist, you may use the benefits of the Internet of Things to build a more sustainable environment while also generating enough profit for a better cause.
Gearing up our surroundings with Artificial Intelligence is bringing us a revolution that is mostly focused on improving our lives. Consuming fresh, high-quality water lowers the risk of death, while living in a clean environment allows for better working conditions and a healthier environment.
Advantages of an AI-based Air Quality Monitoring System
Artificial Intelligence is the technology of the future, and it is already having a huge impact on industrial progress. Whether it's the fleet industry, supply chain, chemical, Oil and Gas, or any other business, incorporating sophisticated features of Artificial Intelligence and streamlining overall operations has tremendous benefits.
When IoT-based solutions are combined with environmental assets, the ambiance is improved through real-time monitoring of the surroundings. One of the main advantages of integrating Artificial Intelligence with the environment is that it ensures a more effective approach to improving environmental conditions.
"TeroTAM's IoT-Based Air Quality Monitoring solution uses a sensor-based technology that benefits residents in a variety of ways after advanced sensor devices are installed in appropriate locations." These advantages include:
Monitoring the Air Effectively
Advanced sensor devices are positioned in the targeted sections of enclosed spaces and work automatically. They detect the presence of particle matter or air contaminants in the air in real-time and send out messages to cellphones. This allows authorities to assess the situation and take appropriate action. Managers can monitor the air quality and properly tackle the problem thanks to instant notifications. The notifications are given to their smart devices via SMS alerts or push messages so that they don't miss anything and the environment remains fresh enough for humans to thrive.

Detection of Toxic Gases
The IoT-based air quality monitoring system is equipped with modern sensor devices and gateway connectivity to identify the presence of harmful gases within the premises. The solution is linked to the user's smart device, allowing him to take immediate action in the event of a crisis. As a result, an AI-powered system is a necessary addition to the sector in order to reduce the risk of gas explosions, fire dangers, and other natural disasters. Industry managers have complete control over the AI-powered solution and may take the necessary action as soon as emergency triggers appear on their equipment, lowering the industry's maintenance and operational costs.
Measurement of Temperature and Humidity
The Internet of Things (IoT) is a useful concept for determining the temperature and humidity ratio in any industrial setting. By retaining real-time control on the IoT-powered system, it assists the authorities in preserving the right atmosphere essential for workers to perform under specified environmental conditions. The temperature and humidity monitoring aids in the analysis of the situation and ensures that the required environment is maintained. In addition, in the mining industry, the IoT-powered air quality monitoring system checks oxygen levels, keeping employees safe in the event of a drop in levels. It enables people to leave the building as soon as the oxygen levels fall below a certain threshold.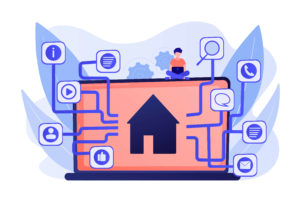 Human Well-Being
Increases in air pollutants or particle matter have an impact on human health, whether in closed or open spaces. As a result, installing an air quality monitoring system aids in the detection of pollutants, resulting in better living circumstances for humans. This has an effect on their health and minimizes the likelihood of any health issues happening by maintaining a moderate ambiance or as needed. As a result, IoT-powered solutions offer better services to industrialists, who in turn offer better services to their customers. It improves human health by removing harmful air pollutants and particulates while also allowing authorities to make decisions based on the circumstances.
Concluding Moments
Sensor devices and gateway connectivity make up an IoT-powered air quality monitoring system, which provides a data-driven approach to air quality monitoring. The solution comes with all of the essential technologies and modern processes to ensure a cleaner environment free of air pollution and other hazardous components. It may be simply deployed in appropriate locations, triggering authorities to take appropriate action as necessary. It is a must-have for industrial facilities to improve employee safety and keep them healthy under various working situations. To know more about how TeroTAM's AI-powered Air-quality Monitoring Platform can help you manage the Air-quality within your premise, connect with our experts today at contact@terotam.com or schedule a demo to get started now!