Co-working spaces have been reinventing the concept of traditional working and incorporating various forms of technology to create enormous disruption in the space. This disruption has been fueled by Artificial Intelligence (AI), Machine Learning (ML), and the Internet of Things (IoT).
What are Coworking Spaces and Why are they in Demand?
According to a poll, by 2025, freelancers, temps, independent contractors, and solopreneurs would make up 40% of the workforce.
The swarm of startups that is sweeping through every industry is a promising indication. However, because the workspace is in short supply, property prices have skyrocketed, making the majority of startups unaffordable. As a result, the notion of a "Coworking Space" is in high demand, and many startups and small businesses are making use of it. A co-working space is simply a shared workspace where semi-professionals and professionals can meet, work, discuss ideas, and collaborate on projects.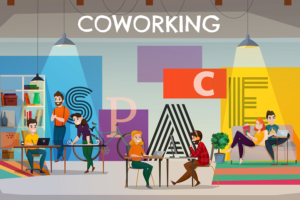 The Internet of Things (IoT) in Workplace Management
It's a challenge for managers to incorporate the best technologies that may assist managers to have better control and vision over the workplace while improving the customer experience, especially as visitors' and consumers' expectations for amenities and surroundings rise.
As a result of these facts and reasons, it is critical to make the most sophisticated and efficient use of the space that one owns or has access to. Here's where IoT solutions come in, assisting facility management in providing members with best-in-class shared workplaces like never before.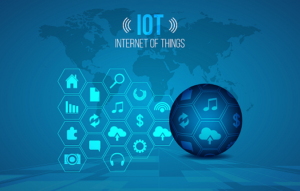 How IoT is Transforming Co-working Spaces into Smart working Spaces?
Multiple solutions can be offered to transform coworking spaces into smarter, dynamic, and engaging workplaces by leveraging IoT and integrating other technology. Technology plays a part in seamless operations for managers through a single interface, from synchronized calendars that allow users to look at available workspaces through a dashboard to end solutions like regulating the environment of a workplace.
IoT, similar to the Smart Home Automation concept, is playing a significant role in the Co-Workspace market and has begun to take steps in this direction.
1. Controlled Entry and Exit Using Smart Biometrics
Access control is the first thing to consider after a consumer has been assigned a workstation or desk. The entry-exit procedure can be automated using a variety of technologies such as RFID, barcodes, and beacons. The most popular automation solution for keyless entries in shared workspaces is Bluetooth beacons and a custom mobile application for keyless entry, which users love.
The new office experience can begin at the entry, where you will no longer be required to scan or tap your ID card.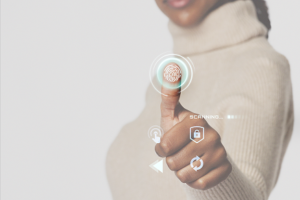 2. Consumption and Utilization of Energy
IoT enables immediate cost reductions, which might be significant enough to generate a positive return on your IoT investment.
Lighting and Climate Control on a Day-to-Day Basis
The lighting in the shared offices is controlled by motion sensors. IoT and sensors enable the lighting of a space to be controlled based on movement. We can use IoT automation to control the curtains remotely whenever they need to open or close. It enables us to work with the motion sensors to turn off the lights in the shared workspaces when they are not in use. It is also possible to receive real-time alerts if any of the bulbs go out.
Controlling HVAC Power Consumption in a Smart Way
IoT technology can assist HVAC systems in coordinating with real-time weather in order to give the best working conditions in offices. Air-conditioning and heating systems can be employed effectively to maintain a consistent temperature in any workplace area, regardless of its proximity to other areas. When the room is not in use, motion sensors are employed to turn off the equipment. It is also feasible to turn on the HVAC units ahead of time before the customers arrive at the office.
Smart Power Control and Distribution with Smart Meters
Shared workspace management can receive real-time notifications in the event of high load power usage, allowing them to investigate and remedy the problem. Smart meters can also be used to identify power outages in the distribution system.
3. Smart Plants for Consistent Air Quality
Smart HVAC installation not only improves energy efficiency and lowers costs, but it also improves air quality in the coworking space. IoT-enabled smart plant technology also aids in maintaining optimal air quality. When any of the plants run out of water, nutrients, or sunlight, sensors such as light and humidity sensors in the plant can interact with a web-based program or a mobile app using wireless technology.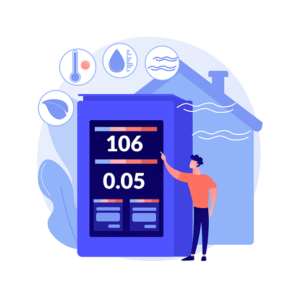 4. Intelligent Control with Smart Security Cameras
Keep an eye on crucial places in your coworking space at all times. In order to keep an eye on unlawful access, wireless IP security cameras can be put in shared workspaces. Motion detectors can also be utilized, allowing the camera to record just when it detects movement. These recordings can be sent straight to the manager's mobile phone in the form of photos or videos.
5. IoT-based Smart Cashless Payment System
Seat usage, meeting room usage, food & beverage consumption, printing, concierge services, or attending a paid event are all services that coworking space users will use. Some of these services will go under the Book and Go category, while others will fall under the Use on the Go category.
Smart cards will be able to function as both an access control and a payment card thanks to RFID technology. Consumers can top up money to these smart cards through a smartphone app or a web-based platform, which can then be used to make purchases within the coworking space. The workspace management can also provide monthly reports to users detailing payment data for services they may have used.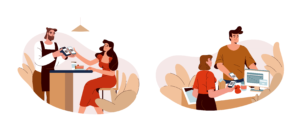 The cashless payment method aids co-workspace management in ensuring an easy payment process for members, which improves user experience by eliminating the need to carry extra cards or cash for in-house offerings.
6. Identifying Valuable Consumers in Real-Time
A shared workspace manager should always pay attention to identifying the most important consumers. Real-time tracking aids in the tracking of customer arrivals as well as the amount of time they spend in the workspace. This assists shared workspace owners and managers in identifying their most important customers in order to better serve them.
The Advantages of IoT-enabled Smart Coworking Spaces
Smart Dashboard for managing your Calendar Smartly
Improved Asset usage
Cost savings as a result of more efficient power and energy use
Security and Asset Utilization may be tracked remotely and in real-time.
Helps you determine who are your most important Clients and Working member
Implementing In-house Digital Cashless Payment System
How can TeroTAM Assist you in Creating a Smart Coworking Space?
TeroTAM is growing and proving its excellence in IoT-based solutions for Smart businesses and Smart homes with a dedicated In-house team of expert Custom IoT app developers, with a wide range of expertise in providing quality services to many valuable customers through the most advanced CMMS solutions.
We've worked on a variety of IoT solutions based on BLE/beacon app development, asset monitoring, smart plant, smart home, and live tracking solutions, and the list keeps increasing. If you're the owner of a coworking space chain and want to use similar IoT technologies to empower your workspace, consumers, and yourself to grow your business, we at TeroTAM are always been keen to get connected.

Summing it Up:
The coworking industry is transforming the commercial real estate industry, with global coworking operations expected to triple by 2024. What was previously a somewhat unknown technique has now become commonplace. Coworking spaces are transforming how today's professionals interact with both the corporate world and one another.
As a coworking space owner, you may use technology to improve your workspaces, particularly with IoT. IoT in co-working spaces allows for more flexibility and chances for workspace optimization, allowing the facility to match the requirements while also alerting users to potential problems and issues.
The data produced by IoT technology allows coworking space operators to better understand their operational efficacy, which is important in the competitive co-working space business. To get more insight into how IoT technology can make your co-working space smarter in today's growing world, connect with our experts at contact@terotam.com and get started with your smart co-work space today..!!