A Successful organization, whatever they achieve, perform within the organizational premise. They daily dealt with the different kinds of facilities they have available within the organization. These facilities are those which create an environment for them where they feel energetic and aligned with the organizational goal. These facilities make them available with all those things which they need around while working and to perform at their best. Managing these facilities is not just a simple task like changing the bulb, keeping the work area clean, annual maintenance contract to be implemented. Instead, it's a very crucial factor that contributes a lot to make the organization successful.
"For Facilities Management to be effective and efficient, it must align its activities to support and facilitate the organization's business operations"
What is Facility Management?
For Facilities Management to be effective and efficient, it must align its activities to support and facilitate the organization's business operations.
Facility management is an activity that makes sure that all the functionality, comfort, safety, and availability of resources are at their best places and available as and when needed in their expected form to perform all the duties with ease and best of manners. With help of a Facility management solution, it ensures that the functionality within the organization remains smooth and steady. It's much more than taking care and repairs buildings and tools and machines.
What is well performed Facility Management and why is it crucial?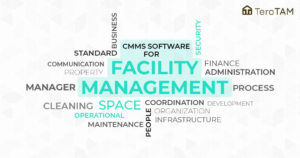 A well-performed Facility Management is that which is cost-effective, reduces the cost of operations, makes the jobs easier and smooth that ultimately improves the productivity of the employees. The role of Well-implemented Facility management is to help create the organizational environment which their employees expect while working there. An environment where they feel enthusiastic, high on morale, safe, and career growth.
Let's Discuss why A Well performed Facility Management is Crucial
It makes available all the necessary tools available
It integrates the system so smartly that makes all work coordination smooth
It boosts the productivity of the employees by micromanagement their daily needs of tools and belonging they need while working
It ensures that the tools given to the employees are productivity-focused tools that make their work easy not complicated
It makes all the safety tools and standards in place to make sure the workplace is the safest place
It creates Clean, Green, and Sustainable workplaces
CMMS software – The Future of Facility Management
Every business today needs to manage its facility very effectively to make sure of its operational effectiveness. But it's not about only managing the facilities at their best. It's necessary they manage their facilities in a smart way that it remains cost-effective and still accurate. Managing such things single-handedly that is too in a traditional way looks difficult. They need a solution that caters them all the needed things which they need around for implementing the best of the facility management.
That's where the need for a digital platform where they can manage all their activities, TeroTAM's CMMS software. CMMS is a tool that helps them to manage all the relevant activities on a single dashboard in a computerized manner with paperless technology. It removes all the bottlenecks of manual facility management.
Let's discuss ahead how TeroTAM's CMMS software can be an ultimate solution for all Facility managers.

How CMMS can give an edge to Facility Managers?
In today's time, all facility managers need CMMS to keep track of all work orders, e-mails, and spreadsheets. TeroTAM's CMMS software is a tool helping them to shift their activities from a paper-based traditional system to a modern approach of facility management, a computerized system that offers improved management and tracking, prompt response time, less shutdown, expanded life span of all valuable assets and best coordination within the organization to upkeep the maintenance activity to remain productive and profitable.
Let's discuss how TeroTAM's CMMS software can make a difference in an organization's Facility Management.
Well Planned and Executed Schedules
Best of the Facility management depends on how their facility managers plan their maintenance schedule and how effectively they execute them. TeroTAM's CMMS software can help them to plan and schedule the activities and maintenance tasks.
Accurate Task Delegation and Tracking
Task management is the key for any facility manager who looks forward to implementing the best of Facility management. With TeroTAM's CMMS they will be able to make it possible with its Task management feature. With its Task management tool, they can manage different tasks and delegate to concerned people with its task management feature. Here they can tag different departments to which it belongs, create an alarm when the task is scheduled, gives them an idea of how many tasks are allocated to whom, how many of them are pending, how many of them are completed.
Transparency
Good facility management must be Transparent. Each and every party involved in it should maintain healthy transparency. With all the activities managed on a single dashboard on TeroTAM's CMMS software, every activity is being tracked and can be seen by all the concerned people. It creates crystal clear transparency where no one can hide anything which results in less productivity.
Improved Internal Communication
Well-managed communication between all the concerned people on a regular basis and sharing of all needed documents with ease is very important to coordinate the facility management. For this purpose, a well-designed internal communication channel must be there within the organization. TeroTAM gives you that internal communication platform within its CMMS software where all the employees can chat internally on the platform itself and also they can share the documents, files, reports keeping everyone concerned up to date with all needed information and updates.
Increased Life Span of Assets
It's not only that you manage the asset in the best way, you must be cost-effective too. A facility manager should make sure the asset which comes into the organization used for the maximum term of its life. Unnecessary purchasing the same assets on a frequent basis can be costly for an organization in the short as well as long run too. With CMMS software offered by TeroTAM, a manager can manage their assets in such a way that the asset is utilized in the best of their manner as well as to the fullest potential. Timely and accurate asset management with TeroTAM CMMS can add a useful number of years in the life of an asset.
Accurate Tracking of Miscellaneous
It has been observed for years most of the cost organization spends on miscellaneous like spares and parts and different recurring items. It's very easy to steal and it can easily get lost and even can be ignored often due to very less priced items. But if measured on an annual basis it can cost a very high. With Asset Tracking software you can track each and every miscellaneous item too very easily and effectively to save costs inch by inch.
Realtime Reportings
It's very important that a facility manager knows everything that is happening around every minute. Real-time information of everything happening in the organization can make him react spontaneously to become more effective. TeroTAM's cloud-based platform helps them with real-time tracking of each and every asset, task, and complaint to stay organized with their maintenance activity. With Cloud-based software, he can track everything from anywhere anytime even on his mobile.
Well managed Audits and Compliance
To stay compliant it's crucial to do audits on a regular basis, which can be very easy with TeroTAM's CMMS software which helps you generate the reports in real-time with which all kinds of audits you look forward to are possible and smooth.

Concluding Words
TeroTAM's CMMS with its Cloud-based and mobile-friendly application simplifies the facility management of an organization by managing its assets, maintenance schedules, work order routines, task management, internal communication with real-time reporting on paperless technology. To know more about how you can best perform Facility management with TeroTAM's CMMS platform, connect with us at contact@terotam.com.