It is no longer sufficient for a structure to merely provide shelter and warmth in an increasingly computerized society. Buildings must supply essential services while also operating at peak efficiency. Smart buildings use the latest technology in modern infrastructure to improve the way we interact with our surroundings, as many people spend more than 60% of their time indoors.
What is Smart Building and How it's Beneficial?
A smart building is one that employs technology to maximize resource efficiency while also providing a secure and comfortable environment for its occupants. Smart buildings can make use of a variety of existing technologies and are planned or modified in such a way that future technology advancements can be included. Some of the mechanisms and robots that may be utilized in a smart building to control and optimize its performance include Internet of Things (IoT) sensors, building management systems, artificial intelligence (AI), and augmented reality.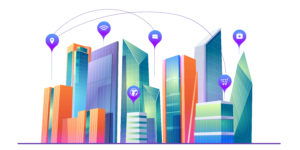 How Smart Buildings Can be Beneficial?
To Automate
The most basic attribute of a smart building is that its essential systems are all connected. When you connect smart technologies like real-time IoT occupancy sensors and building management systems, you can share information that can be utilized to automate numerous activities like heating, ventilation, lighting, air conditioning, and security. The ability of the systems within a structure to communicate with one another is what makes it "smart."
Integration with Multiple Building Systems
The value of the unified smart building is larger than the sum of its parts thanks to data sharing and integration amongst building systems.
Integrating IoT occupancy sensor data into a desk or room booking system, for example, allows you to streamline management operations and provide a smart workplace for your employees by providing assets that know when they are free, booked, or occupied.

To Save Space
Buildings and real estate are sometimes the second-highest expenditure for a company (after pay and staff), so making the most use of the space you have is critical.
Sensors are an important aspect of smart buildings because they collect data that helps decision-makers decide where to devote resources. Occupancy sensors, for example, maybe placed into the building to provide information that will assist you to determine whether your facilities have the correct types of spaces to satisfy your employees' needs. Occupancy statistics can assist you in determining:
whether you have the appropriate number and size of meeting spaces
What are the most popular and least popular communal areas?
whether the available working spaces are adequate
For Preventative Maintenance
Because AI can learn odd usage patterns and inform you when they are recognized, it can assist you in determining if an item requires maintenance. You can get a more realistic picture of how often a facility within your building is used by collecting accurate data from devices such as people sensors, allowing you to take a more proactive approach to manage wear and tear, cleaning, and restocking, extending the life of equipment, furnishings, and appliances.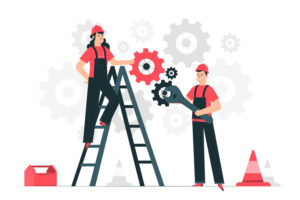 What are the IoT-based People Counting System, and How Does it Work?
This technology connects sensors to people counter software, allowing for a precise count of visitors as they enter and exit a space. It determines whether the zone is safe to enter or not using real-time occupancy data, preventing overcrowding before it becomes a major problem. It's the most effective approach to keep your store from becoming overwhelmed.
Advantages of an IoT-based People Counting System
1. Information in Real-time
It tells customers whether or not it is safe to enter a business or commercial facility, based on the current occupancy.
2. Improve the Safety of Customers
It is feasible to lower the odds of becoming infected with this technique. It gives clients a sense of security and comfort when shopping.
3. Increase Sales as much as Possible
It gives you the tools you need to help your company succeed. To put it another way, real-time occupancy monitoring can help you boost sales and profitability.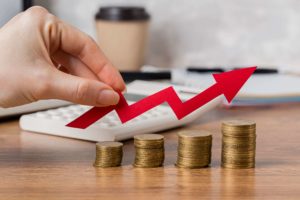 4. Stop COVID-19 from Spreading
The greatest approach to prevent the virus from spreading is to maintain social distance. Employees and consumers are protected by people counting systems, which reduce the odds of standing too close to another person.
5. Provide Better Client Service
You may track client behaviour and use the data to improve customer service with the People Counting System. It will be easier to provide your clients with the service they deserve if you have more knowledge about their behaviour. You must deliver the best customer service if you want your consumers to return to your store.
How do IoT-based People Counting Increase Business Efficiency in a Number of Ways?
Monitoring gives you critical information about your business, such as how many people come in and how long they wait in line for service.
With uncertainties about effective treatment and immunisation, it is likely that we will have to continue with preventive measures in the future. This solution will assist you in being responsive as well as adapting to the new behaviors required to safeguard your employees and consumers from COVID-19.
Wrapping it Up!
This IoT-based technology of monitoring in and out of people, allows you to learn more about how efficiently your business operates, allowing you to develop and apply business-optimizing initiatives. It's also possible to obtain data on how to boost customer satisfaction and, as a result, convert them into customers, increase revenue, and keep them coming back. To know more about how an IoT-based people counting system can help you monitor your day-to-day footfall and keep your premise a smart building that give you all the information you need, contact our experts today at contact@terotam.com or schedule a demo now.